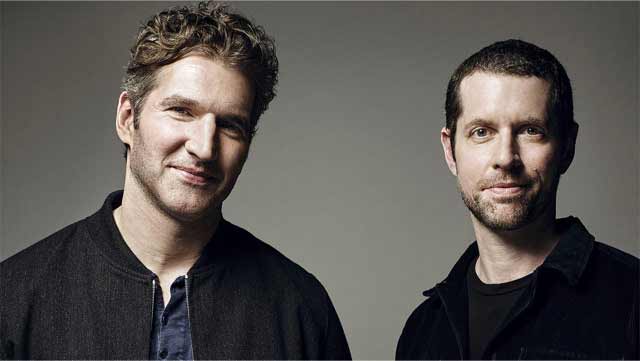 David Benioff und D.B. Weiss haben sich mit der Serienadaption zu George R.R. Martins "A Song Of Ice And Fire" einen gigantischen Ruf erarbeitet. Dass das womöglich vielmehr an der Vorlage als an der eigentlichen Arbeit der beiden liegen könnte, sieht man am leichten Verfall der Serie, seitdem die Buchvorlage nicht mehr gänzlich vorhanden ist. Wie dem auch sei, einen gelungenen Job machen sie ja schon irgendwie, sonst würde die Fernsehwelt dem großen "Game of Thrones"-Serienfinale in 2019 nicht derart entgegenfiebern. Der Ruf ist gar so groß geworden, dass sie von Lucasfilm für die Produktion einer Filmreihe aus dem "Star Wars"-Universum engagiert wurden.
"David and Dan are some of the best storytellers working today. Their command of complex characters, depth of story, and richness of mythology will break new ground and boldly push Star Wars in ways I find incredibly exciting." (Lucasfilm Präsidentin Kathleen Kennedy)
Nach ihrem Abschied aus Westeros 2019 soll mit der Umsetzung begonnen werden. Zeitlich und inhaltlich ist jedoch noch nichts bekannt, nur, dass die Reihe nichts mit der ebenso kürzlich bekannten Filmreihe von Regisseur Rian Johnson zu tun haben soll, der bereits bei "Last Jedi" hinter der Kamera stand. Mit Nina Gold ist aber die gleiche Casting-Direktorin wie am HBO-Serien-Set mit von der Partie, die ja auch bereits Gwendoline Christie und Co. Rollen in Star Wars-Streifen verpasst hat. Welche weiteren GoT-Stars wohl folgen werden?
"In the summer of 1977 we traveled to a galaxy far, far away, and we've been dreaming of it ever since. We are honored by the opportunity, a little terrified by the responsibility, and so excited to get started as soon as the final season of Game of Thrones is complete." (Benioff & Weiss)
Ich bin ein wenig skeptisch, was diese ganze Ausschlachtung des Star Wars-Franchises angeht. Dass es überhaupt wieder Filme gibt -sehr schön. Dass sie neben der eigentlichen Reihe auch noch abseits Erzählungen umsetzen – geschenkt. Aber so langsam wirkt es nach "mehr ist mehr", was dann irgendwann in einer Übersättigung eines ständigen Einerleis führen könnte, wie bei Marvel. Aber vielleicht bin ich dafür auch einfach nicht Fanboy genug, um direkt beim Kinoausgang wieder nach neuem Filmmaterial zu lechzen. Aber ein wenig geht die Besonderheit schon flöten. Und btw: Eine (wirklich gute!) Star Wars-Serie hätte ich deutlich interessanter gefunden.
via: vanityfair | Foto: StarWars.com