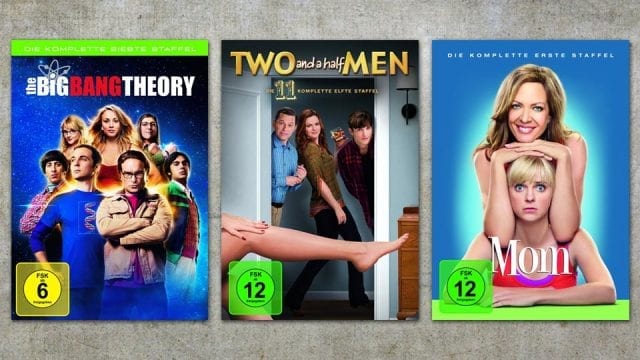 Bald ist Weichnachten – und nein, ich möchte jetzt nicht von Geschenkideen sprechen. Klar, ihr könnt DVDs, die es hier zu gewinnen gibt, auch verschenken, da freut sich sicher der ein oder andere drüber. Aber uns geht es dieses Mal vor allem darum, euch zu schützen. Vor dem Feiertagsprogramm. Denn sind wir mal ehrlich: bis auf "Fröhliche Weihnachten" und "Stirb langsam" hat das weihnachtliche Fernsehen nicht allzu viel zu bieten. Da haben wir definitiv gelungene Abwechslung für eure DVD-Player im Angebot!
Drei von euch können gewinnen. Jeder erhält eine der taufrischen DVD-Boxen aus dem Hause Warner. Zum einen hätten wir da die 7. Staffel von The Big Bang Theory
, die am 11. Dezember erscheint und kurz darauf schon bei euch sein kann. Am selben Tag erscheint auch die mittlerweile 11. Staffel von Two and a Half Men
hier in Deutschland. Bereits zu kaufen ist die 1. Staffel von Mom
– macht aber nichts, legen wir noch oben drauf! So sind zumindest einige Stunden Unterhaltung gesichert.
Mitmachen & gewinnen!
Ihr könnt Lose erspielen, indem ihr den Anweisungen des Rafflecopter unten folgt. Bspw. könnt ihr uns auf Twitter folgen oder kommentieren, welche der Boxen ihr am liebsten hättet (mit Angebe im Rafflecopter, sonst zählt es nicht!). Mitgemacht werden kann bis einschließlich 10. Dezember. Danach werden die Gewinner der drei Boxen ausgelost und per Mail benachrichtigt.

Viel Glück!

Mit freundlicher Unterstützung von Warner Home Video Germany.

-->