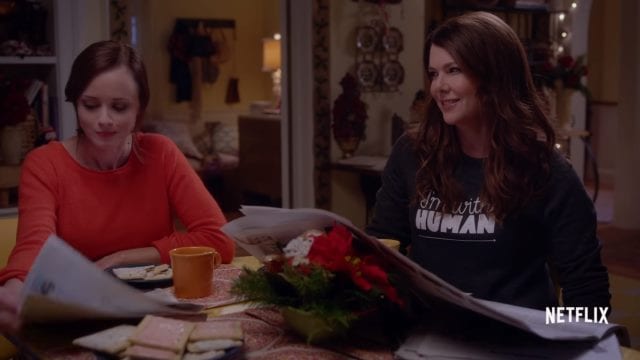 Once a Gilmore. Always a Gilmore.
Da ist sie endlich, die lang erwartete und noch länger ersehnte Nachricht: Gilmore Girls: A Year in the Life startet weltweit (in den Ländern, in denen Netflix verfügbar ist) am 25. November 2016. Um 12:01 a.m. PT (Pacific Time, bei uns also gegen 9 Uhr morgens) gehen alle vier Episoden auf einmal online – was ich ziemlich schade finde. Und so wie es aussieht bin ich da nicht die einzige: Schöpferin Amy Sherman-Palladino hat Netflix sogar gedroht, sie erhänge sich mit einem Duschvorgang, wenn sie die vier Episoden gleichzeitig veröffentlichen. Hm. Wird sie grad eigentlich überwacht?
Im Zuge der Bekanntgabe des Premierendatums hat Netflix auch einen erster Teaser veröffentlicht. Dieser zeigt unsere liebsten Gilmore Girls – natürlich beim Reden: schnell, über Popkultur, mit wunderschönen absurden Zügen. Und sie scheinen sich kaum verändert zu haben. Kaffeetasse in der Hand, was zu essen in greifbarer Nähe und mit klarer Meinung zu Sport. Hach, wie sehr mir das gefehlt hat. Und die einleitende Melodie erst! Ich schwebe, nicht nur in der Zeit zurück.
"It was really like no time had passed. It was easy. It was fun. It was joyous. It was exhilarating. It was the old show." (Lauren Graham/Lorelai Gilmore)
Amy Schumer hat sich übrigens schon direkt via Twitter zu der Szene geäußert – ganz im Amy Schumer Style.
.@vulture I would love her!

— Amy Schumer (@amyschumer) 27. Juli 2016
I've only done 2 water sports and they took pictures of it both times. I promise I usually just lay there (sex too) https://t.co/yTQRvIBgqm

— Amy Schumer (@amyschumer) 27. Juli 2016
via: TVLine