Google macht den größten Umbruch der Firmengeschichte – und beweist in solch einer ernsten und wichtigen Phase Selbstironie. CEO Larry Page hat jüngst unter abc.xyz die Entstehung der neuen Muttermarke "Alphabet" angekündigt. Und dabei ein kleines Easter Egg für Serienfans versteckt…
"Sergey and I are seriously in the business of starting new things. Alphabet will also include our X lab, which incubates new efforts like Wing, our drone delivery effort. We are also stoked about growing our investment arms, Ventures and Capital, as part of this new structure."
Eigentlich ein Satz ohne viel Referenz, im Quellcode findet sich aber ein versteckter Link auf Hooli.xyz – richtig, der Google-Parodie aus "Silicon Valley".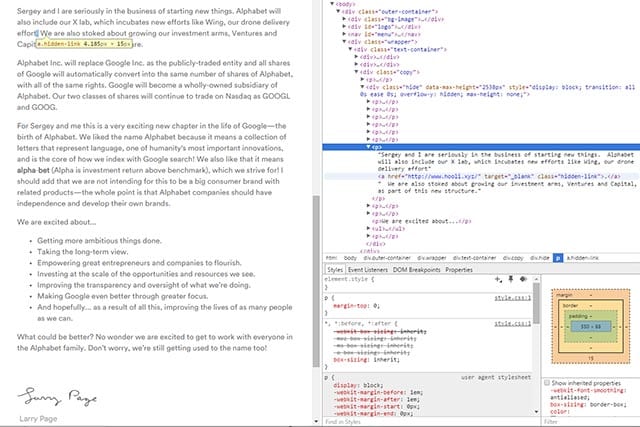 Schon kurios, dass Google tatsächlich auch auf die xyz-Domain geht, hat Hooli doch bereits vor einem Jahr die xyz-Sparte für die ganz großen Ideen gegründet gehabt:
"HooliXYZ is Hooli's experimental division. The dream kitchen. The moonshot factory. The laboratory of possibility. The midwife of magic. The womb of wonders."
Ein Zufall? Ein Insider, der Infos geleaked hat? Oder nur ein gekonnter Marketing-Move in beide Richtungen? Egal wie es dazu gekommen ist, wir lieben diese kleine Überraschung, erst recht in dem Rahmen. Und so beweist Google, dass sie auch über sich selbst lachen können. Ob sie damit auch das große Scheitern ihrer Parodie gut heißen, wage ich jedoch zu bezweifeln…
Ein Highlight der letzten Season: der Mafo-Test des neuen Smartphone-Devices.
via: dwdl