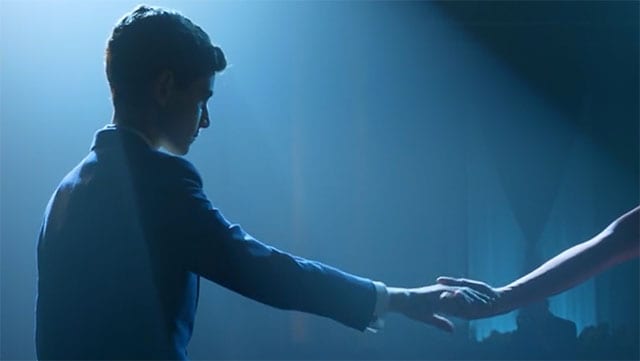 Dass wir uns in der "Verseriung" einer Comic-Vorlage befinden, bemerkt man diese Woche recht schnell. Eine Befragung endet in optimistisch durchgeführten Fensterwürfen als Warnungs-Denkzettel-Methode. Müllsäcke – die eigentlichen Superhelden Gothams! Aber okay, kommen wir zum Wesentlichen, denn diese Folge hat einiges Zauberhaftes an sich.
Zum Beispiel Barbara, die Erfahrungen mit dem gleichen Geschlecht nachholt, die es im College scheinbar nicht gab (oder gerade doch?!). Aber eben vor allem Jerome, der uns mal wieder ein Lächeln nach dem anderen ins Gesicht zaubert.
"Hello Paps. Long time no see." (Jerome)
Seine "Legacy of deaths and maniacs" klingt nach langer und düsterer Karriere. Für sein glorreiches nächstes Kapitel hat er scheinbar tatsächlich ordentlich geübt. Als Ersatz-Zauberer kann er durchaus etwas und weiß die Zuschauer im Saal und vor den Bildschirmen (in der Serie wie in unserer wirklichen Welt) zu schocken. Das war schon eine ganz gut choreografierte Show und der Schnitt beim Schnitt sehr gelungen.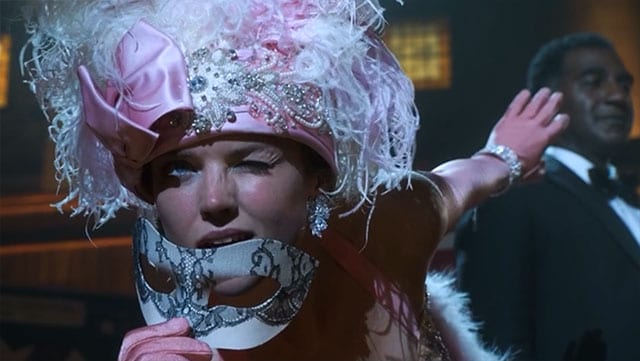 Nebendrin bekommen wir ein paar nette Kleinigkeiten serviert. Selina ist endlich mal wieder da – mit Gedanken an Fish im Gepäck für uns… Das freut mich und da übersehe ich fast, dass die katzengleiche Schleicherin mehr als plump Jim in die Arme läuft in einer Szene. Upps…
"Well, if you wanna steal stuff, it helps to go where the rich people are…" (Selina)
Dann wäre da noch Alfred, der wie ein pubertierender Junge in britischer Schuluniform herumdruckst, weil er in Lee verknallt ist. Herrlich! Fehlt nur noch ein Held! So findet es zumindest Theon und fährt die gute alte "sei deinen Feinden nahe"-Taktik. Smart und vor allem sehr schön im Zusammenspiel mit dem Wissen der Zuschauer. Und mit Jerome…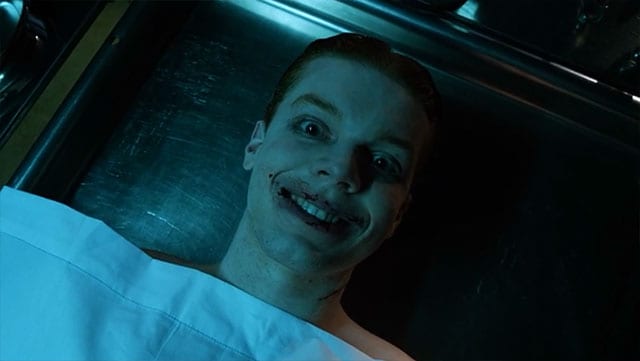 Dem bleibt das Lachen leider im Halse stecken. ber, aber… Der Joker?! Menno. Somit geht einer der vielversprechendsten Charakter der Serie. Lange hatte ich gehofft, dass es nur ein "Spiel" war, er wieder aufsteht, die Klinge aus magischem Plastik oder eben zwischen allen Schlagadern hindurch. Aber es scheint nicht so. Aber sein Lachen wird überleben und andere anstecken – eben auch DEN EINEN, der dann vermeintlich Joker wird. Das Ganze ist zwar arg übertrieben dargestellt, aber wer weiß, welch irre Gedanken so gesät werden konnten…
"Every evil bastard in the world was 'just a kid' once…" (Bullock)
Insgesamt eine solide Folge, die vor allem aufgrund der Kompakheit der Story punkten konnte. Alles war auf die Zaubershow ausgerichtet, gerade das Ende kam dann doch überraschend und hat einen Mitgefühl mit einem irren Bösewicht fühlen lassen. Der Ton war zwischendrin etwas seltsam (als Barbara und Lee am Rad reden), lag aber vielleicht auch nur an meiner gesichteten Variante, keine Ahnung. Ansonsten bleiben jetzt aber nicht mehr viele von den Maniax über. Man darf gespannt sein, was sie noch anstellen und welche Pläne Theo noch für sie hat.

Bilder: FOX

-->