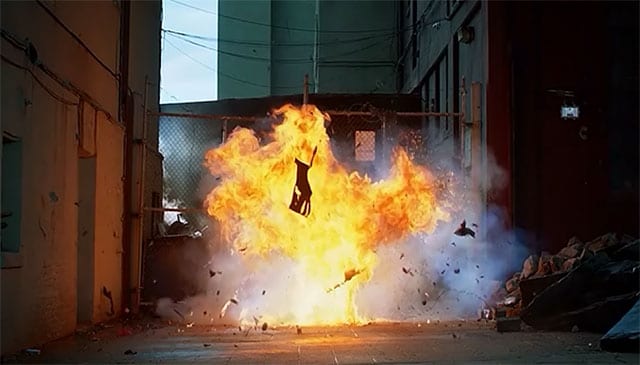 Nach dem angedeuteten Aufrüsten der Seiten Gut und Böse in Gotham fokussiert sich die dieswöchige Folge auf eben jenen Schlagabtausch – und die Frage, auf welcher Seite sich eigentlich Penguin befindet. Gerade deutlich zwischen den Stühlen und mit dem Gedanken, lieber Freund als Werkzeug zu sein. Er wirkt minimal gereizt und abenteuerlustig, offenbart aber auch, dass man ihn nicht ganz abschreiben sollte.
"[Barbara] is kind of crazy…" – "That's the best part of her!" (Tabitha & Theo)
Bei der Einleitung der Episode hat mir vor allem der nebenbei ausgeführte Koffertrugen-Move gefallen. Theo lässt seinem Gesichtsausdruck nach lieber ausführen, als sich selbst die Hände dreckig zu machen. Ein deutlicher Unterschied zu Penguin, der später noch seinen Hang zum Drastischen demonstriert. Und doch hat diese vermeintlich gewaltig unnötige Szene seinen Sinn: Augen auf beim Brandstiften!
Das Spiel mit der mysteriösen Box hat mir auch gefallen, hätte aber durchaus länger/öfter gespielt werden können. Ebenso erfreulich: Es denkt ja doch noch jemand an Fish! Die Hinweise, dass da noch was kommen mag, waren ja in etwa so dezent wie der Auftritt der Strike Force. Der erste richtige Einsatz, ein millionenschwerer Erfolg und Schlag in den Schnabel Penguins.
"Everybody who don't wanna get shot, raise your hands!" (Barnes)
Super: Der Walmart für Kriminelle. Mitten in Gotham ein gigantischer Süßigkeitenladen für die bösen Zuckersüchtigen da draußen. Inklusive passender Zuckerwatte-Lautsprecher-Ansagen.
"Welcome to MERC, your one-stop-shop for machetes, night vision-goggles and all of your personal defense needs." (Durchsage)
Das ist dann quasi auch der Ursprung eines neuen Bösewichts. Indirekt zumindest. Bridget findet Gefallen am feurigen Familienbetrieb und dürfte (dank selten dämlicher Polizei-Arbeit) nach ihrer Flucht den Weg vom schüchternen Kellermädchen zum Charakter "Firefly" einschlagen. Die dumme Frage, was man machen soll, wenn man einen Safe geöffnet hat und ungefähr eine Sache darin liegt, ist so dumm, dass sie sie vermutlich nicht mehr fragen wird in Zukunft.
Wichtiger: Endlich gibt es ein Motiv, endlich eine Geschichte, endlich einen Zusammenhang zu Galavan und ein tiefes Gewässer für den Penguin. Dessen Motto im Poesi-Album: Besser arm dran als Arm ab.
"Don't tempt me. I could psycho-analyse the heck out of you. But I'm gonna resist the urge." (Lee)
Der verhängnisvollste Moment der Folge könnte jedoch ein Handschlag gewesen sein. Nach viel Wein und einem überraschend unverrückten Abend mit Nygma scheint Jim vom Guten in den Menschen überzeugt und händigt Theo quasi im Alleingang die Schlüssel zum Bürgermeister-Büro aus. Die Anfangszeit scheint vorbei und die Serie nimmt so langsam Fahrt auf…
"Gotham will be redeemed in blood. And Bruce Wayne will die." (Papa Gallaghan)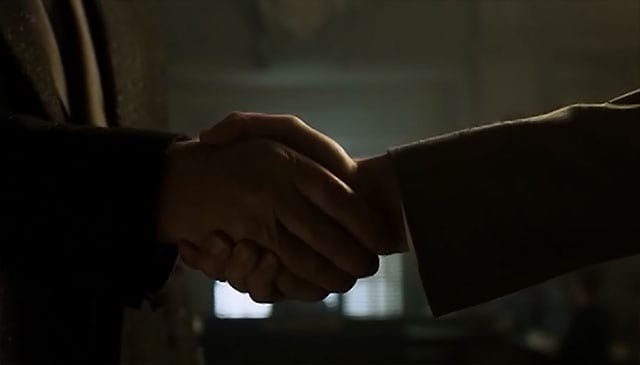 Joa. Gute Folge. Solide Folge. Nichts Spektakuläres, aber eben auch kein Reinfall. Einige sehr schöne Momente, einige kleinere Fehler, insgesamt aber gute Unterhaltung. Gerade das Spiel zwischen Penguin und Galavan könnte ja jetzt doch noch spannend werden (nachdem das Schlittern in diese Konstellation derart schnell und utopisch passiert ist). Spannend dürfte auch sein, welche Rolle Bruce in den kommenden Folgen einnehmen wird.

Bilder: FOX

-->