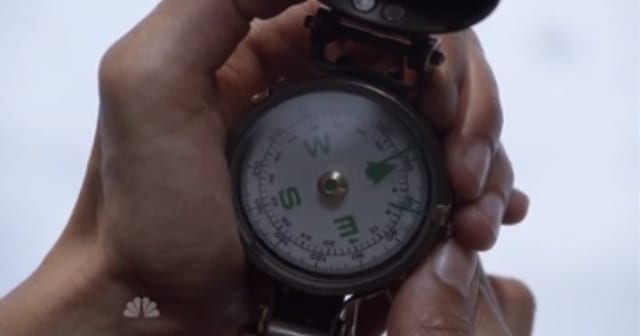 Die aktuelle Folge Heroes Reborn startet mit einem Voice over eines alten Bekannten, der sich in dieser Episode aber leider immer noch nicht zeigen wird. So, direkt mal den Wind aus den Segeln genommen. In bedächtiger Ruhe fragt die Stimme nach der wahren Bestimmung des Lebens: Ist sie angeboren, in unserem genetischen Code enthalten oder müssen wir uns ihrer erst im Laufe der Zeit durch die Freuden und den Schmerz unseres Lebens bewusst werden?
Die Folge startet dort, wo sie beim letzten Mal aufgehört hat. Tommy und seine Mutter haben einen Unfall, der für ihn weitestgehend unverletzt endet. Seine Mutter dagegen benötigt dringend Blut. Mission für den raumwandelnden Sohn gefunden!
Bei Luke und Joanne gibt es wenig Neues. Sie killt weiterhin seelenruhig unschuldige Evos und arbeitet damit ihre Liste freudig ab. Luke dagegen versucht seine Bedenken immer wieder zum Ausdruck zu bringen.
"My god, that was a pretty shot. Did you see how his body crumpled before his eyes even realized he was dead? Luke, I asked you a question." – Joanne
"Yeah, honey, that was a really pretty shot. But this man, he had a family." – Luke
Als Luke jedoch wenig später nicht mehr mit dem Geheimnis um seine Kräfte zurückhalten kann, fühlt er Joannes Waffe plötzlich selbst an der Schläfe.
Der Erzählstrang um Carlos beginnt etwas interessanter zu werden. Liegt bestimmt am neuen "Vengador"-Kostüm, das er sich extra gebastelt hat. Eine deutlich bessere Version, die ihn nicht mehr (ganz so) albern aussehen lässt und seine Kräfte zentralisiert. Den Pater und damit seinen Berater überzeugt das trotzdem noch nicht so richtig.
So, made yourself a fancy costume? – Pater Mauricio
Ein neues Kostüm gibt es auch für die Japanerin Miko, die sich mit ihrem Gamer-Freund Ren mittlerweile auf den Weg in die USA gemacht hat. 'Ihr' Schwert muss wieder her – zuerst muss aber die riesige Fan-Meute gestillt werden, die vom echten Katana Girl vollkommen begeistert ist. Das Schwert befindet sich stets in der Hand von Renautas-Chefin Erica, deren Tochter ihr falsches Spiel so langsam zu durchschauen scheint.
"Why are we rounding up Evos?" – Taylor
"To save our species!" – Erica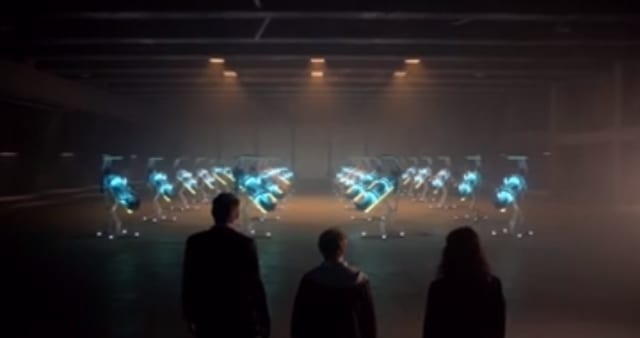 Für Noah und Quentin hat nach wie vor die Rettung Mollys oberste Priorität. Quentin erhofft sich gleichzeitig, in den dunklen Hallen von Renautas seine von Harris am berüchtigten 13. Juni entführte Schwester zu finden. Sie verschaffen sich Zugang zu der Folterstation, in der die Evos für ihre Kräfte missbraucht werden, und finden Molly. Doch während Noah auch in diesem Moment am meisten an den Geschehnissen des 13. Juni interessiert ist, trifft Molly ihre ganz eigene Entscheidung, um die Zukunft der Evos zu retten. Und damit bleibt Noah der Blick in die Vergangenheit ein weiteres Mal verwehrt.
Forget the past, Noah. Save the future! – Molly
Was in dieser Episode leider viel zu stark auffällt, sind die mäßigen Animationen. Seien es Schmetterlinge in der Arktis, aus dem Boden stoßende Bäume oder aber einfach 'simple' Autofahrten: Alles wirkt irgendwie ziemlich unecht. Und das stört immens.
Alle Helden kommen der Mission, die Welt zu retten, langsam näher. Ihre ganz persönliche Bestimmung und Beteiligung kristallisiert sich mehr und mehr heraus. Für das große Ganze gibt die erste bereits ihr Leben – und das eines ganz bestimmten Kindes steht auf dem Spiel. Wer die zeitgedrängte Blondine aus der Arktis ist, erklärt sich noch nicht so richtig. Irgendwie nerven die kurzen, von mangelhaften Animationen bestimmten Szenen mit ihr auch. Aber sie scheint ja einen ausschlaggebenden Teil zur Rettung der Welt beizutragen. Also geben wir ihr noch eine Chance.
Besonders unterhaltsam ist die Figur des Quentin. Auch wenn er nicht mal richtig fluchen darf. Da wird lieber kurz vorher ausgeblendet. So bleibt nach dieser Folge besonders eine Frage offen: Ist es so schwer, Getränkedosen und -becher einfach mal mit richtiger Flüssigkeit zu füllen, um Szenen mehr Authentizität zu verleihen? Das Hantieren mit leeren Gegenständen, die voll wirken sollen, sieht einfach immer ziemlich bescheiden aus. Da lauschen wir doch lieber wieder der vertrauten Stimme, die uns aus dieser – leider durchschnittlichen – Episode entlässt:
We all have a unique purpose, and try as we might, we cannot run from it. Will we be able to stay true to who we are, or will we succumb to the pressure of destiny and become something else entirely? Something inhuman?
-->