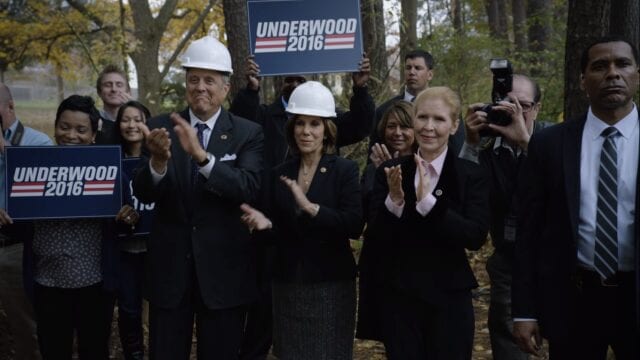 Vor gut einem Monat haben wir euch den ersten Teaser zur 4. Staffel House of Cards vorgestellt: einen fiktiven Wahlwerbespot, der für die Wahl des fiktiven Präsidentschaftskandidaten Frank Underwood wirbt. Nun gibt es einen neuen Teaser.
Und bereits in den ersten Sekunden stellt man sich die Frage: Wem wird hier ein Grab geschaufelt? Schaut man auf die vergangenen Staffeln House of Cards zurück, fallen einem da einige Namen ein. Doch was zunächst den Eindruck einer geheimen Beseitigung im Wald macht, stellt sich als kleiner PR-Termin für Doug Stamper und Frank Underwood heraus. Wer würde auch sonst einen teuren Anzug und frisch polierte Schuhe im Wald tragen?
"Dig"
House of Cards | Dig - Season 4 [HD] | Netflix
Und kennt ihr schon "Tracks"? Ähnlich kurz, ähnlich unterschwellig unheilverkündend.
"Tracks"
House of Cards | Tracks - Season 4 [HD] | Netflix

Ich hab mich sogar tatsächlich ein ganz kleines bisschen erschrocken.

Am 4. März startet die 4. Staffel House of Cards auf Netflix – in Deutschland wird sie allerdings wieder zuerst auf Sky zu sehen sein.

via: Entertainment Weekly

-->