Ihr kennt sicherlich diese "Wir haben da was Neues, das dir gefallen könnte…"-Mail von Netflix? Die kam letzte Woche mal wieder bei mir an. Dieses Mal mit "Lovesick", was zum einen irritiert hat, weil es aus 2014 stammt, zum anderen, weil man kaum etwas dazu online finden kann. Letzteres muss sich verdammt noch mal ändern, denn die Serie ist klasse!
Okay, die erste Staffel der Channel 4-Produktion hat nur sechs Episoden, die schaut ihr also binnen eines Abends in Spielfilmlänge durch. Aber dafür gibt es jede Menge britischen Humor – und bis zur zweiten Staffel ist es nicht mehr lang. Und keine Bange – hier geht es nicht weder um den Film mit Matt LeBlanc noch um diese asiatische Produktion, die man auch beim Googlen findet…
Lovesick – Trailer
Darum geht es
Der schüchtern-nuschelnde Dylan hat sich mit einer Geschlechtskrankheit infiziert und geht alphabetisch seine Sexualpartnerinnen durch. Dabei gibt es jede Folge einen Namen von der Liste, deren Geschichte erzählt wird. Rückblenden, die dabei nicht nur das Zusammenkommen zwischen Dylan und der jeweiligen Frau veranschaulicht, sondern auch die Freundschaft zwischen ihm und seinen Mitbewohnern: Frauen-Aufreißer Luke und Friendzone-Nettie Evie. Binnen weniger Minuten weiß man, dass sie eigentlich Dylan toll findet und er eigentlich sie, aber – es soll nicht sein?!
Das Setting ist eigentlich plump, aber schnell wird klar, dass es sich nicht um ein schnödes "Girl of the week"-Muster handelt. Ja, die Schematik gibt der Sendung Struktur, aber die Handlungen sind erfreulich miteinander verwoben und spinnen eher ein gesamtheitliches Netz.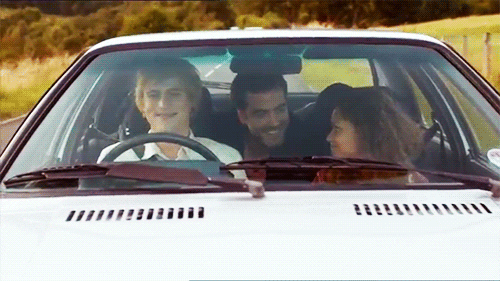 Darum ist es toll
Die Geschichte entfaltet sich, die unterschiedlichen Zeitebenen wirken durchdacht erzählt und machen Lust auf eine vieeeel längere Liste. Aber "Lovesick" kann vor allem durch seine sympathischen und authentischen Figuren überzeugen. Da werden keine Fabeln erzählt, alles wirkt nachvollziehbar und realistisch. Und der britische Humor ist so erbarmungslos wie er lustig ist. Hier und da over the top, aber dafür hat die Serie es mit sechs Folgen geschafft, mich öfter zum Lachen zu bringen, als so manche Emmy-nominierte "Comedy" seit Jahren.

Wer sein Herz am rechten Fleck hat und Lust auf moderne, dynamische und wirklich unterhaltsame "Romantic Comedy" ohne verschnultze Romantic hat, sollte hier mal zugreifen. Geht auch mit der besseren Hälfte, vor allem, wenn die britische Akzente eh dufte findet.

Die zweite Staffel kommt am 17. November mit immerhin acht Episoden auf Netflix. Ich freue mich jetzt schon drauf!

Bilder & Video: Channel 4 / Netflix

-->