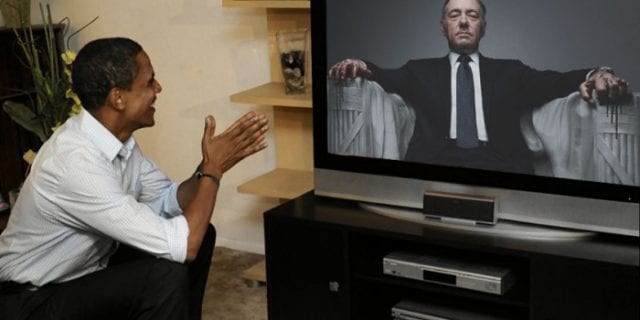 Dass Barack Obama ein Fan der Serie House of Cards (aktuell läuft die 3. Staffel) und der Serienfigur Frank Underwood ist, daraus macht der US-Präsident schon seit langem keinen Hehl. Jetzt hat er sich in einer offiziellen Botschaft die Serie mal wieder vorgenommen: Seinen "Aprilscherz" übermittelte er dem Zuschauer im Stil von House of Cards – direkt in die Kamera, mit einem kleinen Seitenhieb Richtung Frank Underwood.
Happy 5th Birthday, West Wing Week!
Hello, everybody. This is not Frank Underwood — this is Barack Obama. Happy April Fools' Day. Frank learned it from me.
Es ist nicht das erste Mal, dass sich Barack Obama als House of Cards-Fan outet. Er scherzte schonmal, dass Frank Underwood doch wirklich viele Dinge erledigt bekomme und er sich wünsche, dass sich einige Dinge im realen DC ebenso rücksichtslos effizient erledigen ließen. Und: Schon vor einem Jahr bat er via Twitter darum, Spoiler zur laufenden Staffel zu unterlassen.
Tomorrow: @HouseOfCards. No spoilers, please.

— Barack Obama (@BarackObama) February 13, 2014
Außerdem heißt es, er lasse sich vom HBO-Chef regelmäßig schon vor der Ausstrahlung Vorab-Kopien der Serie zukommen. Was Obama nicht gefallen dürfte: Der fiese Frank Underwood ist bei den US-Bürgern beliebter als er. Ein Cameo-Auftritt von Obama war ja bereits zur zweiten Staffel schon einmal im Gespräch. Vielleicht könnte er dadurch seine Beliebtheit mal wieder etwas steigern.