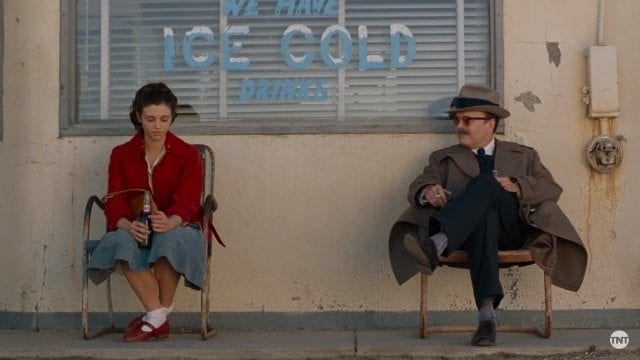 Offensichtlich gibt es bei TNT eine "Suspense Collection" von Miniserien, zu der schon "The Alienist" gehörte und zu der sich nun auch "I Am The Night" einreiht. In der sechs Episoden umfassenden Serie geht es um Fauna Hodel (India Eisley), die 1949 nach ihrer Geburt weggegeben wird und als Teenager beginnt, ihre Vergangenheit zu erforschen und zu hinterfragen. Dabei führen alle Hinweise ihrer Recherche nach ihrem Vater zu dem berüchtigten Hollywood Gynäkologen Dr. George Hodel (Jefferson Mays), der als Verdächtiger im Mordfall der Black Dahlia von 1947 gehandelt wird. Chris Pine spielt den Paparazzo Jay Singletary und ist neben Patty Jenkins (Regisseurin von "Wonder Woman") ebenfalls Executive Producer der Serie. Carl Franklin ("Mindhunter") führte bei zwei Folgen Regie.
Der Trailer sieht spannend aus, vor allem die schöne Komposition der Bilder und der Einsatz der speziellen Musik lassen die Serie sehr interessant wirken. Seht selbst.
Auch wenn der Start der Serie noch in recht weiter Ferne liegt, gibt es offenbar schon einen Premierenmonat: "I Am The Night" ist aktuell für eine Ausstrahlung ab Januar 2019 geplant.
via: TVLine