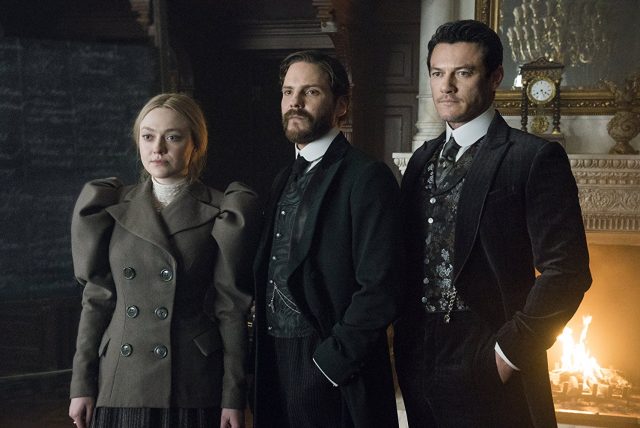 New York City, 1896 – Eines späten Winterabends geht ein Nachtwächter durch den frisch gefallenen Schnee. Vor seinen Füßen entdeckt er eine abgetrennte Hand. Erschrocken weicht er zurück und bei seinem Blick gen Himmel tropft ihm Blut auf die Wange. Auf der Brücke über ihm befindet sich eine verstümmelte Jungenleiche.
So beginnt die historische Krimi-Serie The Alienist um drei Ermittler, die einen brutalen Serienkiller jagen.
Nach dem brutalen Mord an einem Strichjungen schließen sich der Kriminalpsychologe Laszlo Kreizler, der Illustrator John Moore und New Yorks erste Polizistin Sara Howard zusammen, um dem Mörder auf die Schliche zu kommen. Während jeder Einzelne seine eigenen Probleme austrägt, kommen sie dem Mörder Stück für Stück näher. So gelingt es ihnen mittels eines psychologischen Profils, den Täterkreis immer enger zu fassen.
"Im 19. Jahrhundert dachte man, dass jene, die geisteskrank waren, sich von ihren Seelen entfremdet hätten. Die Fachkundigen, die sie untersuchten, wurden daher damals Seelenärzte genannt."
In zehn düsteren Episoden bekommt der Zuschauer einen Einblick in die frühe Polizeiarbeit, als der Einsatz von Fingerabdrücken zur Ermittlung des Verdächtigen noch neu waren und psychologische Befunde noch nicht an der Tagesordnung standen.
Das finstere Setting mit seinen dampfenden Ecken und schmutzigen Straßen vermittelt einen guten Eindruck wie es im ausgehenden 19. Jahrhundert in New York ausgesehen haben mag und zieht einen sofort in das Szenario. Dabei ist der Serie nicht anzumerken, dass sie in Budapest gedreht wurde.
Zwar handelt es sich bei "The Alienist – Die Einkreisung" um eine fiktive Geschichte, jedoch ereignen sich die Geschehnisse vor einem realen Hintergrund mit echten Personen, die zu jener Zeit lebten. Darunter beispielsweise der bekannte Unternehmer J.P. Morgan oder der Polizeipräsident Theodore Roosevelt, der später zum Präsidenten der USA wurde.
Die Hauptfiguren sind mit den Hollywood-Stars Dakota Fanning, Daniel Brühl und Luke Evans prominent besetzt.
Nach langer Zeit der Abwesenheit, brilliert die junge Dakota Fanning in der Rolle der toughen Frau, die sich immer wieder gegenüber ihrer männlichen Polizeikollegen beweisen muss.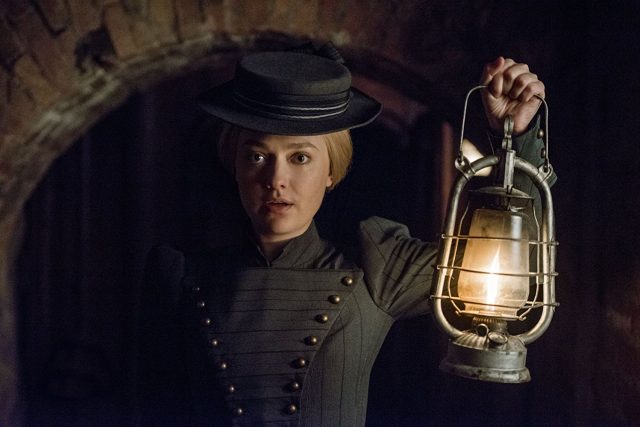 Der walisische Schauspieler Luke Evans spielt den Illustrator John, der Zeichnungen der Opfer am Tatort anfertigt. Er wirkt gerade zu Beginn der Staffel noch ziellos und sucht in der Nacht regelmäßig Bordelle, nicht nur zu Ermittlungszwecken, auf. Im Verlauf der Episoden vertieft er sich immer mehr in die Arbeit, dabei kommen er und Sara sich allmählich näher.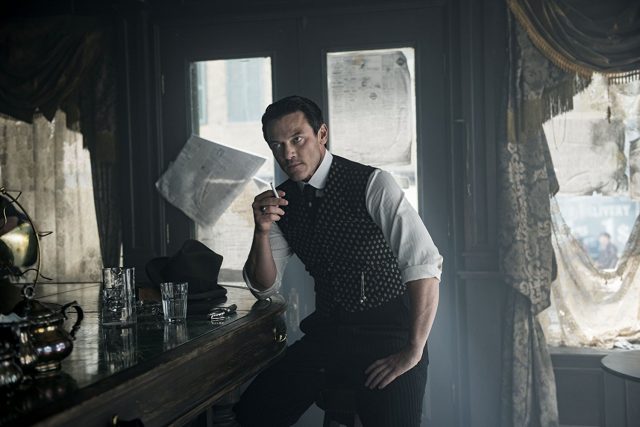 Mein persönlicher Favorit ist Daniel Brühl, der mit wenig Mimik und Gestik die Gefühlswelt des stoischen Psychologen perfekt vermittelt. Dieser Schauspieler gelangte nicht umsonst vom "Verboten Liebe"-Set zu großen Hollywood Filmen, wie "Inglourious Basterds" oder "Rush".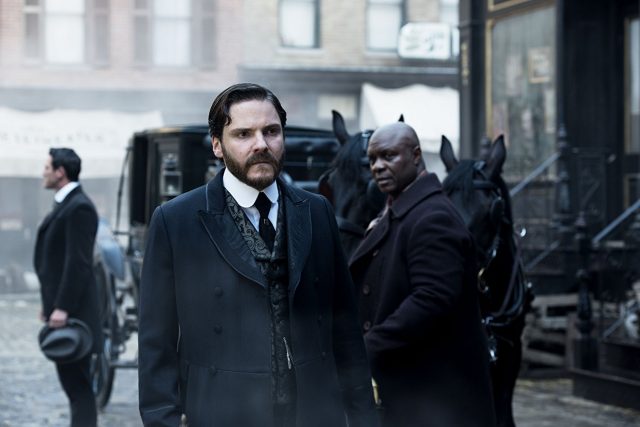 Immer wieder gelingt es der Serie, den Zuschauer am Ball zu halten. Mit jeder Episode werden neue Hinweise, die zur Ergreifung des Täters führen, aufgedeckt. Gerade wenn man denkt, die Polizei ist dem Killer dicht auf den Fersen, ist ihnen dieser schon wieder einen Schritt voraus. Beispielsweise wenn die Ermittler nach einem weiteren Leichenfund ein Schema erkennen, es aber beim nächsten Mord keine Anwendung findet.
"Wo ist er? – Er ist uns Entkommen!"
Dass die Serie sehr an eine amerikanische Version der klassischen Sherlock Holmes Geschichten erinnert ist kein Zufall. Der Autor der Buchvorlage Caleb Carr hat neben "Die Einkreisung" auch einen Roman mit dem Meisterdetektiv ("Das Blut der Schande") verfasst. Der Erzähler in "Die Einkreisung" heißt wie der gute Watson ebenfalls John, der für die serielle Adaption zum Illustrator umfunktioniert wurde. Die Fortsetzung zu "Die Einkreisung" ist bereits unter dem Titel "Engel der Finsternis" erschienen. Derzeit arbeitet der Autor an einem dritten Teil.
Man darf also auf weitere Staffeln mit dem Ermittler-Trio hoffen.
Fazit
Fesselnder und düsterer Krimi vor einem historischen Hintergrund.
The Alienist – Die Einkreisung ist auf Netflix verfügbar.
Bilder: Netflix