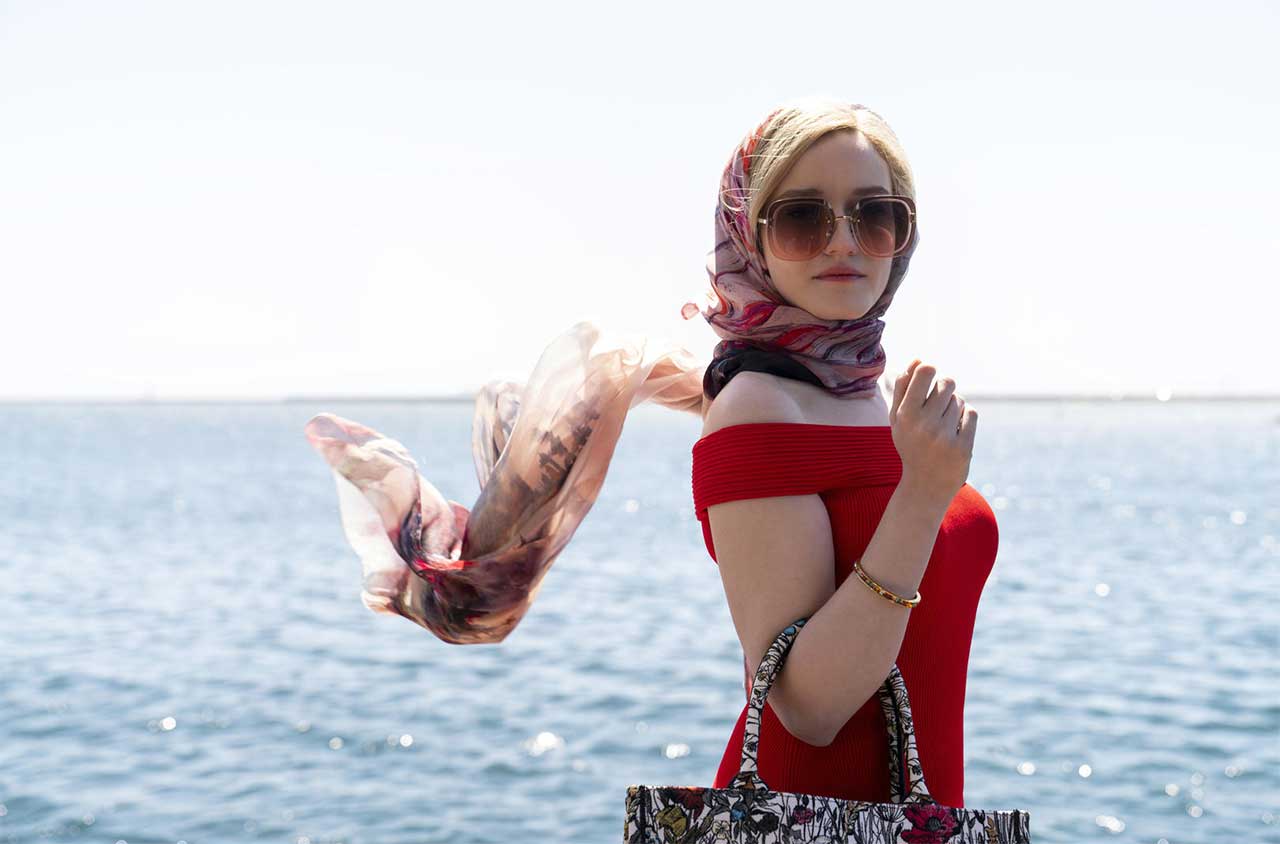 2018 hat Journalistin Jessica Pressler den Beitrag "How Anna Delvey Tricked New York's Party People" im New York Magazin veröffentlicht. Darin ging es um eine deutsche Erbin, die sich in der High Society des Big Apples vergnügt hat und eigentlich Anna Sorokin heißen und gar nicht unbedingt so reich sein soll… Den Stoff fand niemand Geringeres als Shonda Rhimes, die Erfolgsserien wie "Grey's Anatomy" oder auch "Bridgerton" (mit)produziert hat, interessant, so dass wir jetzt eine Netflix-Miniserie zur Elite-Hochstaplerin erhalten werden.
Hier der erste Teaser zu "Intenting Anna" – zunächst im englischen Originalton, darunter könnt ihr die deutsch synchronisierte Fassung erleben.
"Wer zur Hölle ist Anna Delvey? 'Inventing Anna' basiert auf der wahren Geschichte eines totalen Fakes und ist ab 11. Februar 2022 auf Netflix verfügbar."
Wer nach dem Teaser noch nicht so ganz im Klaren darüber ist, worum es nun in "Inventing Anna" genau gehen soll – hier die offizielle Plot-Zusammenfassung:
"Fake it till you make it! Nachdem sich Anna Sorokin (Julia Garner) aus Deutschland in die USA aufmacht, treibt sie dieses Motto als Hochstaplerin auf die Spitze: Als vermeintliche Millionenerbin Anna Delvey betrügt sie monatelang die New Yorker High Society um hunderte Tausend Dollar. Banken, Hotels, Freunde – keiner ist vor ihr sicher, bis ihr Kartenhaus aus Lügen schließlich in sich zusammenbricht. Für die Öffentlichkeit bleibt die Geschichte aber unbemerkt, bis eine Journalistin (Anna Chlumsky) auf den Fall aufmerksam wird."
In "Intenting Anna" spielen so einige bekannte Film- und Fernseh-Gesichter mit. Allen wären da voran natürlich Julia Garner ("Ozark", "Maniac") und Anna Chlumsky ("Veep: Die Vizepräsidentin", "Hannibal") in den Hauptrollen der "wahren Geschichte eines totalen Fakes". Dazu gesellen sich noch unter anderem Arian Moayed ("Succession", "Madame Secretary"), Laverne Cox ("Orange is the New Black", "The Mindy Project"), Anders Holm ("Workaholics", "The Mindy Project"), Jeff Perry ("Grey's Anatomy", "Scandal") oder auch Caitlin FitzGerald ("Masters of Sex", "Station Eleven") in größeren Rollen.
Alle zehn Episoden der Miniserie "Inventing Anna" werden ab Freitag, dem 11. Februar 2022, über Netflix verfügbar sein. Da das ja noch eine Weile hin und viel Feiertags-Stress dazwischen liegt, macht es vielleicht Sinn, dass ihr vom digitalen Reminder Gebrauch macht, den es auf der offiziellen Streamingseite zur Produktion gibt.
Hier und abschließend noch das offizielle Poster mit dem Key-Art-Motiv zur Serie: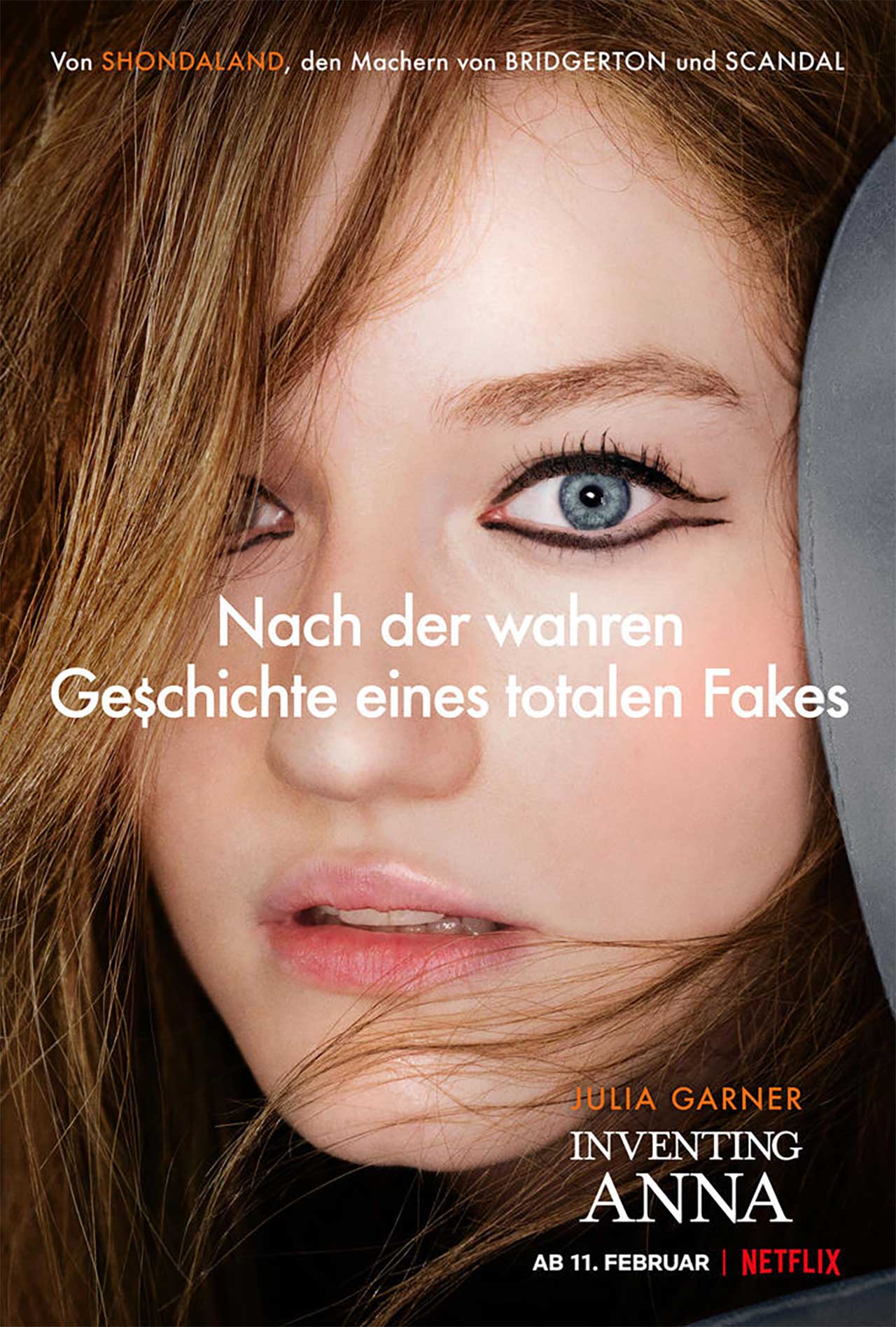 Bilder: Netflix

-->