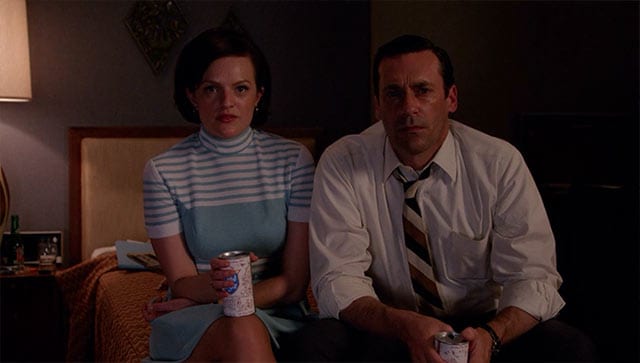 Heute gibt es das Mad Men-Review mal etwas früher als sonst. Zum einen, weil Game of Thrones aussetzt, zum anderen, weil das Midseason-Finale ansteht. Korrekt, bereits nach sieben Folgen ist zunächst einmal Schluss für dieses Jahr. Und das, wo gerade endlich mal ordentlich was passiert…
Bereits die erste Sequenz verspricht Episches, die Reise zum Mond. Es wird schön eingefangen, wie das komplette Land sprachlos zuschaut, wie der erste Mensch auf dem Mond landet. Noch kein historisches Event hat derart viel Aufmerksamkeit in der Serie erhalten. Die Folge schafft es auch, zumindest Elementares zu halten, was das Versprechen auf Großartigkeit angeht.
Auf der Erde scheint alles beim Alte, oder sogar noch schrecklicher. Der schemenhafte Schnelldurchlauf von Don und Co. durch das geplante Meeting bei Burger Chef ist durchaus unterhaltsam und wähnt uns in den guten alten Zeiten. Doch Don wird hinterrücks abserviert, Jim verdeutlicht, dass man von Außen ein deutlich höheres Bild vom Mythos Don Draper hatte, als es ihm jetzt in Realität erscheint. Und auch Megan scheint ihn nicht mehr wirklich da haben zu wollen…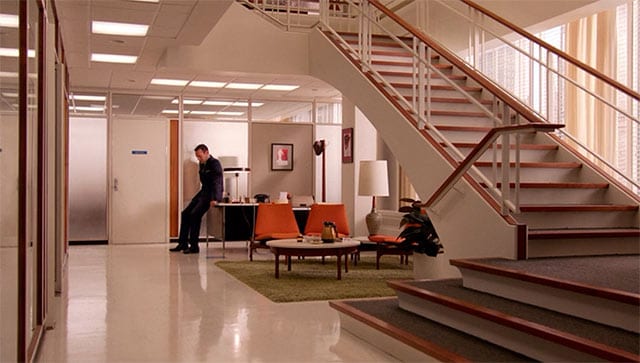 Ted hat eine Schaffenskrise und Peggy den Nachbarsjungen weiter an der Backe. Und man merkt, wie das ehemalige Sterling & Cooper mittlerweile komplett auseinander fällt. Ein Mahnmal für die Fusionswelle der modernen Wirtschaftsgesellschaft.
"I don't want you to go to work" – "Nobody does." (creepy Nachbarsjunge & Peggy)
Und dann ist auf einmal Burt Cooper tot. War er doch kurz vorher noch zu sehen und so "vital" wie eh und je. Sehr seltsame Darstellungsweise, da hätte man ihn vielleicht aus der TV-Sequenz raus lassen sollen. Zumal die Neuigkeit sehr nebenbei "erläutert" wird. Jedenfalls bringt diese krasse Änderung endlich Bewegung ins Spiel, in Form von Roger, der sich nicht nur zuletzt bereits als loyaler Partner Dons ausgegeben hat, sondern zum Hero of the day aufsteigt. Er rettet scheinbar die Firma, zumindest vor dem kompletten Verfall. Und alle cashen richtig ab, so dass sogar Jim seine Stimme widerwillig und überflüssiger Weise gibt.
"Ted's in, let's have a vote!" (Roger)
Meine Meinung:
Tja, was soll man sagen. Eine Folge, die endlich das bröckelnde Monument Agentur angegangen ist. Auch wenn die Art und Weise bescheuert war, ist mit Burt ein wichtiger Charakter von uns gegangen. Die Musicalszene am Ende war dann doch etwas arg überzogen… Aber man merkt, dass es in den anderen Charakteren brodelt, und wer wie stark seine Prinzipien in Frage stellt. Und Dinge in Relation gerückt werden. "Arbeiten bei/unter McCann? Nie und nimmer." Das war einmal. Jetzt ist es das kleinere Übel. ODER: sie machen einfach eine neue Agentur auf! Ich sag es ja immer wieder…
Jedenfalls ein solides Ende. Nicht episch, nicht Moonlanding-Style, aber gut. Es sind einige wichtige Dinge passiert, wenn auch im vielleicht etwas falschen Erzähltempo. Aber gerade jetzt, wo Fahrt aufkommt, werden wir jäh in der Erzählung unterbrochen. Sehr schade. Aber die besten Dinge auf der Welt sind gratis. So wie Vorfreude auf das richtige Finale.