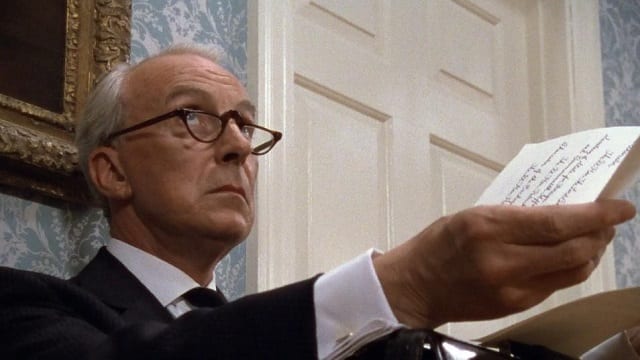 Ist der Monat schon wieder rum? Das nicht ganz, aber die aktuellen Ereignisse im UK und den internen Ränkespielereien sowohl bei den Torries, der Conservative Party als auch und insbesondere in der Labour Party fordern geradezu einen der großen britischen Serienklassiker: "House of Cards". "Das ist doch eine US-amerikanische Serie mit Kevin Spacey!" meint ihr mit erhobenem Zeigefinger? Ja. Stimmt. Ich meine aber das britische Original mit Ian Richardson. Kennt ihr gar nicht? Seht ihr, dann hat der Beitrag schon sein Ziel erreicht.
In meinen Augen ist das britische Original viel dramatischer weil politischer, persönlicher, wesentlicher als die US Version, auch wenn ich von Kevin Spacey als Frank Underwood bisher noch nicht allzu viele Folgen gesehen habe. Aber da kann man natürlich weitaus anderer Meinung sein. Ich finde es gerade nur sehr schade, dass wenn man aufgrund der gegenwärtigen politischen Situation im UK wie in den USA auf die Serie "House of Cards" verweist, immer nur an die US Version denkt. Das muss man ändern!
Dass will ich ändern.
"House of Cards" TV Intro
Steckbrief
Name: House of Cards Trilogy (House of Cards / To Play the King / The Final Cut)
Genre: Politthriller, Drama
Laufzeit: 50 – 55 Minuten
Staffeln (Folgen): 3 (12)
Ausstrahlung: 18.November 1990 – 26.November 1995 (BBC One)
Darsteller: Ian Richardson, Diane Fletcher u.A.
Handlung
Die drei Teile der Trilogie basieren auf den gleichnamigen Romanen von Michael Dobbs, einem ehemaligen hochrangigen Mitglied der Concervative Party, der seine Erlebnisse als Politiker und Politberater in Form der drei Romane zu fiktiv-realen Geschichten verarbeitete. Er selbst galt als "meisterhafter politischer Drahtzieher" und darf wahrscheinlich durchaus mit dem Protagonisten der Serie, Francis Urquhart, mindestens verglichen werden.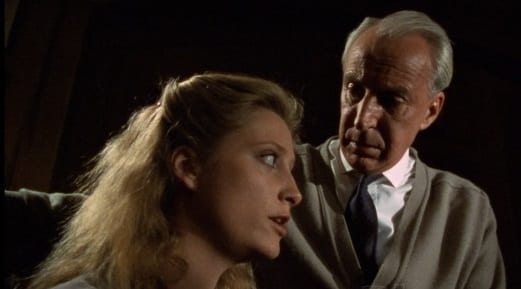 Kenner des US Ablegers sollten die grds. Geschichte der Serie kennen, anderen wird die Geschichte bestimmt bekannt vorkommen, im Mittelpunkt steht Francis Urquhart (spricht sich "Ürket"), ein sehr erfahrener und einflussreicher Politiker der Conservative Party. Als ihm der zuvor zugesicherte Kabinettsposten vom neuen Premierminister verweigert wird, sinnt Urquhart auf Rache. Es beginnt eine rasante Fahrt, gesäumt von politischen und medialen Intrigen. Auf das Mittel des nicht nur politischen Mordes greift Urquhart nicht nur einmal zurück. Ansonsten kommt er aber als der typische britische Gentleman rüber doch hinter den Kulissen lernen wir einen ganz anderen Mann kennen. Eiskalt, berechnend – unbarmherzig.
Wir lernen ihn sogar sehr gut kennen, denn Urquhart durchbricht laufend die Vierte Wand und erklärt uns Zuschauern sein politisches wie menschliches Handeln und stellt dieses immer wieder als zwingend notwendig dar, alles "im Sinne des Volkes und zum Wohle des Landes".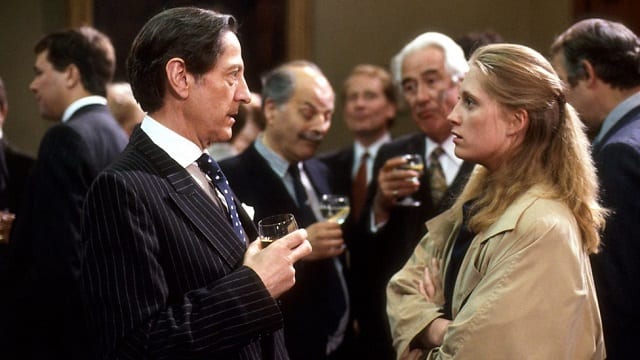 Wir verfolgen Francis Urquharts Weg vom Whip bis hin zum Premierminister und erleben im letzten Teil, wie er sich selber vor politischen Intrigen wehren muss.
Meinung
Diverse Preise pflastern den Weg dieser Trilogie (BAFTA, Emmy), die mich persönlich viel eher erreicht als die US Version. Im Original wird in meinen Augen ein viel größerer Wert auf die Folgen der Intrigen, auf die persönlichen Auswirkungen der politischen Ränkespielchen gelegt. Francis Urquhart steht natürlich genauso im Mittelpunkt wie Frank Underwood, aber Ian Richardson verkörpert diese Figur viel feiner, charaktervoller als Kevin Spacey seinen Frank Underwood. Der US Ableger ist für mich zu oberflächlich, zu sehr auf Kevin Spacey fokussiert. Ian Richardson und das britische Original legen einen deutlich größeren Wert auf die Geschichte und seine diversen Charaktere.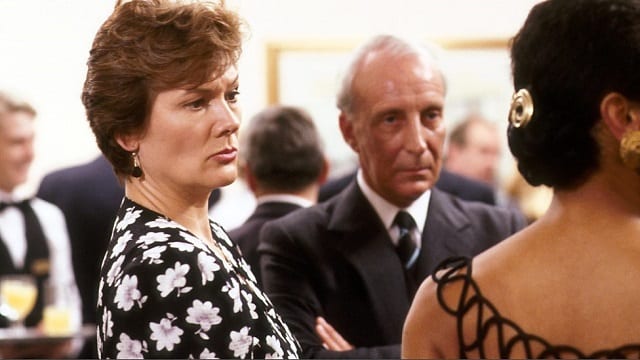 "House of Cards" in der UK Version ist eher ein Kammerspiel, ist dadurch manchmal etwas zu gemächlich, aber beinhaltet schöne Dialoge und einen absolut überzeugenden Ian Richardson. Und das schöne: alle drei Teile gibt es entgegen der sonstigen UK Serientipps auch in einer kostengünstigen deutschsprachigen Blu-ray Ausgabe.

Wer mehr auf den dramatischen Part einer solchen Geschichte steht, eine überzeugende und charaktervolle Darstellung einer eher effektvollen Darbietung vorzieht, der sollte unbedingt mal in die Serie reinschauen, auch wenn man die Geschichte schon einmal in der US Version gesehen hat.

Bilder: BBC

-->