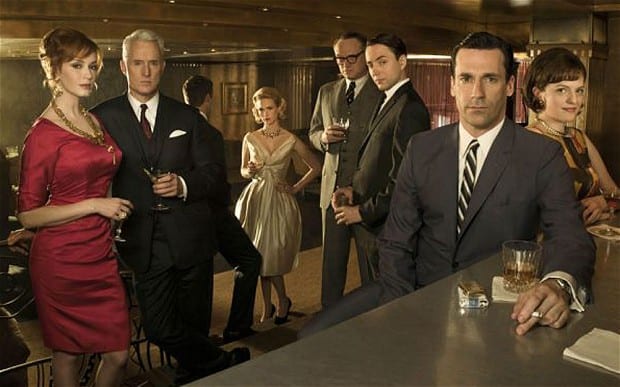 Wer nächste Woche in New York weilt, kann sich auf ein spezielles Mad Men-Angebot freuen: Über 30 Restaurants am Big Apple bieten vom 23. bis 29. März ein spezielles Mad Men-Menü an – für 19,69 $. Menüs und Preis sollen an das Setting der bald endenden Serie erinnern, das in den 1960er Jahren in New York angesiedelt ist. Man kann zwischen einem nostalgischen Zwei-Gänge-Menü oder zwei Drinks, "liquid lunch" genannt, wählen – Don Draper würde sich wohl für letzteres entscheiden.
Die Aktion ist eine Kooperation zwischen dem Sender AMC und NYC & Company, der offiziellen Marketingagentur der Stadt. Auf der offiziellen Website der Marketingagentur bekommt man einen Überblick über alle teilnehmenden Restaurants. AMC-Chef Charlie Collier meint, dass man mit der Aktion jenen Menschen in New York etwas zurückgeben könne, die Serienerfinder Matthew Weiner zur Serie inspiriert hätten.
Dialogue about Mad Men has revolved around so many different topics from design and fashion to food and drink, to name just a few. So, on the heels of announcing several upcoming events focusing on the cultural impact of this series, AMC is thrilled to share this very special moment in television history by bringing Mad Men Dining Week to the fans. The men and women of Madison Avenue inspired Matthew Weiner's story and we couldn't imagine a better way to celebrate than by eating, drinking and raising a glass together in their honor.
Letztlich ist es natürlich im Prinzip eine reine Marketingaktion für das Finale der Serie – aber irgendwie nett gemacht. Wäre schön, wenn sich FOX und Sky hier in Deutschland auch etwas Entsprechendes einfallen lassen würden. In New York gibt es noch eine Reihe weiterer Aktionen zum Finale, unter anderem mit Ausstellungen, Vorführungen und Diskussionsrunden. Mit dabei sind unter anderem das Museum of the Moving Image, die Film Society of Lincoln Center, The New York Public Library, BAMcinématek, The 92nd Street Y and the Museum of Jewish Heritage.
via: Observer