Die neue Staffel Orange Is The New Black hat mich  bisher nicht wirklich gefangen.  Bisher fühlt es sich an wie Rosamunde Pilcher im Gefängnis. Die größten Dramen bestehen aus dem nicht ergattern neuer Jobs im Gefängnis oder der Angst bei der Wachleuten, nur noch eine halbe Stelle zu bekleiden. Da kann man sich vor Spannung kaum noch auf dem Hocker halten!
Um es vorweg zu nehmen, dies ändert sich auch nicht in der sechsten Folge der dritten Staffel. Also löse ich mich von der immer gleichen Kritik und fange an mich doch auf die kleinen Geschichten einzulassen – und siehe da, mir macht OINTB wieder Spaß. Daran hat Chang großen Anteil in dieser Episode.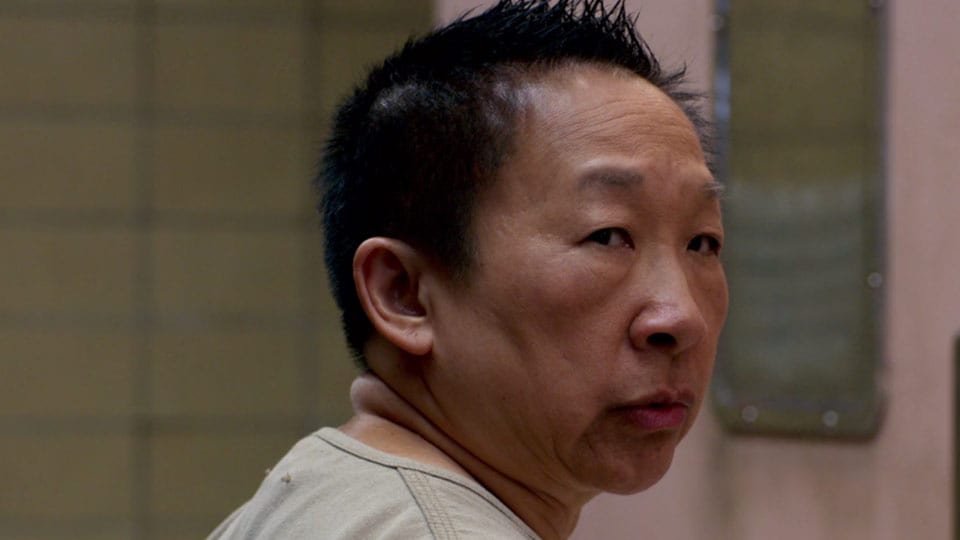 Chang (c) Netflix
Chang ist die kleine chinesische Inhaftierte, die wir bisher nur in kurzen und sehr skurrilen Auftritten gesehen haben. Endlich erfahren wir mehr zu ihrem Hintergrund und der hat es in sich. Sie war eine Anführerin in der chinesischen Mafia, Schläger setzten ihre brutalen Befehle um, ihr konnte keiner das Wasser reichen. Das ist ein herber Kontrast zu der Figur die wir bisher im Gefängnis gesehen haben, was aber nicht heißt, dass ihre Vergangenheit unglaubwürdig wäre. Offenbar hat sie nach wie vor Kontakte zu der Außenwelt. In einem Schuppen auf dem Gefängnishof hat sie ein Smartphone versteckt und schaut chinesische Programme zur Entspannung, während sie Orangen isst, die man extra für sie am Rand des Gefängniszauns für sie versteckt hat. Leider öffent sich ihr Charakter nur durch Rückblicke, in der Gegenwart bleibt sie in ihrer zurückgezogenen Rolle mit kurzen einfachen Sätzen stehen – hoffentlich sehen wir bald noch mehr von ihr.
Ansonsten ist das große Highlight die Tatsache, dass Red zurück in die Küche darf. Erfolgreich hat sie Healy um die Finger gewickelt, auch wenn es am Ende die Taktik der absoluten Ehrlichkeit war und nicht die Einschleimaktion. Healy erbarmt sich daraufhin und lässt sie versetzen. Mit Rockmusik untermalt marschiert sie trumphierend in ihre alte Wirkungsstätte. Nachdem sie die Schürze umgebunden hat fallen die Worte:
I'm back.
Ein hervorragendes Ende und für mich die Hoffnung, wieder etwas mehr vom "alten" Orange Is The New Black zu sehen.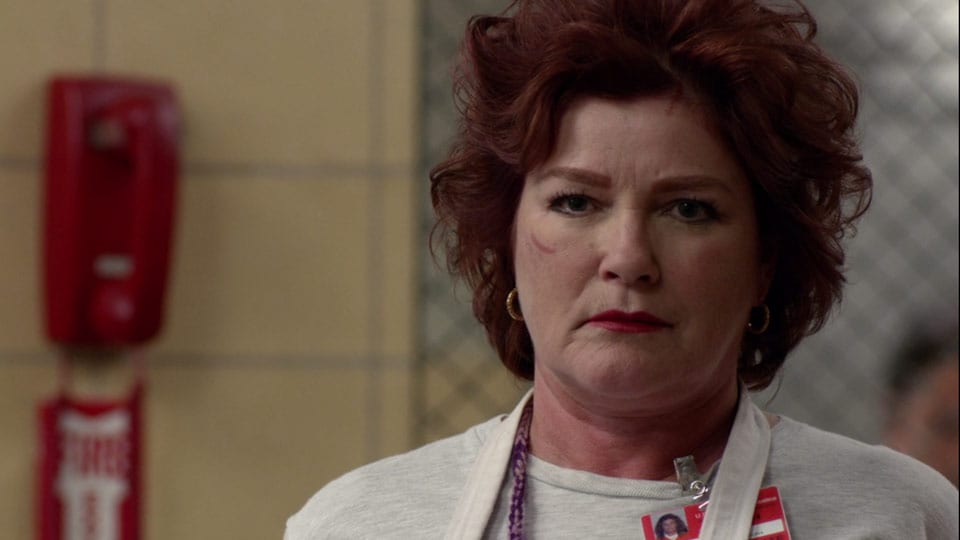 Red is back (c) Netflix

Für mich steht fest, Folge 6 ist bisher die beste Episode der dritten Staffel. Die Hintergründe zu Chang lassen den Zuschauer überrascht zurück – dieses Gefühl kannte man gar nicht mehr. Außerdem erleben wir den Beginn des großen Comebacks von Red. So kann es defintiv weiter gehen, Orange Is The New Black macht wieder Freude.

-->