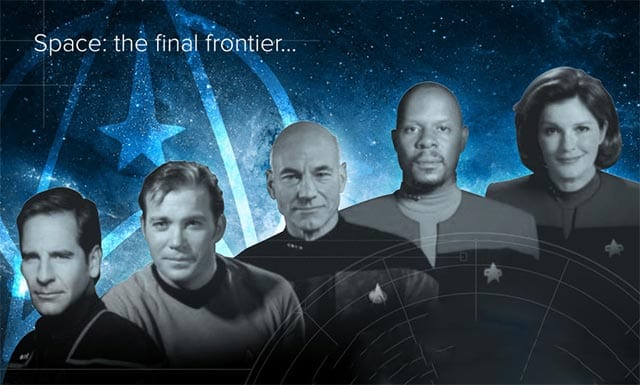 Vor einer Weile hatten wir euch nach dem besten Captain der Star Trek-Geschichte gefragt. Nicht weiter verwunderlich hat es Captain Jean-Luc Picard auf den Platz auf der Brücke geschafft. Doch ist diese Wahl noch recht einfach zu bestreiten, dürften Fans sich mehr als uneinig sein, welche der 695 ausgestrahlten Episoden denn nun die Beste sei. Und welche die Schlechteste. Und welche liegen in welcher Reihenfolge dazwischen?!
Eine Diskussion, die ganze Comic-Cons füllen könnte – aber der Playboy hat das einfach mal für euch übernommen. Sicherlich eine Zusammenstellung, die unter Trekkies für ordentlich Zündstoff sorgen kann. Damit ihr euch nicht durchklicken müsst, hier einige Auszüge.
695) "Shades of Gray," The Next Generation, Season 2
A clips episode? What is this, The Partridge Family? An embarrassment. Don't give me excuses about a writer's strike, this is television sewage.
…
2) "The Inner Light," The Next Generation, Season 5
Great men are adaptable, so when Picard just can't get back to his ship he creates another life for himself. But is it reality? This episode is a hundred times better and more insightful than The Matrix and the tones of a Ressikan Flute always make me cry. We love seeing our characters in places outside of where we expect them to be, and this is the humdinger of them all.
1) "The City on the Edge of Forever," The Original Series, Season 1
Yeah, I know, everyone always picks this one, but I watched again to make sure and, yes, it really is the best. It just hums. […] This is science fiction at its absolute finest, using a way out and fantastical concept to address universal themes like loss and fate. It is, unquestionably, the greatest Star Trek episode of all time.
Die ausführlichen Ausführungen der Ränge 100-1 (und natürlich auch derer davor) gibt es hier zu sehen. Es gab übrigens noch ein paar Regeln, die im Vorfeld aufgestellt worden sind:
1 – The movies don't count.
2 – The original, unaired pilot "The Cage" doesn't count.
3 – Two-part episodes count as one episode. This isn't as much of a crutch as you might think. Many two-parters start off great, then whiff in the home stretch.
4 – The episodes part of larger arcs (Dominion War, Xindi Superweapon) are treated individually if they have their own title without "Part X" in it.
5 – The Animated Series does count. You have an issue with that, send a telegram.
via: Marco, der sie alle gleich doll lieb hat!

-->