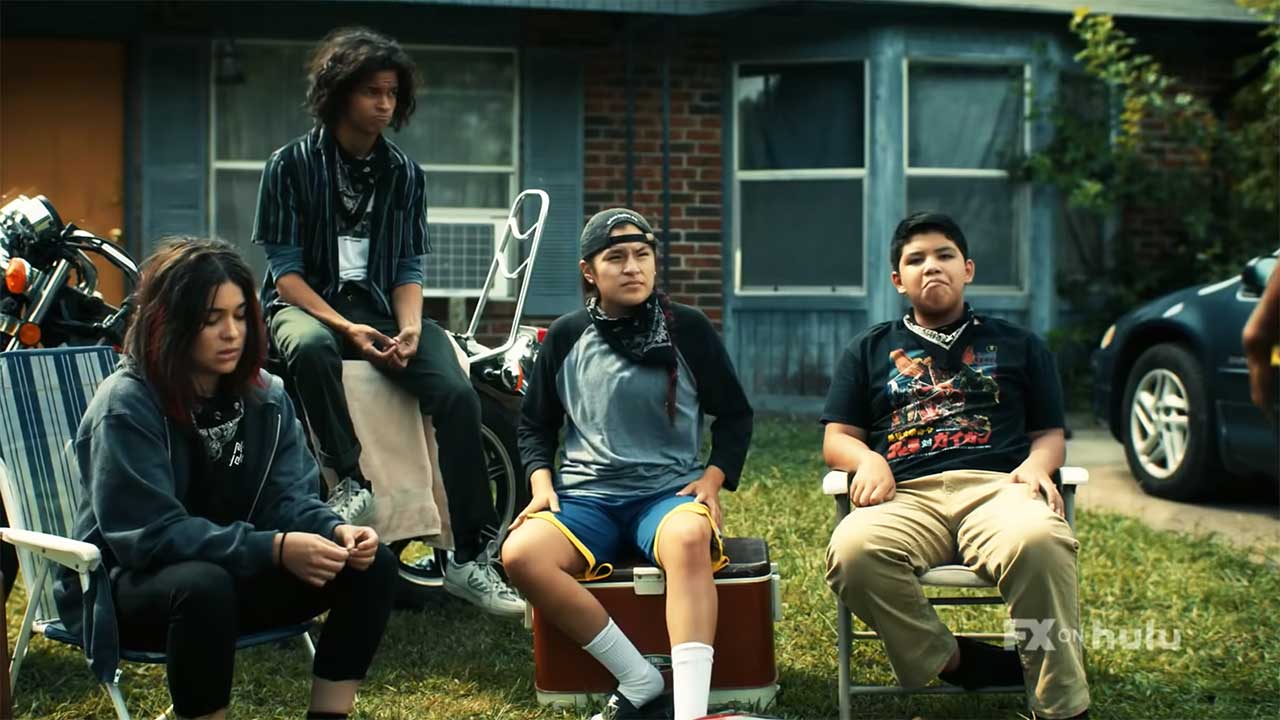 Solltet ihr den Titel nur oberflächlich gelesen haben: Nein, es handelt sich hierbei leider nicht um eine Serien-Adaption des Tarantino-Kultfilmes "Reservoir Dogs", gleichwohl dürfte "Reservation Dogs" eine mehr als deutliche Anspielung auf den Streifen sein. Plus die Anzüge mit Schmalkrawatten im Trailer… Entgegen des blut-freudigen Spielfilmes geht es in der neuen Comedy-Serie aber weitaus seichter zu, auch wenn der Skurrilitätsgrad ähnlich hoch sein dürfte. Eine Truppe indigener Kids im ländlichen Oklahoma machen allerlei krumme Dinger, inszeniert von Sterlin Harjo und Taika Waititi. Hier der jüngst veröffentlichte Trailer zur FX-Hulu-Serie.
"From Co-Creators and Executive Producers Sterlin Harjo and Taika Waititi, Reservation Dogs is a half-hour comedy that follows the exploits of four Indigenous teenagers in rural Oklahoma who steal, rob and save in order to get to the exotic, mysterious and faraway land of California."
Die erste Staffel von "Reservation Dogs" wird ab Montag, dem 9. August 2021, in den USA zu sehen sein (linear über den TV-Sender FX sowie On Demand über die Streaming-Plattform Hulu). Für Deutschland ist bislang noch kein Sendetermin offiziell bekanntgegeben worden. Aufgrund der Tatsache, dass die US-Sender mittlerweile der Disney-Familie angehören, kann man aber als Abonnent:in von Disney+ durchaus leise Hoffnungen bezüglich einer Aufnahme in den Programmkatalog hegen.
Die indigene Verbindung liegt übrigens bei den Serienmachern Sterlin Harjo und Taika Waititi ziemlich direkt vor. Harjo ist selbst indigener Filmemacher, beim neuseeländischen Waititi ist der Vater Teil der indigenen Bevölkerung der Māori. Im Rahmen des Tribeca Film Festivals hat Harjo über die Produktion von "Reservation Dogs" gesagt:
"This is like my dream show. The only reason I get to make this show is because of Taika Waititi, and it's like the best gift a friend could give someone. He walked this into FX and then let me take off and make this show. … I don't think any other show that I would make would be as important as this is to me."
-->