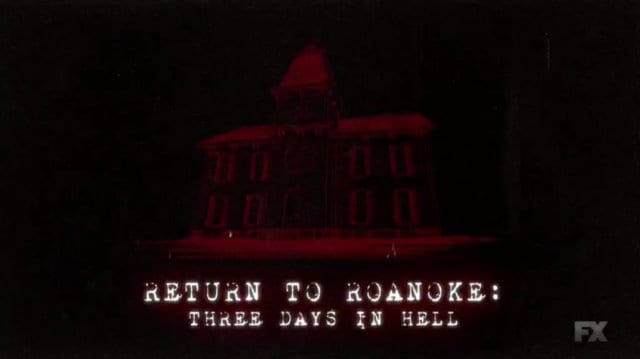 Es ist vollbracht: Die von mir sehnlichst erwartete 6. Episode der diesjährigen American Horror Story Staffel ist in die Welt entlassen worden. Bereits im Voraus gab es einige Versprechungen von Ryan Murphy, dass diese Folge die Story in eine komplett andere Richtung katapultieren wird. Hat er zu viel versprochen oder war das tatsächlich die Folge, auf die wir alle zu Recht gewartet haben?
Auch wenn sich das im Nachhinein leicht sagen lässt: Ich hab's doch gewusst! Ich habe geahnt (und den Trailer für diese Folge habe ich schön gemieden), dass AHS nun in diese Richtung geht: Behind the scenes. Besser gesagt heißt es nun höchst offiziell Return to Roanoke: Three Days in Hell.
Worum genau geht es in der zweiten Staffelhälfte? Sidney, der Produzent von den beiden Roanoke Dokus, kann das am besten erklären:
" "Return to Roanoke: Three Days in Hell." I'm gonna bring everybody who lived in that house, and the actors who played them on the show, and put them together in that house again. Only this time, hidden cameras recording everything." Sidney
Gleich zu Beginn kann sich AHS einen kleinen Seitenhieb auf die Konkurrenz nicht verkneifen: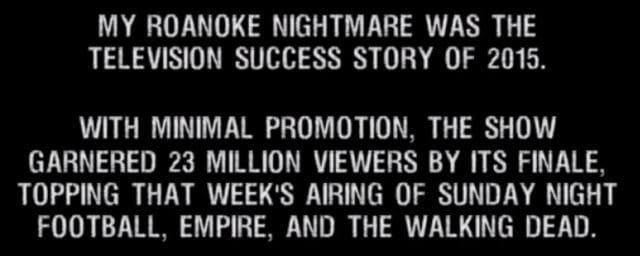 Die Episode liefert so viele neue Eindrücke, ich bin eindeutig überfordert. Deswegen hier eine kurze Auflistung der Charaktere:
| | | |
| --- | --- | --- |
| Schauspieler | echter Name | Rolle |
| Cheyenne Jackson | Sidney (Produzent) | |
| Shannon Lucio | Diana Cross (Assistentin) | |
| Angela Bassett | Monet Tumusiime | Lee Harris |
| Kathy Bates | Agnes Mary Winstead | The Butcher |
| Cuba Gooding Jr. | Dominic Banks | Matt Miller |
| Sarah Paulson | Audrey Tindall | Shelby Miller |
| Evan Peters | Rory Monahan | Edward Mott |
| Denis O'Hare | ? | Dr. Elias Cunningham |
| Wes Bentley | ? | Ambrose White |
| Lily Rabe | Shelby Miller | |
| André Holland | Matt Miller | |
| Adina Porter | Lee Harris | |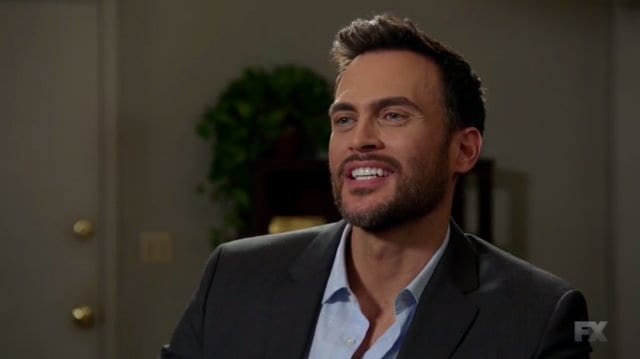 Sidney ist ein skrupelloser TV-Produzent, für den nur eins gilt: Quote bzw. Drama. Beflügelt vom Erfolg vom My Roanoke Nightmare, will er den Hype ausnutzen und eine Fortsetzung drehen lassen. Sogar der Tod eines Crewmitglieds lässt ihn nicht von seinem Plan abkommen. Und Agnes hetzt er wohl absichtlich auf, damit sie den Teilnehmern im Haus einen Schrecken einjagt.
"Something terrifying is happening with this place." Diana
Apropos Agnes: Die Schauspieler sind (natürlich!) mit Problemen behaftet: Agnes hat ein psychisches Problem und war in Behandlung (da hat sich wohl jemand zu sehr mit The Butcher identifiziert), Monet hat ein Alkoholproblem, Audrey hat Komplexe bzgl. ihres Alters und somit Vertrauensprobleme mit Rory (die beiden sind verheiratet). Bzgl. Dominic kann zum jetzigen Zeitpunkt nur gemunkelt werden, doch er erscheint etwas abgehoben. Ach ja, und er hatte eine kurze Affäre mit Shelby, weswegen Shelby und Matt getrennt leben.
Was außerdem hinzu kommt: Die beiden Gruppen (Schauspieler und die "Vorlagen") verstehen sich nicht. Die Schauspieler kommen sehr abgehoben rüber und nehmen die anderen absolut nicht ernst, verhöhnen sie sogar. Doch Shelby und vor allem Matt haben Angst, dass während des dreitägigen Aufenthaltes etwas passieren wird. Sie haben den Horror des Hauses tatsächlich erlebt.
Audrey [about Shelby]: "Fiery and pathetic. It's exactly how I played her."
Rory: "Nailed it."
Sidney und alle anderen (bis auf Matt und Shelby) gehen zudem davon aus, dass Lee Mason ermordet hat. Dementsprechend halten sie ihre Meinung nicht hinter dem Berg und konfrontieren Lee. Sidneys Ziel ist es, dass Lee vor der Kamera zugibt, dass sie Mason umgebracht hat.
Nachdem der erste Staffelteil nachgestellt war und der Zuschauer wusste, dass Matt, Shelby und Lee überleben, ist es jetzt genau umgedreht: Wir wissen, dass alle bis auf eine Person sterben wird.
Diese Folge kann bereits drei Tote vorweisen: Diana (wahrscheinlich…), das Crewmitglied und Rory (noooo Evan Peters!). Außerdem sind alle paranormalen Geschehnisse real, vom Cast gesehen oder nur vom Zuschauer.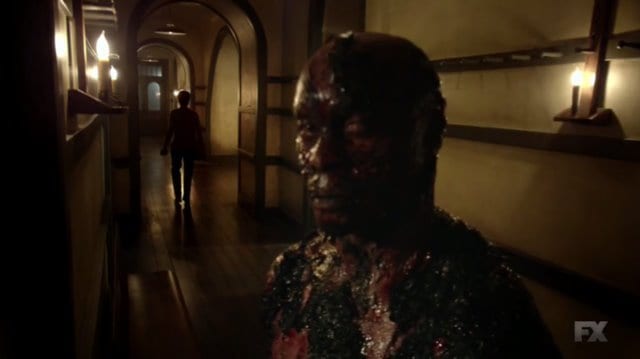 Das erste Opfer vom Hauptcast ist also Rory. Er wird von den beiden mörderischen Krankenschwestern abgestochen.
Matt entdeckt das wohl als erster und ist erstaunlich ruhig. Außerdem konnte das MURDER-Graffiti endlich fertiggestellt werden.
"R is for Rory." Matt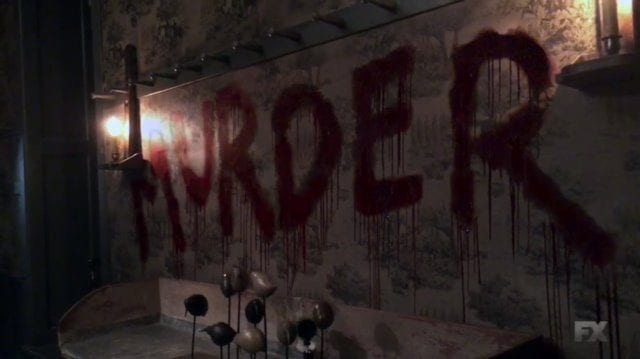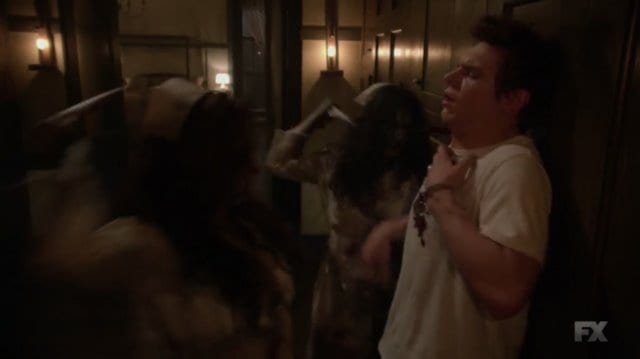 Fazit
2 in 1! Wahnsinnsidee, 2 Staffeln in einer zu verpacken. Es macht total Spaß die Schauspieler in sehr unterschiedlichen Rollen zu sehen. Zwar wissen wir, dass fast alle Teilnehmer bei Return to Roanoke die 3 Tage nicht überleben werden, doch wir wissen natürlich nicht, wer überleben wird. Ich spekuliere: Die reale Shelby.
Bei dieser Folge wurde übrigens von Angela Bassett Regie geführt. Und damit ist sie tatsächlich die erste Frau, die diese Position bei AHS innehalten darf… In Zukunft ist die Frauenquote bei den Regisseuren hoffentlich größer.
Wer sich etwas spoilern lassen will und erfahren möchte, mit welchen Schauspielern wir diese Staffel noch rechnen können, kann hier vorbeischauen.
Außerdem sollte ich aufgrund der thematischen Nähe mal bei UnREAL reinschalten.

Bilder: FX

-->