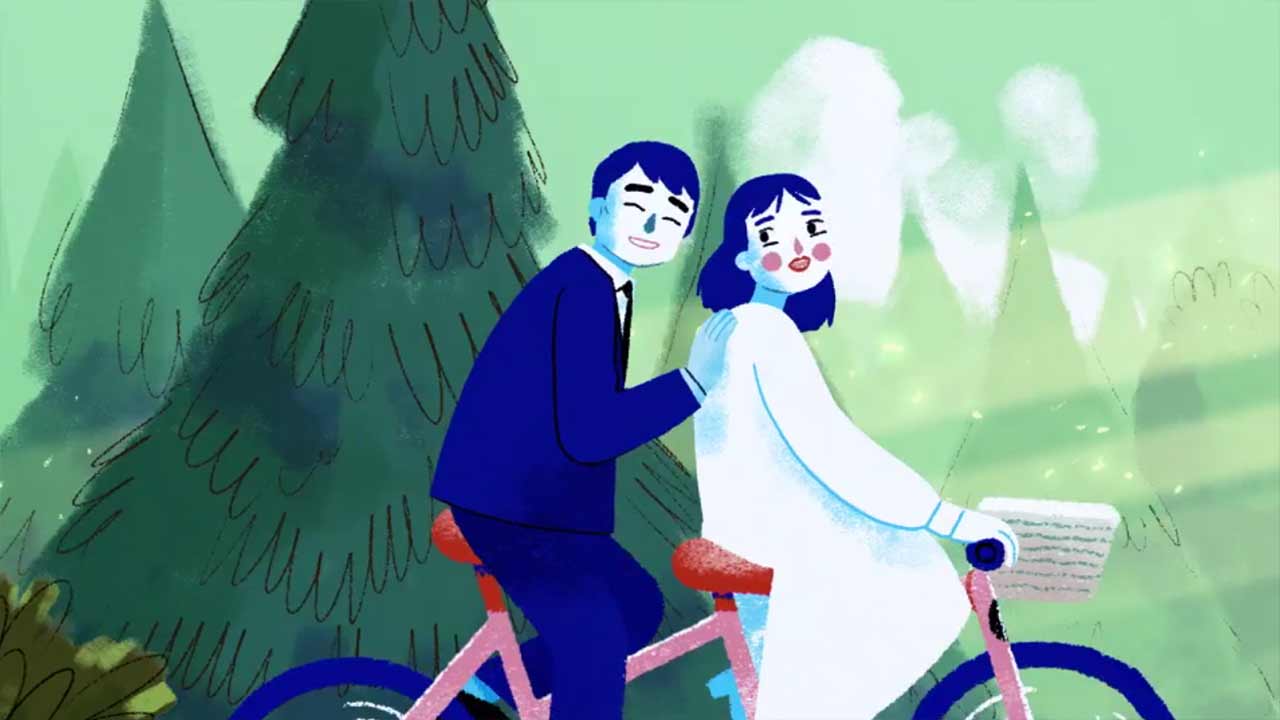 Wie am Ende der letzten Episode bereits eingeleitet und wenig überraschend dem bisherigen Episoden-Prinzip folgend geht es in der aktuellen Folge "Dispatches from Elsewhere" um Janice. Wir sind Janice. Und auch wenn ich mich selbst einfach als zu jung und männlich identifiziere, um mich komplett dieser Figur zu ergeben, so findet sich doch jede Menge Menschlichkeit und Anknüpfungs-Potenzial in dieser Folge. Dabei gibt die Serie offen zu, über den Verlauf der Episoden persönlichen Bezug für alle schaffen zu können.
"I'm fine! I'm old and not dead!" (Janice)
Die Vorgeschichte Janice' wird mit einer kleinen Cartoon Geschichte erzählt (wer mag das nicht?). Eine Geschichte von Zweisamkeit und Einsamkeit. Ein Leben, das man sich vielleicht anders vorgestellt hat, aber dennoch schön war – bis zum einschneidenden Ereignis. Das "Spiel" sorgt für willkommene Abwechslung – und neuerliche Todesangst, aka "Schrödingers Fredwynn":
"He's not dead, thank god!" – "Well, not to be too technical, but we don't know if he's dead or not, we just know he's not dead in this trunk." (Janice & Peter)
Interessant wird es bei der Shareholder-Präsentation Jejune Institute. Dort trifft das Dreiviertel unserer Gruppe auf Octovio höchstpersönlich, der sich gar kurz vor eine orangene Wand stellt. Vor allem aber liefert er eine Keynote vom Feinsten hin, die eloquente Art und Selbstsicherheit, die Richard E. Grant seiner Figur verleiht, ist raumgreifend gut. Auch ganz interessant fand ich den philosophischen Ansatz, dass man sich ja lediglich ein Mal wirklich an ein Ereignis zurückerinnert und ab dann eigentlich nur noch die Erinnerung der Erinnerung erinnert. Einer dieser Punkte, an dem die Serie einem zu denken gibt.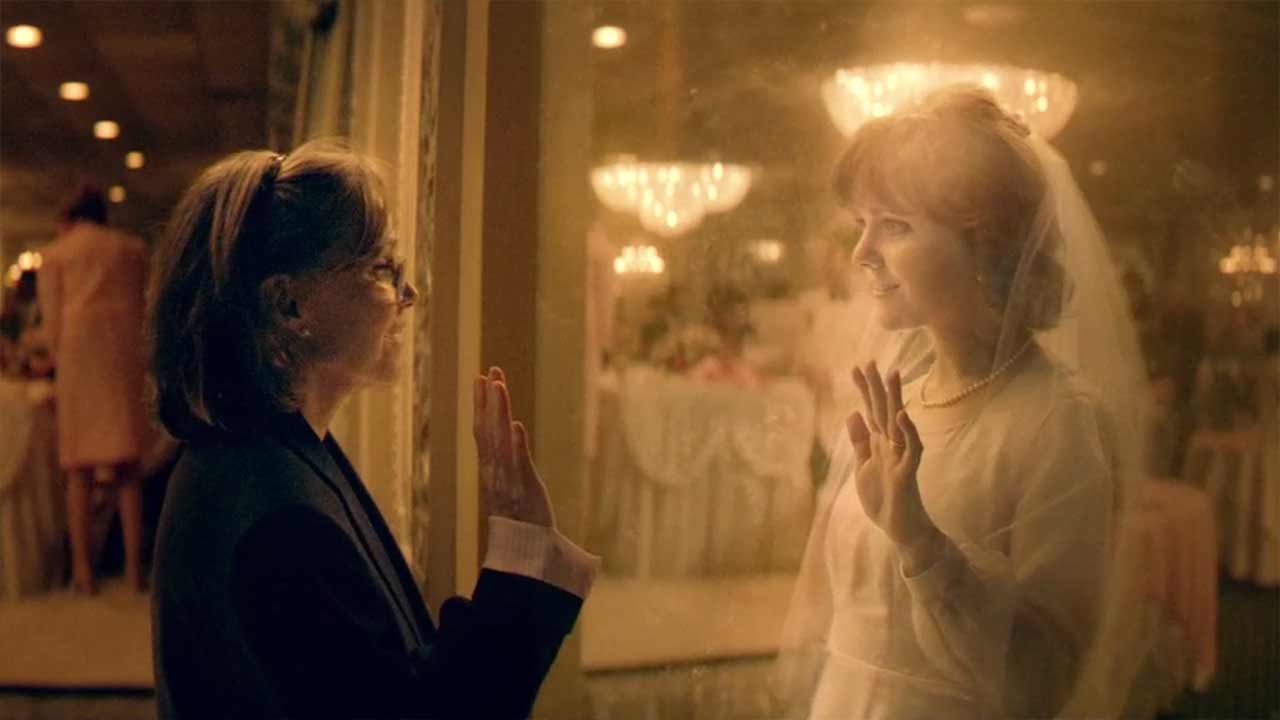 Zentral war dann aber "The I.D.E.A.". Die bereits zuvor angerissene Über-Innovation der bereits zuvor angerissenen und verschollenen Clara ist eine zunächst recht unscheinbar aussehende VR-Brrille. Durch die kann Janice aber einen Moment ihrer Vergangenheit wieder erleben – und gar mit ihrem jüngeren Ich reden. An diesem Moment wird spätestens klar, dass "Dispatches from Elsewhere" eben mehr als ein fantasievolles Drama ist, es hat definitiv auch den einen oder anderen Finger in den Fantasy- und Science-Fiction-Töpfen. Alles unter dem großen Motto der Selbstfindungsreise. Die führt nach einem Druck auf den "Source"-Button und einem kleinen durch Commander 14 der Elsewhere Society initierten, kreativen Chaos wieder zu Redwynn.
"This whole 'game' is a distraction!" (Fredwynn)
Und indirekt zum Anfang der Geschichte. Wir befinden uns quasi am Ende des einleitenden Cartoons. Janice ist zwar alleine "in der Welt unterwegs", zuhause wartet aber noch immer ihr Mann auf sie. Augenscheinlich in einer Art Koma liegend, von Maschinen beatmet. Den Erzählungen Janice' lauschend bewegt sich die Kamera auf einer schön strukturierten Fahrt hinfort, aber nicht etwa für einen direkten Charakterwechsel zu Fredwynn, wie es zuvor am Ende einer jeden Episode bislang war. Dafür zu einem uns unbekannten Kind mit traurigem Clowns-Make-up. Feuer frei für wilde Spekulationen!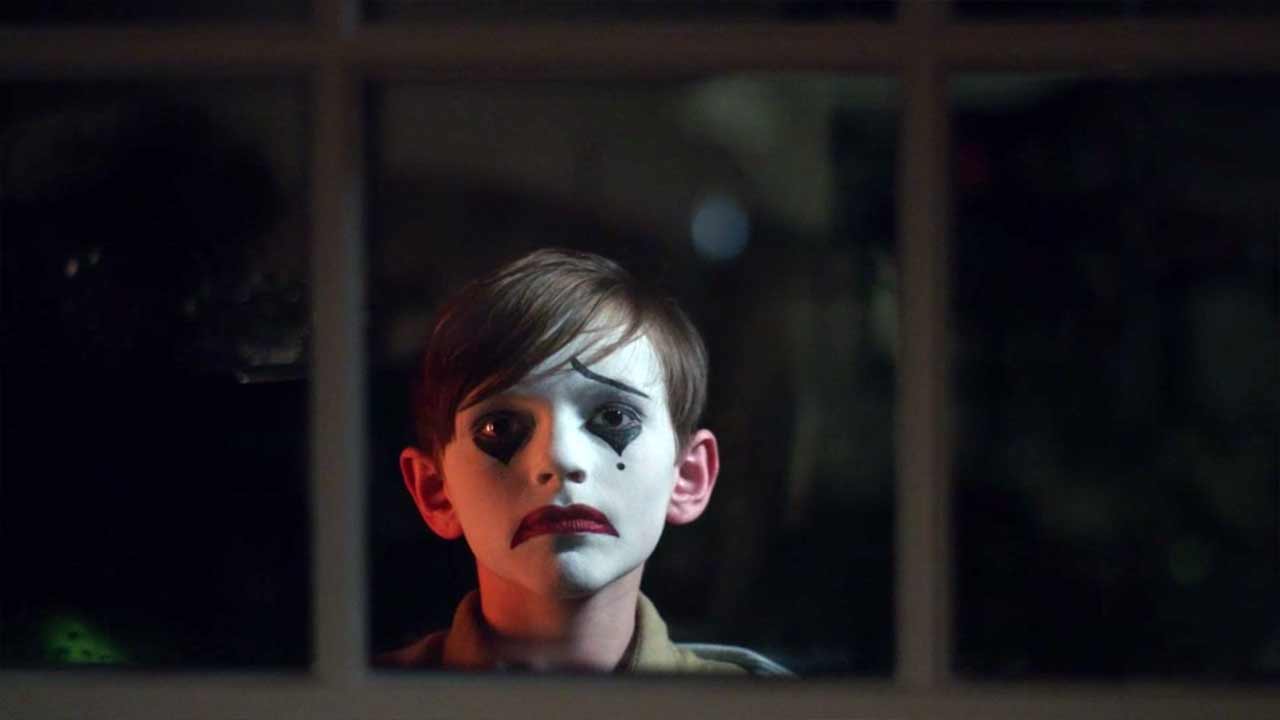 Man merkt, es wird ernster. Die ganz große, lockerleichte Fantasie-Einführung ist vorbei, so langsam wird nicht nur der Sache selbst, sondern auch den Figuren auf den Grund gegangen. Janice besitzt als Charakter Tiefe und weiß auch für ein verzerrtes Alten-Bild unserer heutigen Zeit zu stehen. Aufklärung für andere und sich selbst. Aber wer ist der Junge? Nur ein "Mitspieler", der zufällig auf sehr privatem Terrain auftaucht? Oder ein "Spion" des Spiels, der sicherstellen soll, dass alles nach Plan verläuft und Report erstatten soll?
Es bleibt nicht zuletzt deswegen spannend, was es mit dem ganzen Aufwand des Spieles auf sich hat. Dass alles, also beide initiierten Lager, künstlich sind, war finde ich zuvor bereits klar. Unklar ist jedoch, wieso der ganze Trubel gemacht wird. Aktuell scheint es jedenfalls vielen Einzelpersonen zu helfen, ein bisschen mehr Freude in ihr aus diversen Gründen tristes Leben zu lassen. Das ist doch auch irgendwie ganz schön.
Bilder: amc