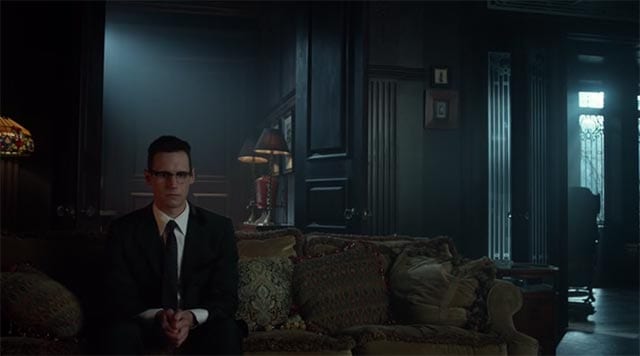 Wenn Captain Barnes mit den Einkäufen um die Ecke kommt, kann das nichts Gutes heißen. Welch wunderbar skurriles Bild, mit dem wir in die neue Episode starten. Früher oder später wird anscheinend jeder im ach so düsteren "Gotham" zum Vigilante. Oder Bösewicht…?
"It's getting stronger inside of me." (Barnes)
Aber zunächst zum Erfreulichen: Jim is back! Obwohl er ja eigentlich nie wirklich weg war. Aber der kleine "ist das eine Krawatte?"-Spruch hat mir durchaus gefallen.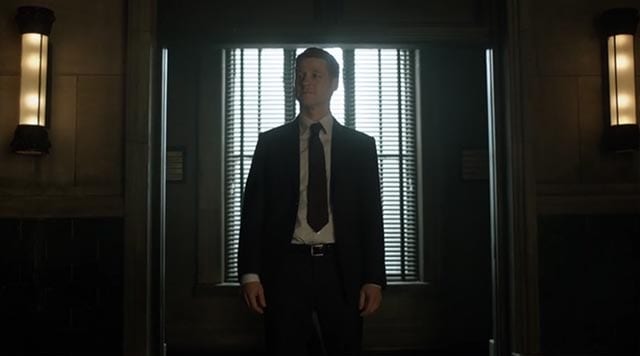 Allgemein wurde diese Woche bemerkenswert viel gelächelt. Und gegrinst. Und geschmunzelt. Wird Gotham etwa lieblich-naiv? Keineswegs. Bei Isabella hatte ich übrigens von Anfang an ein mulmiges Gefühl. Die will doch nur an ihn bzw. Penguin ran, oder? Ein fieser Schachzug von irgendwem Fiesen. Dachte ich zunächst. Dann kam mir ein anderer Gedanke: Was, wenn die Figur als dramatisches Momentum genutzt wird, indem Penguin Nygma irgendwann betrügen wird, indem er Isabella umbringt? Also, irgendwann. Viel später. Dachte ich…
Der lächelnde Pinguin, die blutende Kröte – das wird noch ein unheimlicher Zoo in Gotham. Penguin ist jedenfalls äußerst charmant, wenn er Leute abserviert. Das hatte schon etwas mit Fremdscham und gleichsamen Einfühlungsvermögen.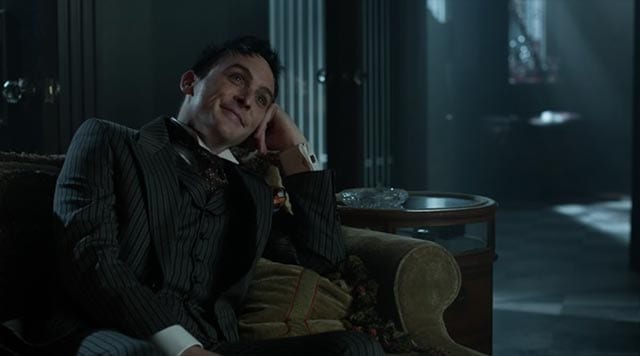 "You're not gonna kill me, are you?" – "I'm trying…" (Toad & Barnes)
Ach ja, da wäre ja noch "Mister Rage". Die Darstellung der ansteigenden Angst und Verzweiflung Barnes hat mir ganz gut gefallen, und auch Michael Chiklis hat bewiesen, einige Aspekte mehr spielen zu können, als den sturen Boss-Cop. Und selbst Jim wird auf seine mittelalten Tage ja noch richtig milde in Sachen Temperament. Seltsame Rollenverschiebung… Er weiß jetzt jedenfalls Bescheid, was zu interessanten Dialogen in der nächsten Folge führen dürfte.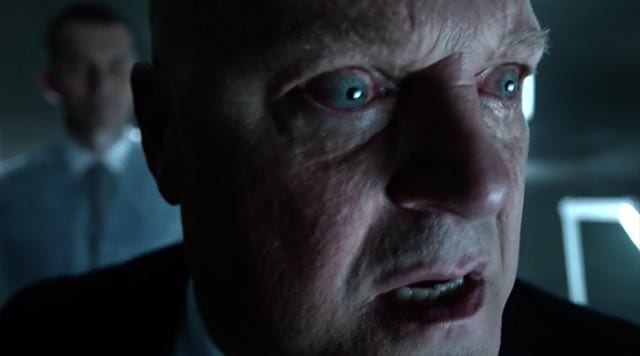 "I AM the law. I am jury, judge and executioner." (Barnes)
Zum Abschluss noch ein Pro-Tipp: Bei versagenden Bremsen NICHT direkt in einen Bahnübergang rasen. Wie wäre es mit seitlich abdriften und Reibungsbremse? Naja, Schranke zu, Affe tot. Oder so.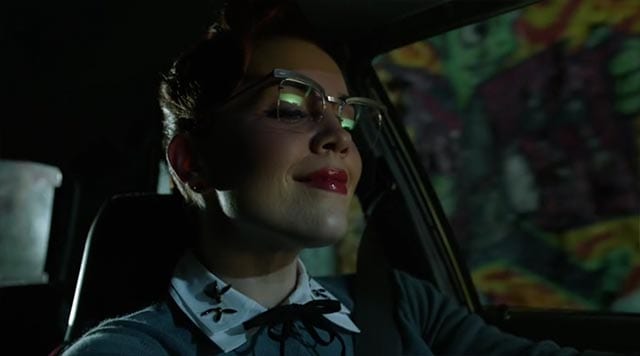 Das ist schon ziemlich stark, was "Gotham" diese Season bisher abliefert. Kein nettes Stückwerk mehr, sondern eine runde und kompakte Geschichte. Aktuell kommen Nebengeschichte wie die Entwicklung von Bruce etwas knapp (also kaum mehr vor), aber das stört noch zumindest nicht, war es in der Vergangenheit (un)gerne schon immer mal etwas viel Hin und Her.
Erneut haben wir so eine astreine Charakter-Entwicklung und -Zeichnung erhalten, die die Verhältnisse ein bisschen in Bewegung bringt. Mit Barnes wird ein Charakter von Innen die "Gerechtigkeit" Gothams ins Wanken bringen, da bin ich mir sicher. Ob dann als vielleicht erster größerer Vigilante, der Bruce zeigt, wie man Böses im Griff handeln kann, oder doch blanke Wut, die alles in den Weg kommende wegmalmt und böse wird – wir werden es sehen. Aber für Zündstoff ist allemal gesorgt.
Bilder: FOX