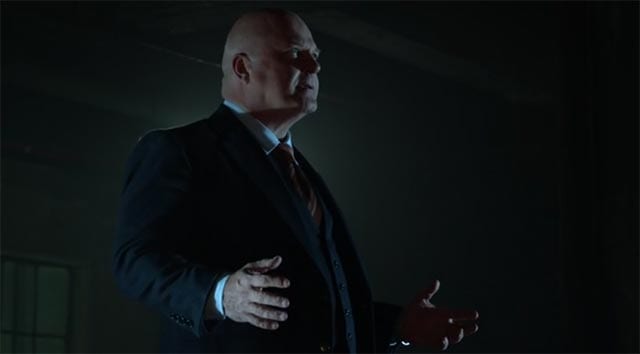 Immer wieder finde ich toll, dass die Stimmen der Protagonisten sich beim "Previously on Gotham" abwechseln. Und so ist es nur folgerichtig, dass Nathaniel Barnes uns diese Woche in die Episode einleitet. Denn er hat heute seinen vorläufigen Showdown erhalten. Ebenso finde ich gut, wie Jim und Harvey zu Beginn der Folge die Situation realistisch hinterfragen. Das ist durchaus selten in der Serienwelt und der Dialog wirkte ungemein authentisch. Ebenso haben mir Barnes' vieldeutige Andeutungen zu Jim während der ominösen Fahrt gefallen. Dazu gibt es jede Menge interessanter Hinterfragungen der Moral. Ein erneutes Puzzle-Stück hinsichtlich der Vigilante-Akzeptanz Gordons.
"Justice is served." (Barnes)
Eine Prise Two-Face gab es bei Isabellas vermutlich letztem Auftritt zu sehen. Viel unterhaltsame Awkwardness beim Vielleicht-Paar Bruce und Selina. Ansonsten wirkten diese Ausflüge in die Romantik eher als auflockernde Belustigungen, denn tatsächliche Handlungsstränge.
"She came and immediately ate ALL my food. That is Ivy." (Cat)
Passend dazu gab es erstaunlich viele Zufälle "heute". Sugars Freund, der genau zum richtigen Zeitpunkt rein kommt, der blinde Bettler, das zerworfene Amulett, das kaputt geschossene(!) Handy… Und wieso hat Jim bitte die Hand Barnes' mit dem Feuerlöscher geschlagen, statt kurz später dessen Kopf anzuvisieren? Naja, die Situation gegen Ende war zumindest spannend, auch wenn ich so langsam müde werde ob der ständigen "Ich werde gleich das-und-das tun!"-Androhungen, die eigentlich nur dazu führen, dass genug Zeit verstreichen kann, damit das Unausweichliche doch noch abgewandt werden kann. Phew – "Glück" gehabt. Was ein Zufall aber auch…
"She was screaming before the crash?!" – "She was dead after…" (Nygma & Bettler)
Die letzte Szene war dann doch etwas überflüssig, meiner Meinung nach. Ja, Barnes hat überlegt und ja, Barnes ist in einer Ich-lieb-mich-Jacke – wir dürfen uns also auf ein Comeback von ihm spätestens in Staffel 4 freuen. Na dann…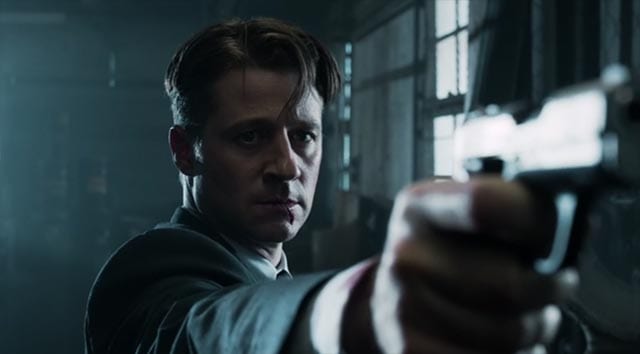 Eine Folge, die eher im Durchschnitt der Staffel versinken und nicht wirklich Eindruck hinterlassen wird. Die lockeren Passagen waren durchaus unterhaltsam, die ernsteren spannend und doch wollte es nicht so ganz zünden bei mir. Meckern auf hohem Niveau, denn dennoch gab es eine absolut grundsolide Episode mit einigen tollen Einstellungen und teils überraschend gutem Schauspiel zu sehen.
Spannend wird nun auch die Fragen nach dem Barnes-Nachfolger. Wird Jim nun der neue Captain? Wohl eher Bullock, der als Interims-Hansel ja bereits auf den Geschmack gekommen war. Und der den Weg für seinen Nachfolger Jim ja schon einmal ebnen könnte…
Bilder: FOX