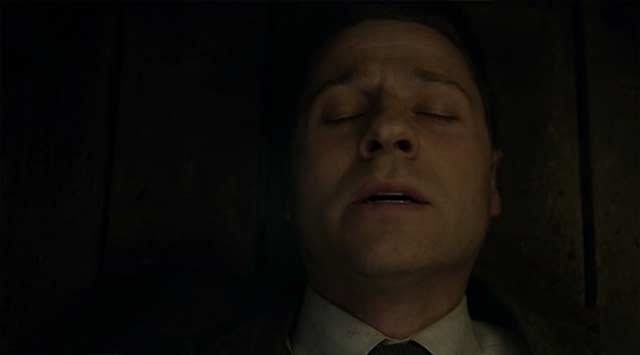 Die Lage in Gotham spitzt sich zu und die Macher versuchen, ein dramatisches Durcheinander zu inszenieren. Dabei haben nicht nur die aktuellen Figuren alle Hände voll zu tun, es gibt auch ein prominentes Wiedersehen.
"The day of judgement has come to Gotham – and The Court or Owls." (Obereulen-Sensei)
Zunächst spiel unser Superheld in Kinderschuhen eine zentrale Rolle. Bruce Wayne als Überraschungsgast im Eulengericht. So kann er gleich Zeuge werden, wie sich der serielle Eulenbestand drastisch dezimiert. Ich frage mich, ob man weiterhin davon ausgeht, dass diese Masken Identitäten verbergen und keinem auffällt, dass plötzlich ein gutes Dutzend Leute vermisst gemeldet werden.
"Out of the ashes, a dark hero will rise. You!" (Obereulen-Sensei)
Bruce wird jedenfalls in vielen bedeutungsschwangeren wie deutungsvollen Worten eine richtig gute Perspektive im Unternehmen dargeboten. Irgendwer muss ja auch neue gläserne Eulen bauen, wen erstmal alle tot sind…
"Maybe it was an old owl and it has been updated?" (Harvey)
BREAKING NEWS: Lee ist zuhause. Sie macht sich eine heiße Schoki und sitzt am Lagerfeuer, dazu ein paar smoothe Jazzklänge aus dem Radio. So seltsam, wie die Instruktionen für die Beschattung gewesen zu sein scheinen (SOFORT Bescheid geben, weil totaaaal wichtig, aber bitte nichts selber machen!), wirkt es auch, dass sie bei der Anweisung, zur Wache zurückfahren zu sollen, direkt mal mit Blaulicht durchstarten. Privileg schützt vor roter Welle, woll?! Lee schaut jedenfalls mit ihrem neuen Look noch besser aus als eh schon.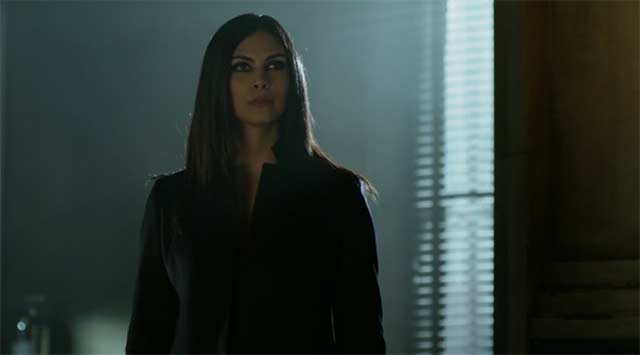 Ich mag die Frau. Okay, außer, dass sie Jim lebendig begräbt, aber das ist ja nur der böse Virus. Und eigentlich ist er nur in einer Holzkiste, in der auch ein Kameramann ist. Die wackelt nämlich gewaltig, wenn man gegen sie tritt, als wäre er gar nicht wirklich unter der Er… ähm, Virus anyone?
So sehr wie die Serie hin und wieder Abstand von der Logik nimmt, distanziert sich Hugo Strange von der neuen Lee – eine schöne Szene, direkt gefolgt von einer weiteren, in der Alfred sein hohes Vertrauen in die textile Stabilität von Krawatten demonstriert. Reißtest bestanden – Stoff wie Nerven.
"You don't have the authority to let me go." – "I didn't have the authority just to hang you out the side of a bloody building, did I?!" (Strange & Alfred)
BREAKING NEWS #2: Fish is back! Mal wieder. Habe sie vermisst. Mal wieder.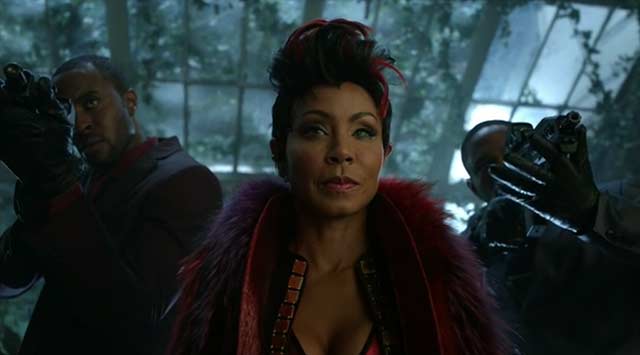 "Now see that there? That's a look of respect. Or is it fear?" (Fish)
Penguin ist auf sehr bescheuerte und einfache Art und Weise aus seinem "Safehouse" gekommen, allgemein wirkt das Verhalten der "Oberbösewichte" mit mehr Fehdehandschuhen als Minution eher nach Kindergartensandkasten-Zankerei. Auf einmal hat niemand mehr Handlanger, die dreckige Arbeit übernehmen wollten (okay, hier spielt persönliche Rache mit rein) und alle verhalten sich selten dämlich und unreflektiert. Selbst der sonst so vorhersehende Nygma wirkt beim Eintreffen Fish' wie ein treudoofer Hundewelpen.
"Yeah, people are dumb. Plants are better. You can trust them." (Ivy)
Zum Schluss der Episode fallen mir komischerweise nur Song-Passagen ein. "Push the botton – galvanize!" gefolgt von einem "alles ist vergiftet, vergiftet".
Bleiben noch ein paar Fragen. Wessen Vision hat Bruce ausgewählt? Der Obermacker vom Obermacker – ob wir ihn bereits gesehen haben? Und wie endlos lange führt diese Karrieretreppe ungeahnter Vorgesetzter noch weiter? Und ist Jim durch die Einnahme des Virus' nur ein noch tollerer Polizist, der einzig und alleine alle retten möchte? Das muss er wohl ziemlich schnell in die Tat umsetzen. Aber vermutlich wird der obergescheite Fox bereits an einer Lösung für das Problem sitzen…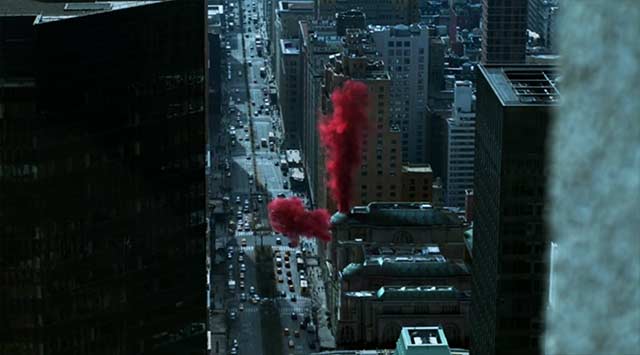 Das hat mir wieder etwas besser gefallen, wirkte aber dann doch an vielen Stellen arg überdreht und vom Pacing her zu offensichtlich auf "Durcheinander" getrimmt. Die Wege in Gotham scheinen auch alle überschaubar zu sein, so schnell wie wichtige Figuren an wichtigen Orten auftauchen, so sie denn gebraucht werden. Sehr freue ich mich über das Wiedersehen mit Fish, die einfach als Charakter eine ungemeine Ausstrahlung besitzt und für Zug in der Story sorgen dürfte. Ich bin gespannt, in wie fern wir erneut einen Rückblick auf ihr Fortbleiben erhalten werden. Mit dem Massenvirus-Wirken dürfte es aber allgemein kommende Woche sehr unterhaltsam werden…

Bilder: FOX

-->