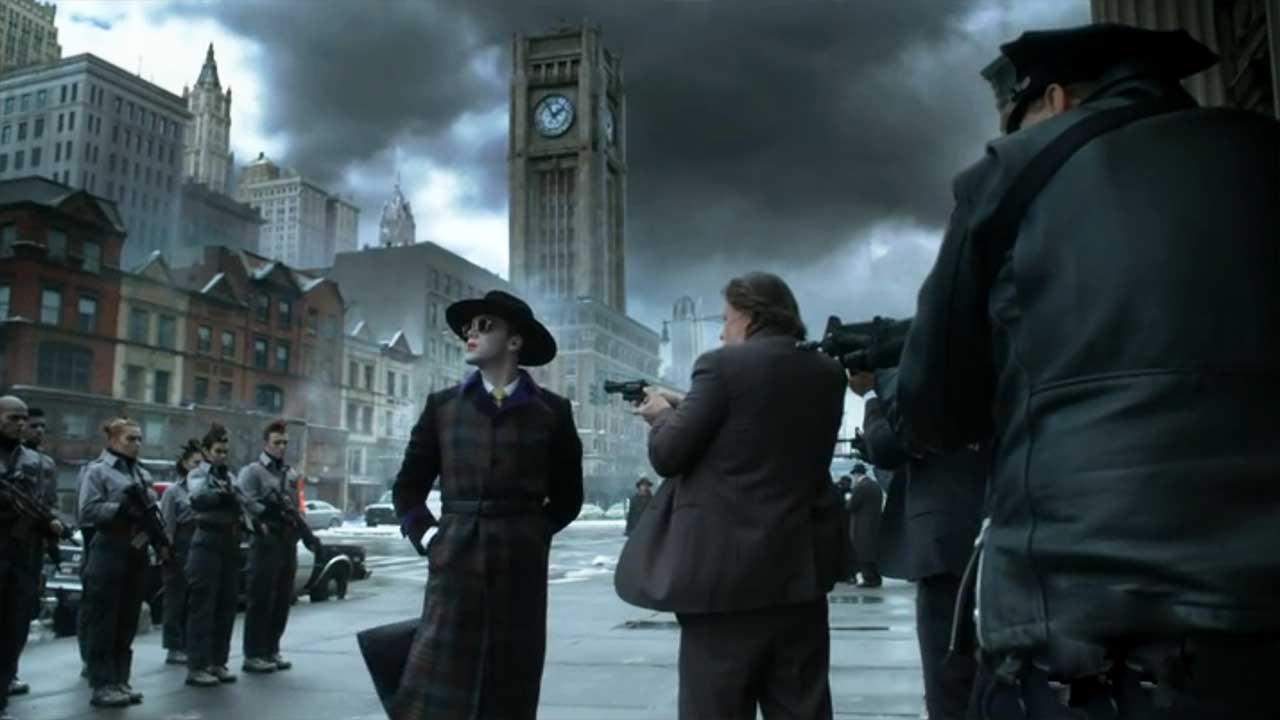 Diese Woche ergab sich eine etwas seltsame Folge bei "Gotham". Eigentlich war alles wie immer, aber zunehmend macht sich bei mir das Gefühl breit, dass die Macher mehr wollen. Mehr Wendungen, mehr Twists, mehr epochale Überraschungsmanöver und Irreführungen. Das ist auf der einen Seite charmant, weil ich das – gut umgesetzt – sehr zu schätzen weiß, auf der anderen Seite mehrt es sich gerade etwas zu viel und lässt so seine eigene Wirkungsstärke verpuffen, rätselt man als Zuschauer nämlich weniger, wieso das nun gerade so passieren musste, sondern wie sich Person XY dieses Mal aus der Situation befreien kann. Stichwort "Totgesagte leben länger"…
"Nobody has to die – well, except for these people." (Jeremiah)
Alles beginnt mit einem Jim-losen Tag auf dem Review, wo Harvey so seine Loyalitätsprobleme hat und zu allem Übel eine Evakuierungs-Ansage von J-J-Jeremiah folgt, die sich gewaschen hat. Dabei war eigentlich direkt bei der obigen Aufnahme klar, dass der CGI-Big Ben dran glauben muss.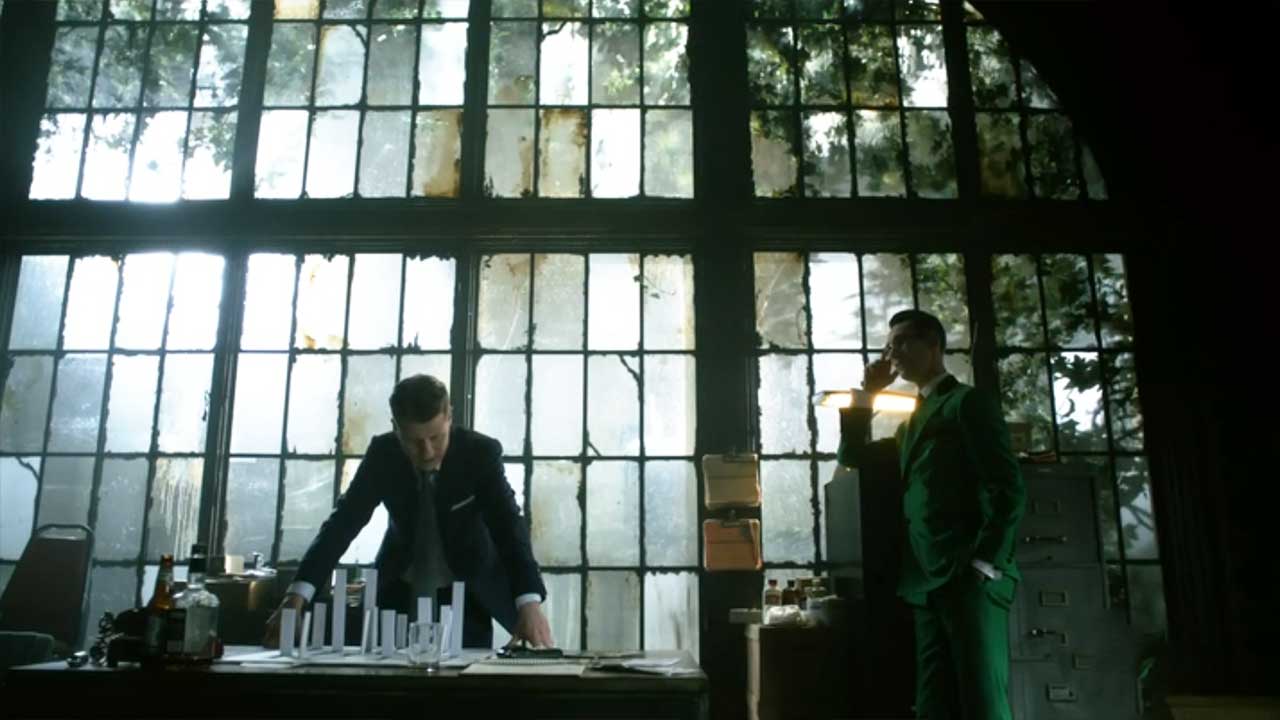 Jim lebt – Überraschung! – und landet auf Lees Untersuchungstisch. Nebenbei löst er mit dem Riddler ein äußerst einfaches "Rätsel", was in seiner Plumpheit eigentlich nur noch durch den kongenialen Ausbruchsplan Jims übertroffen wird. Dass der sonst so berufsfeine Polizist dann aber Reißaus nimmt, statt zumindest Nygma festzunehmen, passt nicht ganz zum Charakter. Aber gut, es steht eine Stadt auf dem Spiel.
Deren Countdown wird durch ein Aufeinandertreffen der Bösewichte drastisch gekürzt, bei dem wir besser keine Fragen bezüglich Informations- und Reisemanagement stellen, sondern einfach mal honorieren, wie gut doch so ein Plan B sein kann. Das Spiel von Jeremiah empfand ich hier dann doch als sehr stark, nur die "erschießt sie alle!"-Aktion war mal wieder plumpe 80er Jahre TV-Action, schade, dass einfach NIE jemand angeschossen wird.
"Would you believe it?! They put me on hold…" (Jeremiah)
Und so beginnt der Irreführungswahn. Denn kaum meint der naive Zuschauer zu wissen, dass Alfred nun dem Butler-Dasein den Rücken zukehrt, um eine Joker-Laufbahn einzuschlagen, wird der Wahnsinn aufgedeckt. Hm, das ist aber schon ewas unverständlich, dass sich Jeremiah derart um einen möglichen Twist für die Zuschauer sorgt, dass er nicht den echten Alfred und stattdessen diesen Aufwand auf sich nimmt.
"If you'd asked me this morning, how many people I was gonna kill today, I'd have been way off." (Tabetha)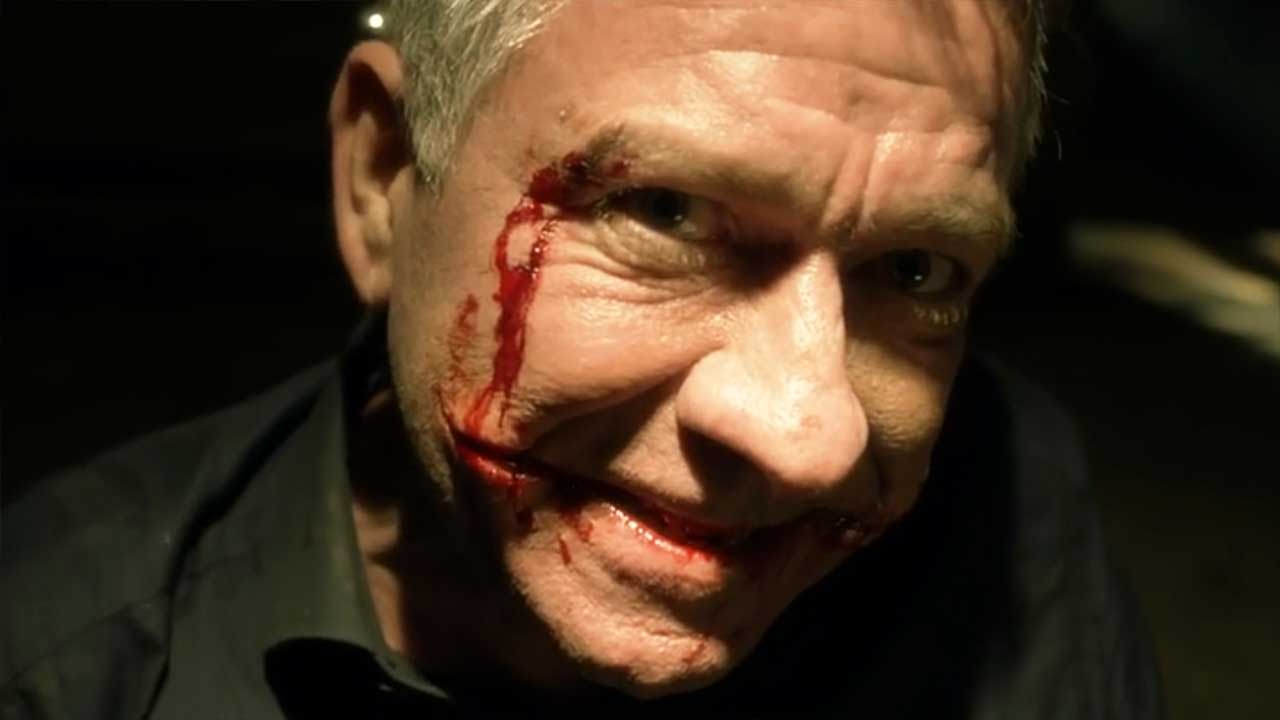 Aber gut, es bleibt nicht viel Zeit zum Nachdenken, eine ganze Stadt steht auf dem Spiel! Der um Resozialisierung bemühte Harvey springt als Bombenräumkommandeur ein und erfindet das gute alte "roter oder blauer Draht?"-Spiel komplett neu, indem er zwischen zwei gleich aussehenden Sicherungen auswählt. Kurz dachte ich tatsächlich, dass er heute drauf geht, wurde sein Charakter in der Vergangenheit doch eigentlich ganz gut auf einen Abschied vorbereitet.
"Eeny, meeny, miny, moe – which one of you will make it blow?" (Harvey)
Dann war doch noch was mit Ra's al Ghul (ätz), ehe es zur einzig an sich gelungenen Überraschung kommt. Nein, damit meine ich nicht den sowas von überfälligen und irgendwie dann doch lahmen Kuss zwischen den beiden Superheldenkindern…
"Bruce, I'm gonna be here, whenever you need me." (Selina)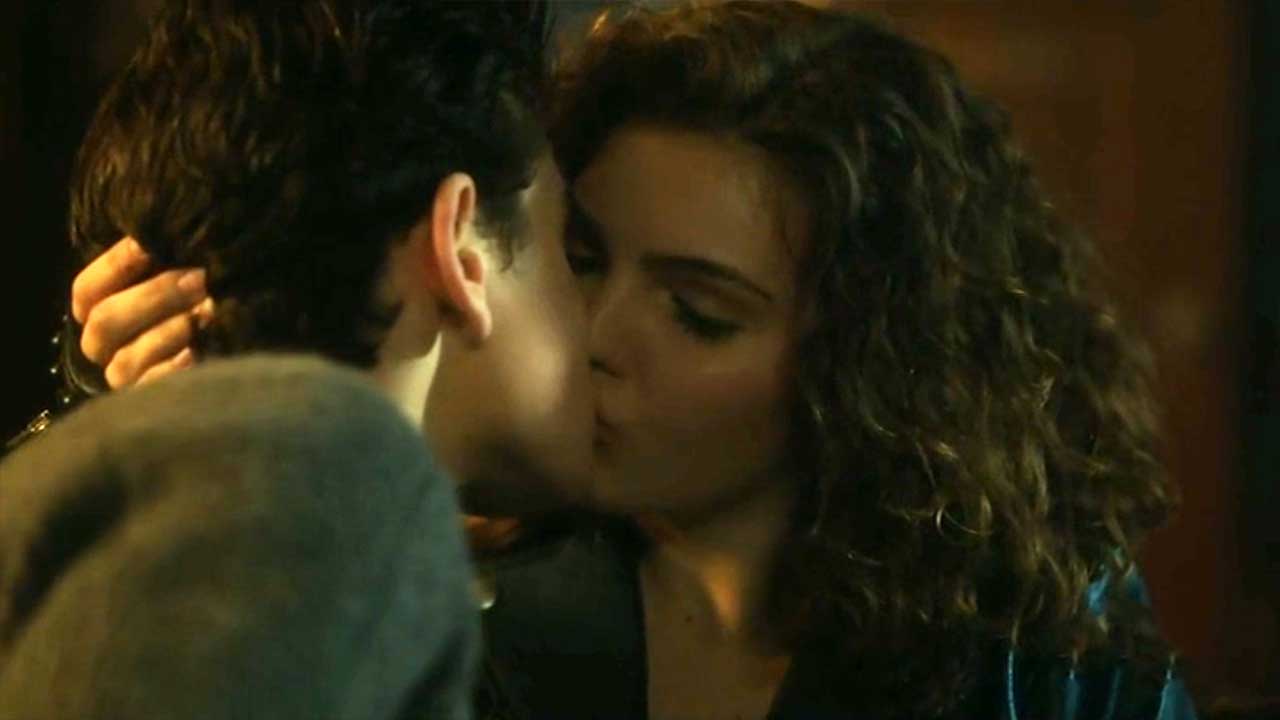 Damit meine ich natürlich das Auftauchen Jeremiahs in der Wayne-Villa. Und mein Lob ist einzig auf das Timing und seinen schönen Satz hier bezogen:
"To be fair – the day's not over yet." (Jeremiah)
Denn das noch immer schaurige Sicherheitssystem dieses reichsten Mannes Gothams ist so frappierend wie die Tatsache, dass Selina angestochen wurde und das Bild zu schwarz ausblich. Als ob die stirbt – wir sind doch nicht blöd! Ihr wisst schon, Totgesagte und so…
Daher bin ich mir insgesamt sehr uneins, wie ich diese Folge bewerten soll. Hatten die Macher einen schlechten Tag, als es um das Auffüllen von Plotholes und Errichten von Logikbrücken ging? Reicht es, ein paar schnittige Dialoge und mittelschwere Bedrohungen im Minutentakt zu zeigen? Muss mittlerweile nicht nur ein, sondern gleich darauf noch ein zweiter vermeintlicher Hauptcharakter-Tod angetäuscht werden, damit wir uns überhaupt noch lebendig fühlen auf der Sofakante?
Nein. Das hat die Serie alles schon zuvor geschafft, ohne solche dann doch meist durchschaubaren Mittel zu verwenden. Dazu fehlen Jeremiah einfach Charme, Esprit und Ausstrahlung, die Jerome vor allem in dieser Staffel so feuerwerksartig versprüht hat. Kleinigkeiten, wie der suboptimale Ton in der letzten Szene mit Lee und Jom kommen dann auch noch handwerklich hinzu. So bleibt es eine Episode, die zu Beginn der Serie vermutlich noch für Jubel gesorgt hätte, so aber ein bisschen in seiner Überdrehtheit verpufft ist.
Nächste Woche folgt dann das Staffelfinale, zu dem ich gerade etwas ratlos bin, wie sie das aufziehen wollen.
Bilder: FOX