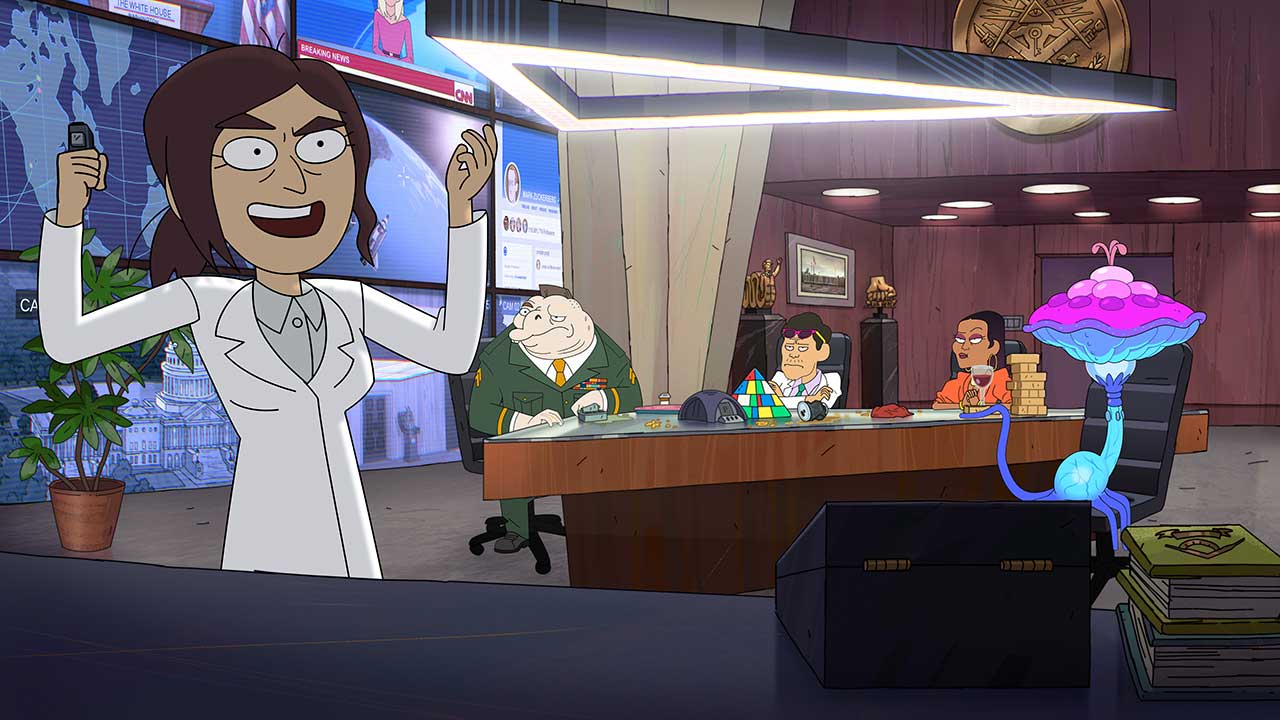 Schon lustig, als ich danach geschaut habe, ob "Inside Job" bereits hier bei uns im Blog vorgekommen war, musste ich feststellen, bereits selbst darüber geschrieben zu haben. "Die neue Netflix-Serie 'Inside Job' liefert euch ideales Binge-Material fürs Wochenende." hatte ich Mitte Oktober im Rahmen meines Wochenausblicks geschrieben. Doch irgendwie hatte ich sowohl diesen Satz als auch die Serie selbst vergessen. Nur gut, dass ich beides wieder gefunden habe, denn ja, ganz falsch lag ich mit der Aussage nicht. Die seit 22. Oktober auf Netflix verfügbar erste Staffel "Inside Job" ist wirklich sehenswerte Unterhaltung!
Worum geht es in "Inside Job"?
Eine neue "animierte Comedyserie für Erwachsene" – was vor 20 Jahren noch aufregend klang, ist heutzutage bei all der Fülle an oftmals visuell wie inhaltlich austauschbarer Formate nicht mehr allzu spannend. Also war ich zunächst auch bei "Inside Job" skeptisch, zumal es auch noch um Verschwörungstheorien gehen sollte. Aber die Angst war unnötig, hält das neue Netflix Original doch zum einen erfreuliche Distanz zum Schwurbeltum, vor allem aber ist die Serie smart geschrieben und hochwertig animiert!
Hauptfigur ist Reagan Ridley, eine geniale Wissenschaftlerin, die in der sogenannten Schattenbehörde arbeitet. Dort werden die Geschicke der Welt in Wirklichkeit gelenkt. Allerlei mysteriöse Verschwörungstheorien scheinen wahr zu sein und dort umgesetzt zu werden, um die Menschheit zu manipulie.. – äh, ich meine, nur das Beste für sie zu wollen. Dabei wird gekonnt mit etlichen Klischees gespielt, sei es mit einzelnen Theorien selbst oder der allgemeinen Ausrichtung der Firma, die "zu 51 Prozent nicht böse" zu sein scheint – yay! Im faden Büro-Alltag kann es da schon einmal vorkommen, dass einige Mensch-Tier-Hybride aus dem Labor gebüchst sind und auf dem Flur schlafen…
"Wake up, Sheeple!" (Reagan)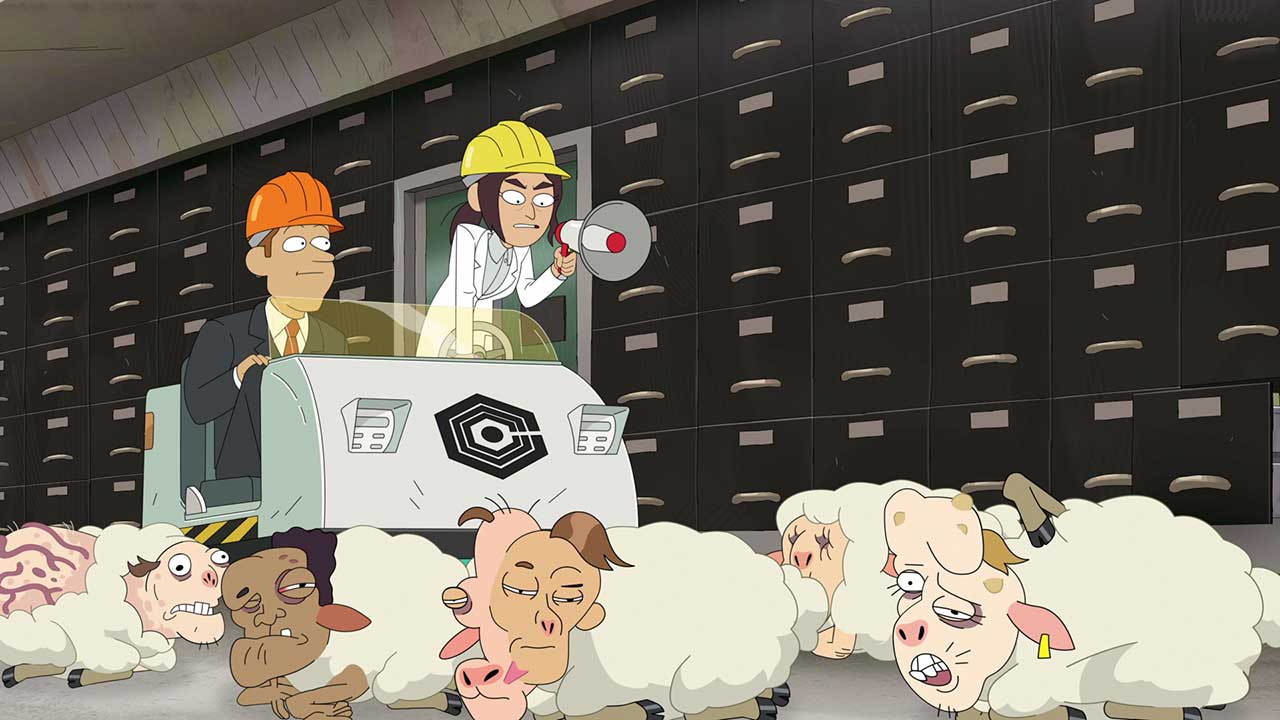 Für Fans von "Gravity Falls" und "Rick and Morty"
Mystery trifft SciFi, schnelles Timing trifft messerscharfen Humor, der vor Ironie und Gesellschaftskritik nur so trotzt… Das kommt einem alles irgendwie bekannt vor. Und das hat Gründe. Allen voran heißen diese Gründe Shion Takeuchi und Alex Hirsch. Die beiden Creator haben bereits bei "Gravity Falls" zusammen gearbeitet und eine absolut unterschätzte Serienperle geschaffen. Jetzt sind sie als Creator (Takeuchi) und Executive Producer (Hirsch) mit an Bord. Und dann wäre da noch der offenkundige Einfluss von "Rick and Morty" mit all den verrückten Wissenschafts-Ansätzen. Angeführt von Randy Ridley, dem Vater von Reagan, der übrigens von Christian Slater gesprochen wird. Der agiert teilweise extrem wie Rick Sanchez und sieht dabei wie eine schlanke Version von Grunkle Stan aus "Gravity Falls" aus (die rote Mütze alleine!).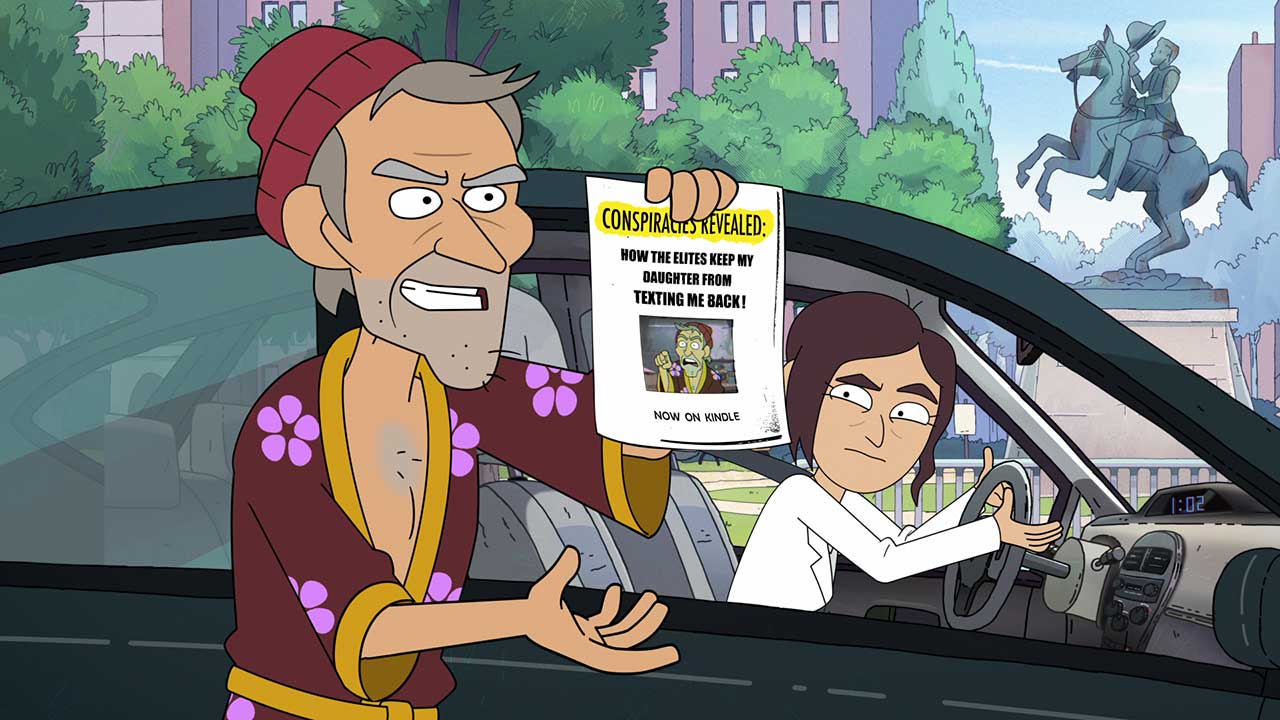 Ganz an das teils epische Niveau von "Rick and Morty" weiß "Inside Job" dann aber doch nicht heran zu reichen. Einige der Nebenfiguren bleiben noch enorm blass (und sind nicht immer gefällig animiert), nicht alle Storylines wirken durchdacht und manches wirkt schon fast zu hektisch inszeniert. Aber langweilig wird es nie und die Geschichte ist sowohl episodisch als auch übergreifend aufgesetzt, so dass die Staffel einen durchaus komplett abholt und an der Stange hält. Etliche popkulturelle und aktuelle Gesellschafts-Themen werden außerdem gekonnt aufgegriffen und in Gags oder klare Statements verpackt.
Insgesamt hat mir die erste Staffel von "Inside Job" gut gefallen. Das Tempo war hoch und die durchschnittliche Episodenlänge von rund 27 Minuten ist angenehm wegzusnacken. Die 10 Episoden sind so an ein oder zwei Tagen auch gut zu bingen, um auf meinen eingangs zitierten Satz zurück zu kommen. Wer ein bisschen durchgeknallte Sci-Fi-Komik mag, die sich über die ein oder andere Verschwörungstheorie lustig macht, ist hier genau richtig.
"Inside Job" Staffel 2?
Keine Angst, es wird weiter gehen! Netflix hat bereits offiziell eine zweite Staffel von "Inside Job" bestellt, die im nächsten Jahr bereitgestellt werden soll.
Bilder: Netflix

-->