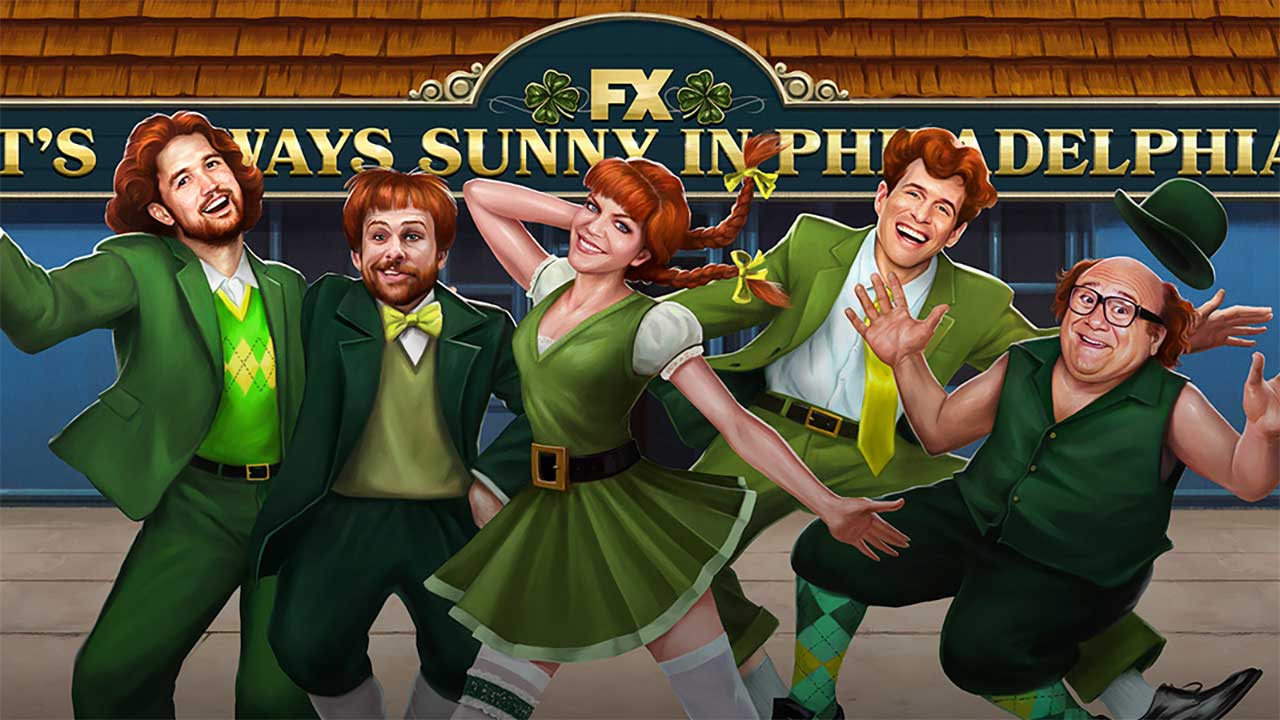 Okay, okay, ich mache es doch… Hier mein spoilerarmes Review zur abgelaufenen fünfzehnten Staffel von "It's Always Sunny in Philadelphia". Nachdem ich die Outtakes der Season hier veröffentlicht hatte, wurde mir nochmal bewusst, wie geschichtsträchtig diese Staffel doch gewesen war. Damit ist eigentlich gar nicht der Inhalt gemeint, sondern die Tatsache, dass FXX nun die Live-Action Comedy-Serie mit den meisten Staffeln veröffentlicht und somit "The Adventures of Ozzie and Harriet" abgelöst hat, das zwischen 1952 und 1966 immerhin vierzehn Staffeln zu bieten hatte. Aber auch inhaltlich konnten mich die acht Folgen größtenteils überzeugen.
Zunächst bekommen wir eigentlich typische "It's Always Sunny"-Kost zu sehen, die gesellschaftliche Ereignisse auf ganz eigene Art und Weise aufarbeitet. Da die vorangegangene vierzehnte Staffel aus Vor-Coronavirus-Zeiten stammt, wurde im Schnelldurchlauf das Wichtigste der Zwischenzeit aufgearbeitet. Zwar war nach der ersten Geschichte in der Folge "2020: A Year In Review" schnell klar, wohin die anderen jeweils führen, aber mir hat die Kombiniation sehr gefallen.
"The Gang Makes Lethal Weapon 7" war dagegen etwas enttäuschend, finde ich, hatte aber dennoch starke Momente. Allgemein weiß die Serie weiterhin, den Finger in Wunden zu legen und dabei stets auf der Grenze zum schlechten Geschmack zu wandeln. "Meinen die das nun ernst oder ist das ironisch…?"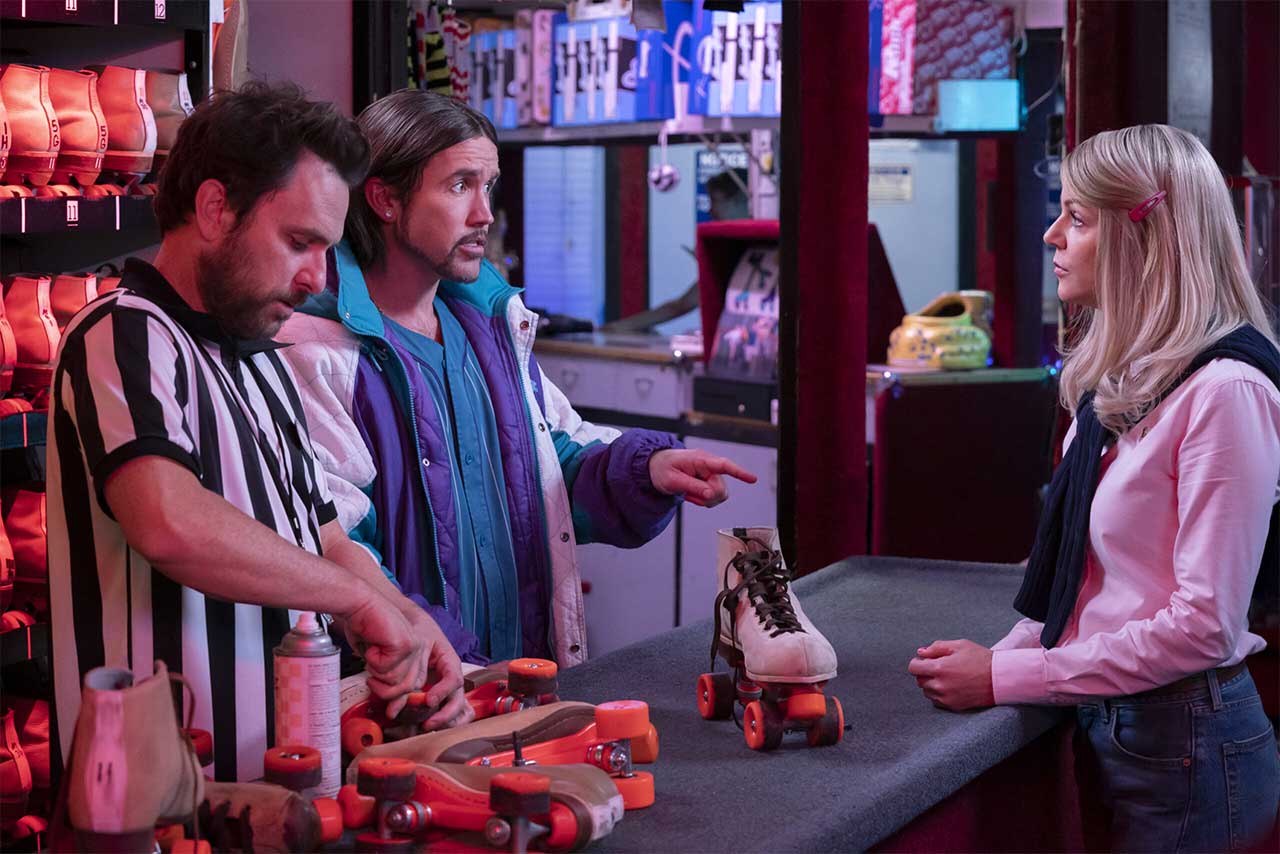 Ein absolutes Highlight ist die Folge "The Gang Buys a Roller Rink", in der wir eine Zeitreise in die 90er Jahre unternehmen. Auch hier ist vieles recht übertrieben offensichtlich inszeniert, und doch schafft man es, neben Nostalgie auch ganz viel Unterhaltung zu entfachen.
Nachdem Dee durch einen (CGI-)Affen ersetzt worden ist, geht es in der zweiten Staffelhälfte aber ungewöhnlich ausufernd zu. Die letzten vier Folgen erzählen nicht nur eine weitreichende und vor allem zusammenhängende Geschichte, nein, sie spielen auch gar nicht in Philadelphia…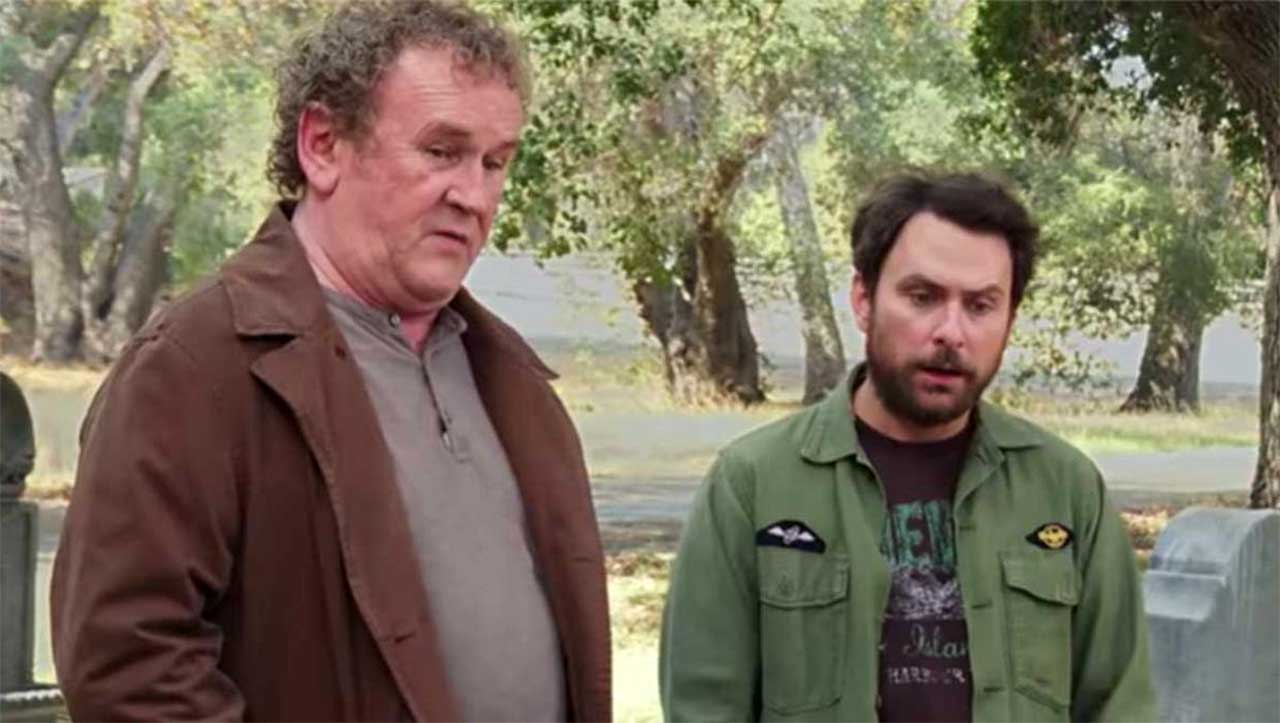 Es geht nach Irland. Details werde ich an dieser Stelle natürlich nicht spoilern. Mir hat der Tapetenwechsel aber gefallen, vor allem, weil man in der Umstellung des Intros oder auch etlichen Pub-Parallelen gelungene Bezüge zur eigentlichen Standard-Positionierung der Serie geschaffen hat. Aber auch inhaltlich geht es – wenn man jetzt mal ein paar eklige und ulkige Momente außen vor lässt – substanzvoll zu. Ach, sogar ergreifend.
Ein bekanntes TV-Gesicht ist auch noch als Gast-Star zu sehen: Colm Meaney, der Chief Miles O'Brien in "Star Trek: Deep Space Nine" gespielt hat.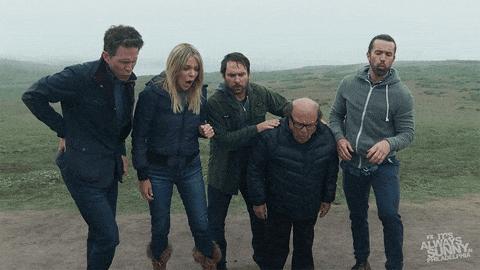 Zwar bleiben viele Geschichten vorhersehbar oder wirken komplett konstruiert, aber das gehört ja in gewisser Weise zum Serien-Charakter von "It's Always Sunny in Philadelphia", da sollten sich die meisten nach etlichen Staffeln mittlerweile dran gewöhnt haben. Die kompakte zweite Staffelhälfte war eine willkommene Abwechslung zum sonst eher Ein-Episoden-Spiel in Philadelphia. Aber auch die Folgen davor hatten (mit kleineren Abstrichen bei der "Lethal Weapon"-Episode) ihre starken Momente.
Insgesamt habe ich mich gut unterhalten gefühlt und vor allem mag ich die kurzweilige Frische, die eine ~20-minütige Folge "It's Always Sunny in Philadelphia" noch immer mitzubringen weiß.
"It's Always Sunny in Philadelphia" Staffel 16?
Keine Angst, der Rekord wird ausgebaut werden! FXX hat bereits im Mai 2020 weitere Staffeln bis einschließlich Season 18 bestellt! Bleibt zu hoffen, dass man die Erzählungen weiterhin so pointiert und kompakt hinbekommt. Wobei ich persönlich auch nichts gegen etwas längere Staffeln einzuwenden hätte. Zumindest zehn Folgen wären doch was?!

Bilder: FXX

-->