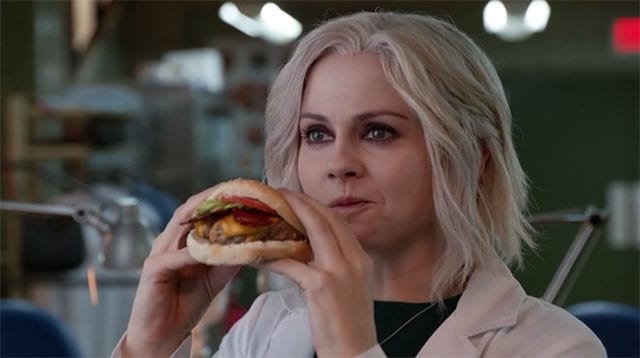 Und schon bin ich wieder im wöchentlichen iZombie-Rhythmus angelangt! Das gefällt euch sicherlich in etwa so gut, wie mir der Schnitt am Episodenbeginn zwischen Podcast und Musik. Das hätte gerne noch etwas weiter ausgespielt werden dürfen. Ansonsten bleibt mir nur zu sagen, dass ich auch unbedingt mal Geo-Caching spielen muss! Ist bestimmt besser, als ein Holocaust-Violinistinnen-Hirn…
"I'm a zombie, I'm not dead." (Gehirnkunde)
Aber gut, kommen wir zum Wichtigsten: Brain Burger!!!!! Endlich, verdammt nochmal. Ich würde lügen, wenn ich das nicht richtig genial finde – aber wer weiß, vielleicht ist dieses ganze Review eine einzige Lüge? Jedenfalls gibt es diese Woche Burger mit pathologischem Lügner-Pattie. Yummy!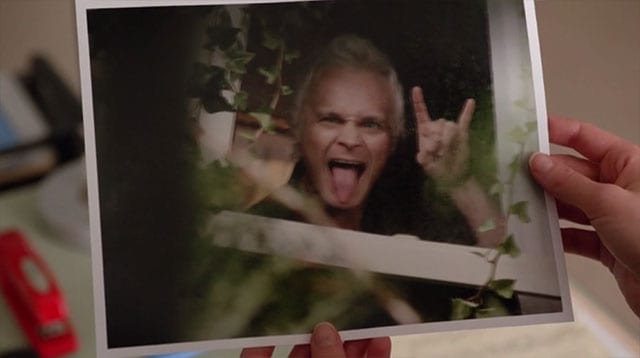 "Where's the big zombie?!" (Major)
Kommen wir zu den "Plötzlichkeiten" dieser Woche. Ein Erbe kann so schnell und plötzlich zerronnen sein, wie es gewonnen wurde. Plötzlich bekommen genau die richtigen Falschen Major in die teils untoten Finger (klar doch!) und ganz plötzlich kommt Clive nebenbei erwähnt darauf, dass Liv immer was von den aktuellen Leichen annimmt – charakterlich, versteht sich. Ach, und ganz plötzlich weiß ich auch, dass die Zahlen "44" und "23" als Tattoos ungemein bescheuert aussehen.
"Show me someone who never lies and I show you a weirdo." (Liv)
Schade ist, dass es kein Blut an den Mundwinkeln gibt… Dafür kann Candy mit einem weitaus tolleren Make-Up aufwarten. Der Zeitreise-Sketch war einfach herrlich! Ich finde es genial, dass die Macher sich zur Umsetzung einer solchen Schnapsidee durchringen konnten. Genau das macht den Charakter und die Sendung aus!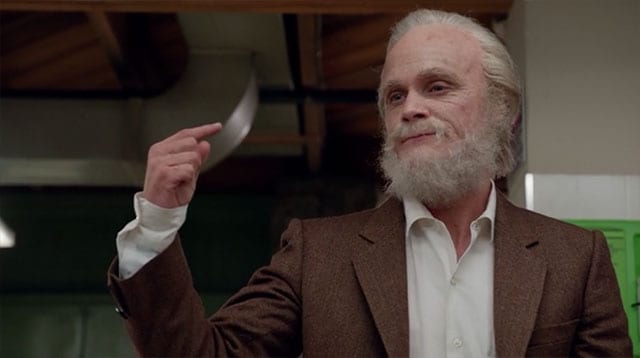 "You see, winter is coming!" (Alt-Blaine)
Die Hoffnung stirbt zuletzt und New Hope zuerst. Ein recht künstlich wirkender Spannungs-Effekt, just wo die große Hoffnung ausgegraben werden konnte. Aber immerhin ganz nett, dass die Ratten-Experiment-Schiene immer wieder aufgegriffen wird.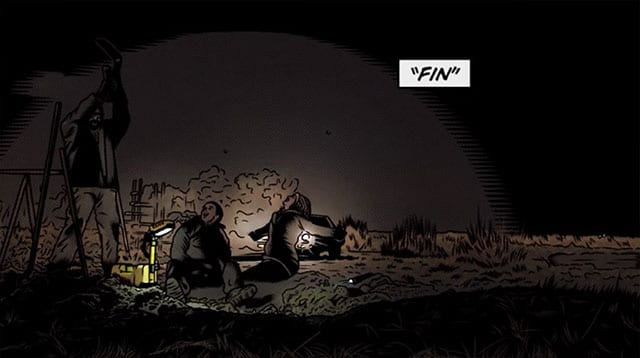 Eine gute Folge. Das Esprit in den Dialogen hat hier und da gefehlt und die ganz große Story-Stringenz war jetzt auch nicht da, dafür hat es mich sehr unterhalten und eine halbe Extra-Krone gibt es für Zeitreise-Blaine. Insgesamt alles auf einem guten Weg Richtung Staffelfinale, wo jetzt endlich einige Fäden (teils fadenscheinig, muahaha…) zusammen führen. Hoffentlich schafft die Serie es wie in Staffel 1 mit einer überraschend schlüssigen und dramatischen Konklusion zu enden. Tut es für New Hope! Und mich.
Bilder: The CW