Weiter geht's mit Penny Dreadful. Dieses Mal mit zwei Episoden, die nicht unterschiedlicher sein könnten: S03E03 "Good and Evil Braided Be" behandelt quasi jeden Erzählstrang, S03E04 "A Blade of Grass" ist ein Kammerspiel der feinsten Sorte.
Meanwhile in America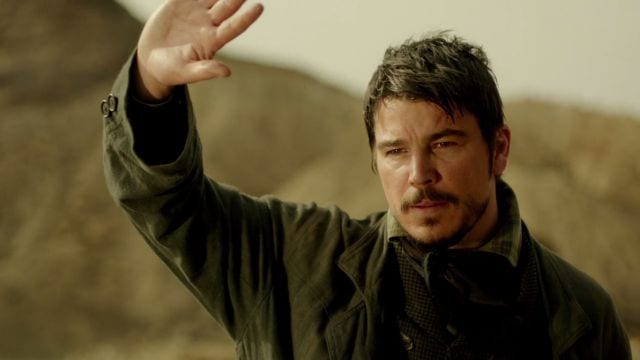 Ethan ist nach wie vor, notgedrungen, mit Hecate unterwegs. Da diese mehr als skrupellos agiert, ist er weiterhin gezwungen mit ihr zu fliehen. Ganz klarer Fall von "das ging ja schnell": Sir Malcolm und Kaetenay sind schon in Amerika und Ethan auf der Spur. Aus erzählerischen Gründen verständlich, dass ihre Reise so schnell ging, aber realistisch ist es nicht. Jedenfalls stellen sich die beiden sehr viel geschickter an als die Cops, die aber auch aufschließen. Es dürfte nicht mehr lange dauern, bis Malcolm und Kaetenay Ethan und Hecate einholen. Malcom wird bestimmt nicht erfreut sein, diese zu sehen.
Auch interessant ist, dass Hecate Ethan's Werwolf Dasein als sein wahres Ich ansieht. Der sieht das, wie wir aus der Vergangenheit wissen, anders (indem er seine Freunde und lieb gewonnenen Menschen vor sich schützen will). Insgesamt ist die Wild West Storyline vor allem wegen des Settings erfrischend. Aber auch im Vergleich zu den anderen Handlungssträngen gefällt mir dieser mit am besten.
Die Anderen

"Das ging ja schnell", Part II: Die Kreatur/John Clare ist schon wieder zurück in London und sucht nach seiner Familie aus seiner Vergangenheit. Victor und Dr. Jekyll sind noch am rumbasteln an der Prozedur der "Zähmung". Wir erfahren außerdem, dass diese nur eine kurze Erfolgsdauer vorweisen kann: Nach ein paar Stunden lässt es nach und der Patient fällt wieder in alte, wahnsinnige Verhaltensmuster zurück. Das mittelfristige Ziel ist also, die Prozedur zu verbessern. Meinetwegen. Wenn Victor sonst keine andere Storyline bekommt, soll er halt das machen.
Am wenigsten gefällt mir ganz klar die Dorian/Lily/Justine Handlung. Hier haben wir also die obligatorische Orgie, die mich ganz klar an American Horror Story erinnert hat. Ich kann dieser ganzen Rachestory einfach nicht viel abgewinnen. Aus feministischer Sicht ist Lily's Gedanke ja gut, aber irgendwie funktioniert das bei mir einfach nicht. Und dass Dorian ja so anders als alle Männer ist, würde ich so nicht unterschreiben.
Vanessa und Dr. Sweet aka Dracula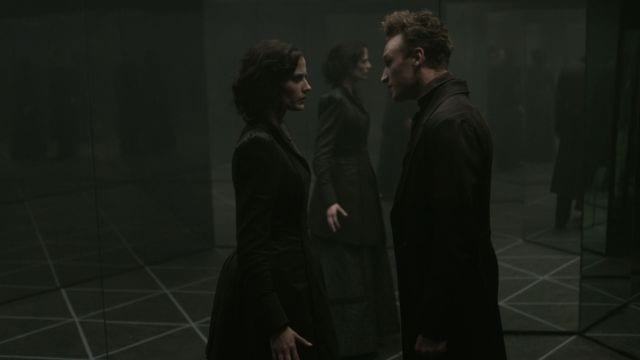 Dr. Sweet tut weiterhin alles, um Mitgefühl bei Vanessa zu wecken und diese mehr an ihn zu binden. Das klappt auch gut, doch Dracula sollte seine Untertanen besser im Griff haben… Denn einer kann es nicht lassen Vanessa nachzustellen und ihr auch noch einen Hinweis zu geben, dass diese bereits einmal eine Begegnung mit dem Meister, also Dracula, hatte. Der ist von dieser Aktion nicht begeistert. Vanessa beschließt, sich von Dr. Seward hypnotisieren zu lassen, um die verdrängten Erinnerungen wieder zu erlangen. – Ach ja, meine Hoffnungen bzgl. Dr. Seward wurden erhört: Vanessa kann es nicht ruhen lassen, dass Dr. Seward so sehr wie Joan Clayton aussieht. Vielleicht wird bei Penny Dreadful noch das Thema Wiedergeburt angeschnitten? Lassen wir uns überraschen!
The Padded Cell
Kommen wir zur absoluten Highlight-Folge! Die gesamte 4. Episode behandelt Vanessa's Vergangenheit in der Irrenanstalt. Es ist ein wunderbares Kammerspiel, in der Eva Green und Rory Kinnear zeigen, was für tolle Schauspieler sie sind und wie gut sie zusammen funktionieren.
Um Verwirrung zu vermeiden, eins vorweg: Die Kreatur, die in seinem vorherigen Leben wohl als Pfleger in der Irrenanstalt gearbeitet hat, nenne ich hier Pfleger, da er zu diesem Zeitpunkt noch nicht die Kreatur war. Jedenfalls war das der erste wtf-Moment: Er und Vanessa kennen sich, können sich aber nicht daran erinnern. Die nächste, wirklich sehr grausame Szene ist Vanessa's Zwangsernährung. Die Kamera hält drauf und ich frage mich, wie Eva Green das immer wieder schafft, solche überaus intensiven Szenen zu meistern. Ich ziehe meinen Hut vor ihr.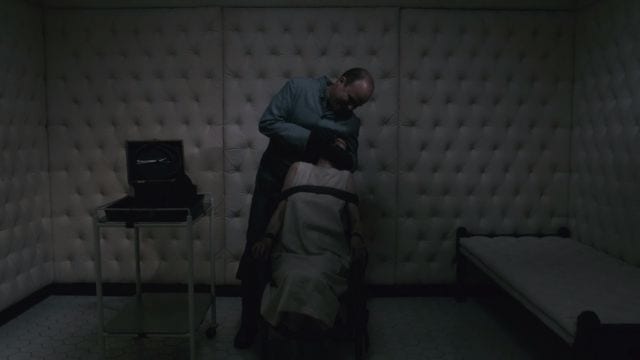 Eine kleine Randbemerkung, die mich hat schmunzeln lassen:
"Don't you like poetry?" (Vanessa)
"Uh, no." (Orderly)
Welch Ironie, dass die Kreatur in ihrem früheren Leben keine Poesie mochte – und nun hat er sich den Namen John Clare gegeben.
Wir haben euch bereits an dieser Stelle auf ein Making Of zu dieser Folge hingewiesen, welches sehr sehenswert ist und auch einige Hintergrundinformationen liefert. Diese Episode ist mal wieder sehr schön gefilmt und liefert ein paar wirklich tolle Aufnahmen ab.
Lucifer vs. Dracula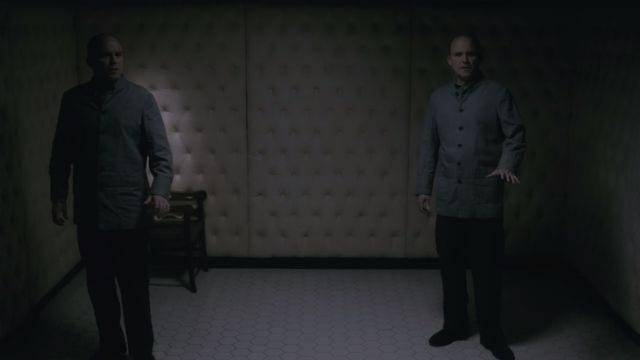 Die Brücke zur alten Staffel ist schön anzusehen, da Lucifer nochmal seinen großen Auftritt hat: Die beiden Brüder Lucifer und Dracula begegnen Vanessa beide in Form des Pflegers, jedoch mit Unterschieden in der Augenfarbe und Aura. Welch ein verrücktes Bild, ein doppelter Rory Kinnear. Außerdem wird nochmal klar gemacht: Lucifer will Vanessa's Seele, Dracula ihren Körper.
So I see you clear now. Two brothers fallen from grace. The spirit and the animal. You seek my soul. You, my body. But both are promised to another. He who vanquished you. He who is my protector and stands with me, even now. – Vanessa
An dieser Stelle ist mir auch noch der Gedanke gekommen, dass Dr. Sweet ja auch von Dracula besessen sein könnte, genauso wie es beim Pfleger der Fall war. Ob das vollkommener Quatsch ist oder doch etwas dran sein könnte, werden wir hoffentlich noch erfahren.
Fazit
Vor allem "A Blade of Grass" ist eine wahnsinnig intensive und gute Episode! Ich kann mich nur wiederholen: Eva Green is a queen! Gebt ihr einen Emmy. "Good and Evil Braided Be" war gut, aber hatte doch ein paar Hänger (Dorian/Lily und die Logiklöcher in Bezug auf die Schnelligkeit des Reisens). Insgesamt darf es gerne so weiter gehen!

Bilder: Showtime

-->