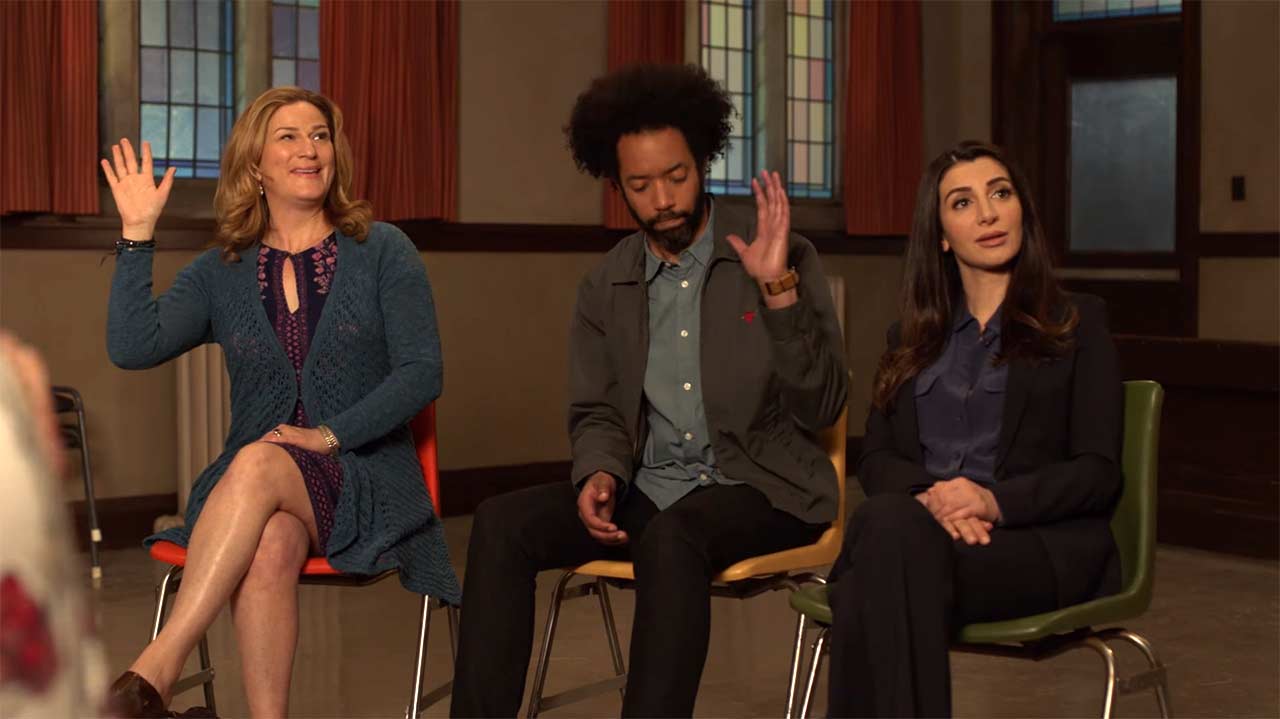 Hatte ich euch Ende vergangenen Jahres noch in einer Art Serientipp Staffel 1 von "People of Earth" ans Herz gelegt, ist jetzt auch schon Staffel 2 vorbei. Dabei hat sich die Serie durchaus weiterentwickelt, aber einen meiner Meinung nach recht unglücklichen Wechsel vorgenommen: Nasim Pedrad ist der neue Wyatt Cenac. Also, die Neue…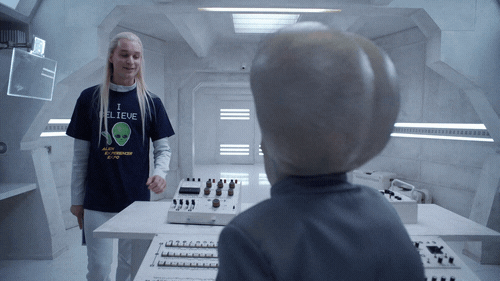 Eigentlich ist alles beim Alten. Die "StarCrossed"-Gruppe in Beacon ist wieder vereint, redet nun noch wissentlicher über Aliens da Oben und wir sehen die Aliens da Oben, wie sie über uns Menschen hier Unten reden. Mit zwei kleinen, aber elementaren Unterschieden personeller Art. Zunächst tritt Wyatt Cenac als Hauptfigur Ozzie deutlich in den Hintergrund – indem er stirbt. Aber so ganz finale ist das nicht, wollen die Showrunner eigentlich nur damit spielen (und nicht dauernd den Über-Skeptiker Ozzie durchschleppen müssen). Im Interview mit Entertainment Weekl gibt Executive Producer Norm Hiscock dazu an:
"When I met David, he talked about the show being an anthology series, with the possibility of people coming and going. I remember reading the second script, where we had killed off Kurt. So I knew there was a potential that people could come and go. You could add cast members and more people can jump on and some people can be killed or be gone or disappear."
Seine "Das ist alles neu und unglaublich"-Position wird mehr oder weniger 1:1 durch Nasim Pedrad ("New Girl") aka Agent Alex Foster ausgefüllt. Statt Reporter gibt es eine FBI-Agentin, aber auch hier gibt es jede Menge Skepsis, Angst der Einverleibung durch die Gruppe und am Ende doch skurril viele eigene Bezugspunkte zum ganzen Vorgehen. Ich finde es etwas schade, dass man Cenac so wenig zu sehen bekommen hat, Pedrad wirkt da eher wie ein gewollter Ersatz.
Noch seltsamer ist jedoch der Cast-Zuwachs auf Seiten der Aliens. Kubus Eric hat das Schiff übernommen und ist sowohl für das Alien-Trio als auch für uns Menschen ein Gegenspieler. Das nimmt teils Stromberg'sche Arbeitsplatz-Züge an und schafft es nicht immer, mich zu unterhalten.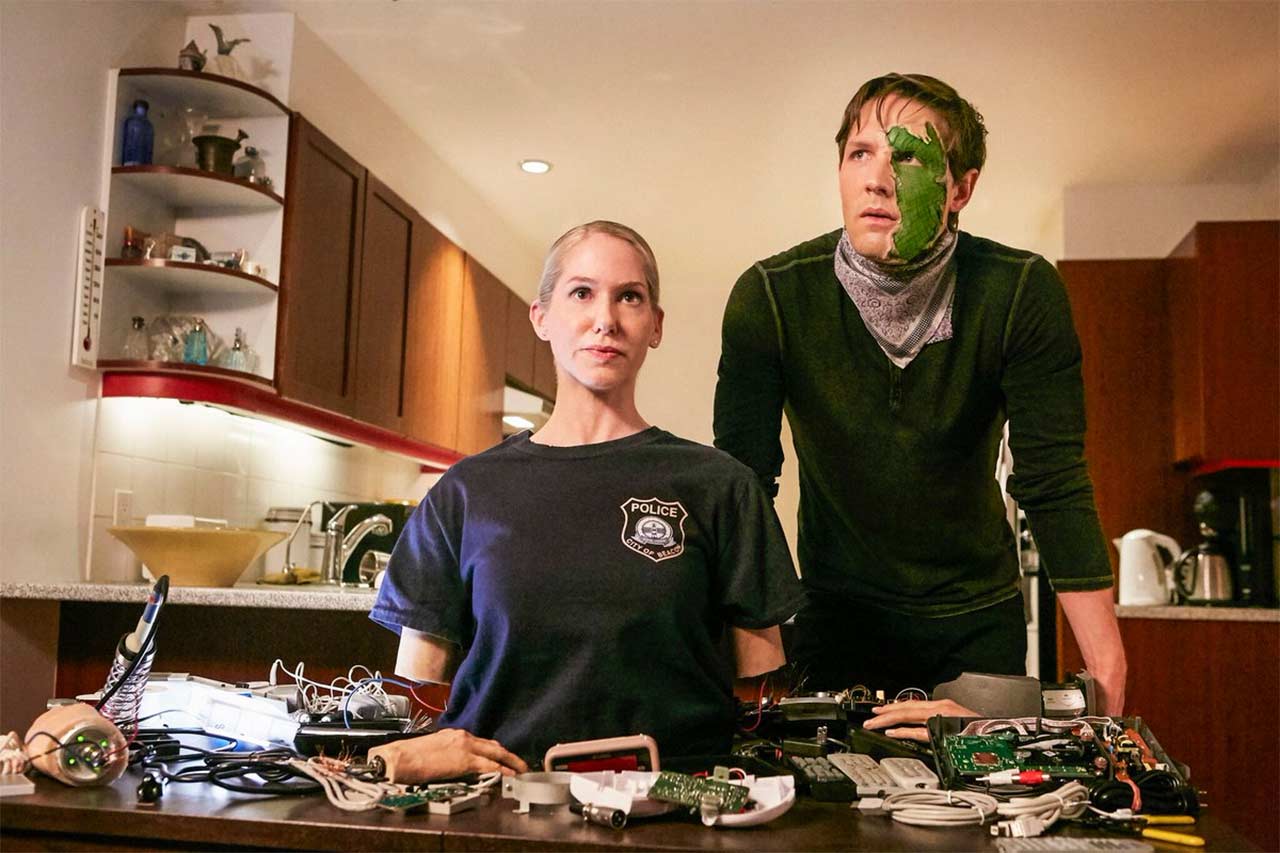 Was mir dagegen sehr gefallen hat, ist das deutlich ausgefeiltere Storytelling. Wirkte Staffel 1 noch hin und wieder wie eine beinahe Indie-Züge annehmende Low Budget-Produktion, schaut diese Staffel deutlich schöner aus, hat einige beinahe gut aussehende Effekte parat und weiß vor allem im subtilen Humor immer wieder mit gekonntem Timing zu überraschen. Insgesamt wird mir inhaltlich in der Staffel aber zu wenig erklärt bzw. bewegt, da steht man zwischenzeitlich auf der Stelle, bzw. schafft sich selbst mit Eric so ein kleines Zwischenspiel, das es für mich nicht gebraucht hätte. So landet die Staffel für mich beim identischen Rating wie vergangenes Jahr, auch wenn einige Dinge schlechter und andere besser geworden sind. Alles in allem aber weiterhin eine durchaus originelle und lockere Unterhaltung.
Eine dritte Staffel der Serie wurde bereits von TBS bestellt und soll 2018 folgen.
People of Earth Staffel 2 Trailer
Hier noch ein Bewegtbildeindruck für alle, die die Staffel / Serie noch nicht gesehen haben:

-->