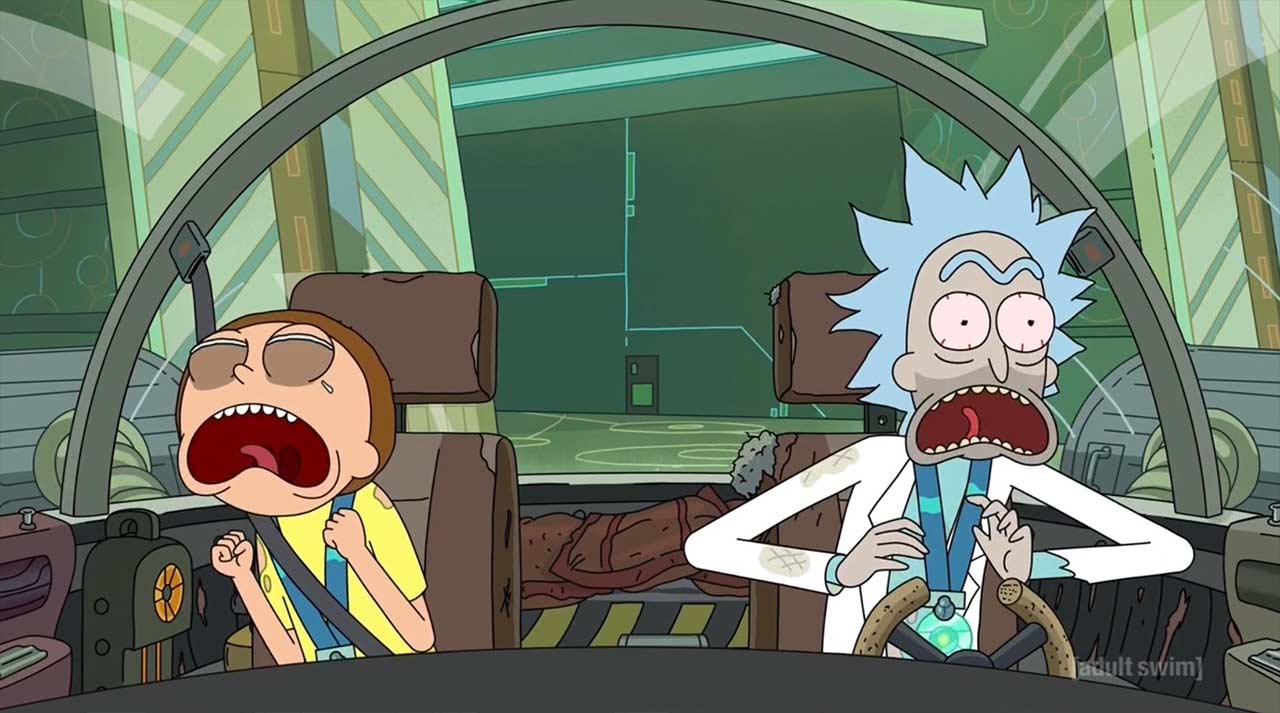 Wenn Morty alibimäßig in der Luft seines Schließfaches herum fuchtelt muss es einen Grund haben: Jessica ist wieder solo – OMFG! Und so lauscht er ganz besonders angestrengt, als es um "irgendwen, den sie bislang nicht beachtet hat" geht. wie so oft funkt Rick dazwischen und setzt direkt mal eine nette Anspielung auf die Episodenlaufzeit der Show.
"Let's go – in and out, 20 minutes adventure." (Rick)
Und so spielt sich das Stärkste dieser Folge vor dem Vorspann ab. Dieser lange Gefühlsausbruch der beiden, bei dem Morty haltlos weint und Rick zitternd zugeben muss, dass er nur Glück statt Kontrolle hatte, zeichnet die beiden Figuren als welche, die menschliche Grenzen besitzen, nach all den abgefuckten Abenteuern, bei denen man sich stets daran erinnert fühlte, dass es ja "nur ein Cartoon" sei.
"We need a vacation." (Rick)
In Ruhe möchte ich noch einmal diesen wundervoll detailliert ausgearbeiteten Shot würdigen: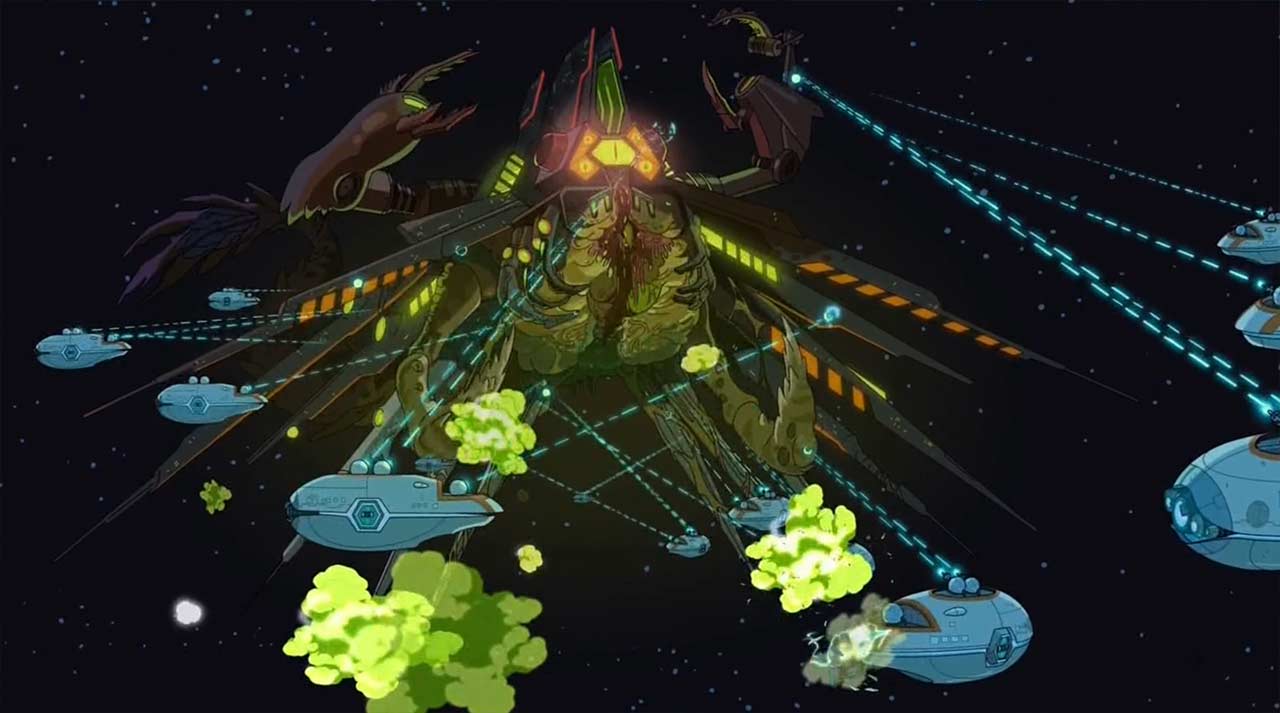 Ein bisschen hatte ich in diesem Moment an eine komplett ereignislose Folge gedacht. Eine ganz ohne Abenteuer, komplett entspannend und als Gegengewicht zur überschnellen Adrenlin-Jagd, die sonst allwöchentlich vonstatten geht. Aber binnen kurzer Zeit setzt es mit dem kognitiven Entgifter zur eigentlichen Handlung an. Der Übergangstwist ist dabei durchaus gelungen. Rick verliert seine drastischen Eigenheiten, Morty seine Selbstzweifel – und beide irgendwie auch das, was sie eigentlich ausmacht. So entschuldigt sich Rick plötzlich bei Rülpsern (spätestens hier weiß der erfahrene Zuschauer, dass etwas im Argen liegt…) und Morty wird zum zu selbstbewussten Plappermaul. Healthy Morty im Restaurant zuschauen zu müssen war schon verdammt schmerzhaft… Ähnlich war es irgendwie beim "Groin-System 6000", das sich sehr nach einem billigen Butter-Roboter-Abklatsch anfühlte. Nope, not that epic!
"I think my voice is annoying." – "It is! And it's your best quality." – "So true…" (Toxic Morty & Toxic Rick)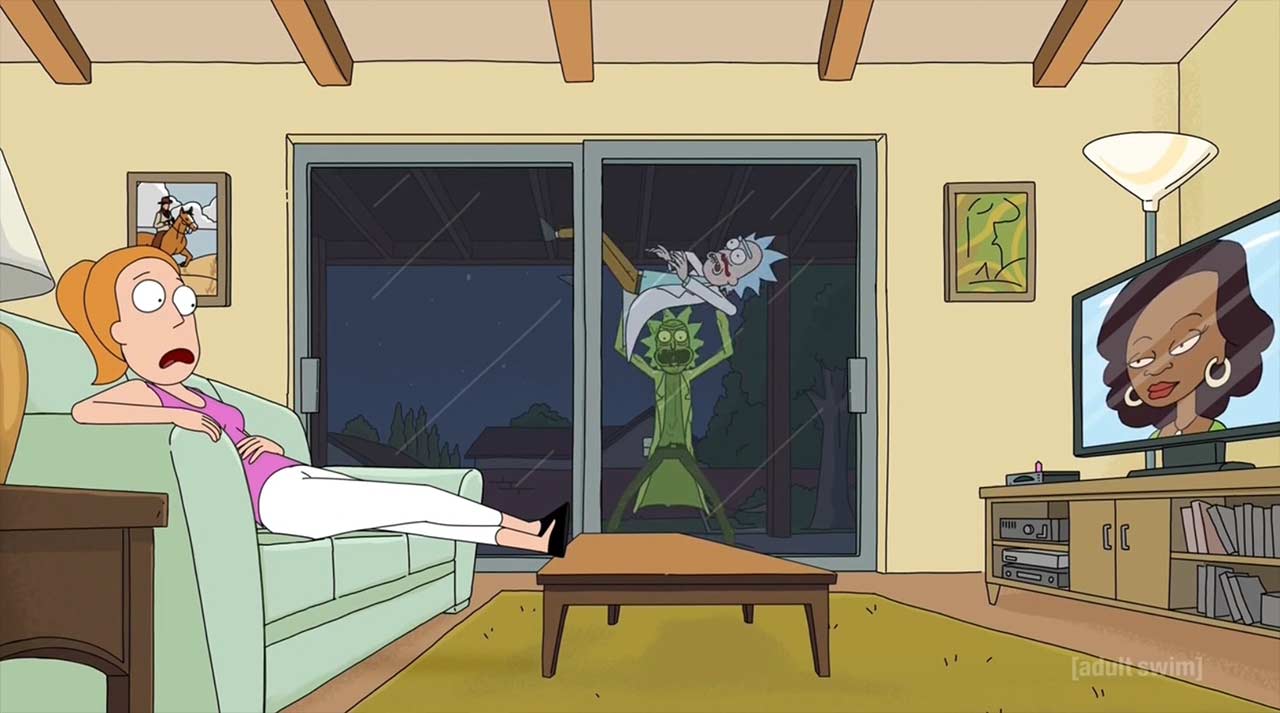 Dagegen sehr abgefeiert habe ich den "You DO know me!"-Spruch im Fernsehen, der eine wundervolle Anspielung auf die Telenovela-Figur in der Pilotfolge der Sendung war! Dazu all die im Haus versteckten Gadgets, die einen sehr gelungenen Kampf zwischen Healthy und Toxic-Rick ermöglicht haben – klasse!
"Daaaads?" (Beth)
Auch die zwischenzeitlichen Toxic-Varianten in aller Welt mit ihren Übergängen von Normal zu weir zu normal waren nice – inklusive nettem "Seitenhieb" in Größe eines Sonnensystems gegen die Kirche. "Healthy" Morty ist derweil als Broker aktiv und lebt in Harvey Specters Loft, tief in ihm drinnen lässt er aber zu, dass er geschnappt und alles wieder beim Alten ist.
"God is not a lie…" (Priester)
Am Ende setzt es einen ganz schönen Rahmen mit der erneuten Schulflurszene und dem etwas verhalteneren Antrittsbefehl zum Abenteuer sowie dem leichteren Nachgebens Mortys. Beide haben ihre Lektion gelernt.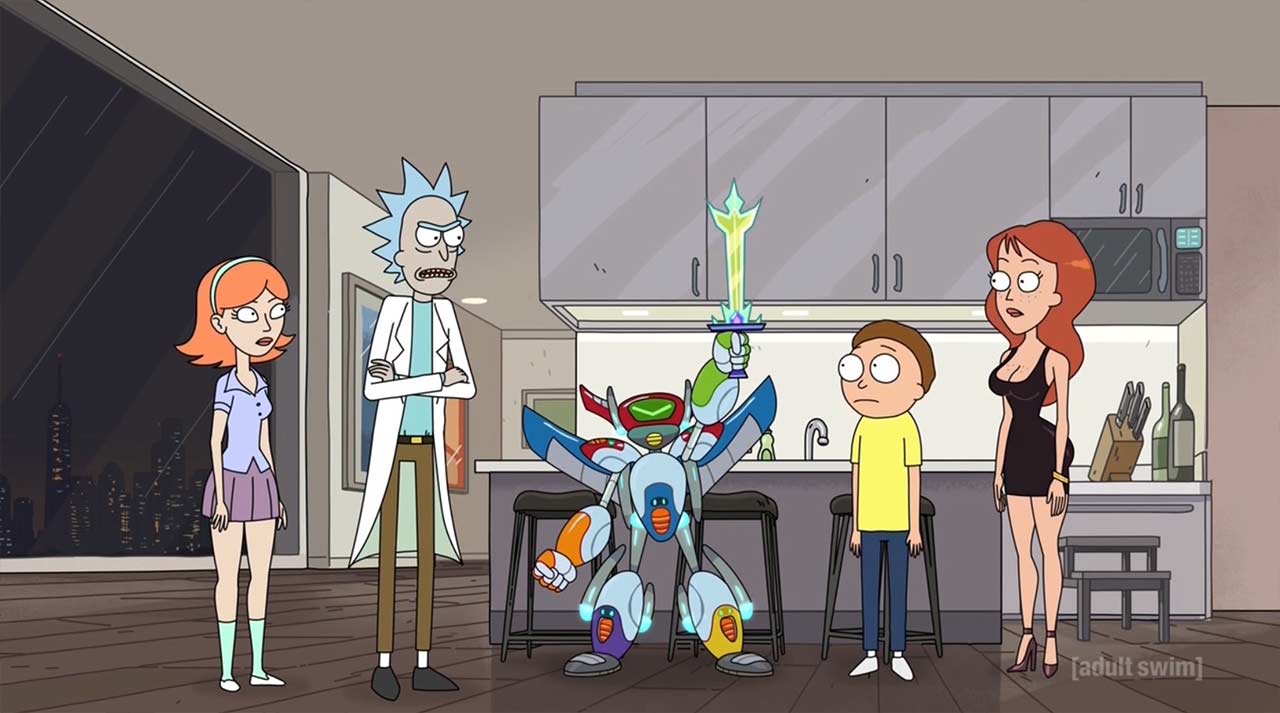 Eine erneut sehr kurzweilige Folge, die es geschafft hat, Charaktertiefen und -Entwicklungen in einem originellen Dreh zu erzählen. Kurios finde ich dabei, dass es eine deutlich rundere Folge als letzte Woche war, wohingegen die epischen Kleinteile in ihrer Anzahl deutlich weniger waren. Eine Mischung aus E05 und E06 wäre vermutlich eine der besten Folgen der Serie, so bleibt es eine gute, die aber langfristig nicht sonderlich hervorstechen dürfte. Ob jetzt Healthy oder Toxis Maik dieses Review geschrieben hat, werde ich euch nicht verraten…

Bilder: adult swim

-->