Nicolas Cage kann einpacken, denn Rick und Morty haben sich dem großen Mysterium vermacht, das mit der Unabhängigkeitserklärung zusammenhängt. Beim starken Einstieg in die neue Folge "Rick and Morty" bleibt aber kaum Zeit, sich überhaupt an den Titel des Disney-Filmes "Vermächtnis der Tempelritter" zu erinnern, so schnell passiert alles, zum Beispiel diese Aktivierung des Roboters in der trojanischen Freiheitsstatue…
"Morty, are you gonna be a fucking American nerd or are you gonna be cool and steal the constitution with grandpa?" (Rick)
Es beginnt ein skurriler Kampf zwischen Rick und dem US-Präsidenten, der gerade dadurch charmant wird, dass auf beiden Seiten jeweils nur mit den Augen gerollt und drum gebeten wird, diese bescheuerte Bro-Misere einfach kurz und knapp zuende zu bringen. Aber wo wäre da der Spaß für uns?!
"I have to turn myself into a turkey and trick the president into giving me a presidential turkey pardon." – "Again?!" (Rick & Jerry)
Die zwei gegeneinander geschnittenen und jeweils gedanklich auf Gegenschritte antwortenden Pläne waren schon sehr clever erzählt. Allgemein gab es mal wieder viele smart formulierte Details in den Dialogen zu finden, wie bspw. bei den Garagen-Robotern, wo der Soldat antwortet, er wisse ja wohl, wie Fleisch aussieht und Rick nachfolgend erwähnt, dass die fleischbezogenen Roboter zu funktionieren scheinen. Alles keine geniale Revolution im Drehbuchschreiben, aber eben auf das Notwendigste reduziert und vom Timing her sehr gekonnt dargeboten. Allgemein war das Tempo vor allem in den ersten sechs Minuten enorm hoch, hatte man doch das Gefühl, der komplette Plan sei bereits durchgeführt worden. Aber natürlich gibt es wie so oft mehr und alles eskaliert…
"Bring in the David Blaine box." (Präsident)
Der wiederholt aufgegriffene Spruch "It will be important later…" hat gekonnt ironisch das bezweckt, das er eigentlich zu persiflieren wusste. Dieses Klischee, dass wichtige Informationen zu Beginn genannt werden, wenn noch niemand so wirklich was damit anfangen kann. Smart gemacht.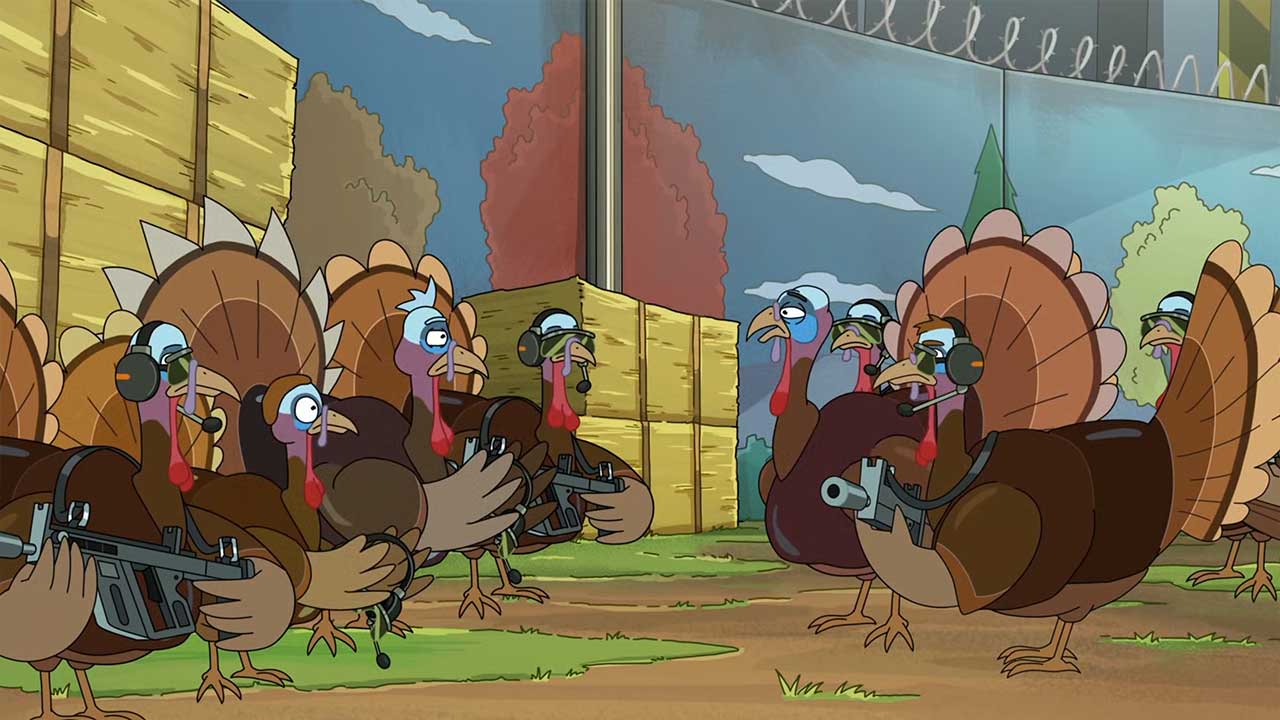 Zu Beginn dachte ich erst, es gäbe eine neuerliche "Rick verwandelt sich in etwas"-Episode, um den "Pickle Rick"-Hype auszunutzen. Aber nein, die Geschichte wird deutlich weiter gesponnen und nicht nur Soldat:innen verwandeln sich in Truthähne, auch der Präsident selbst wird in Vogelform geschrumpft. Nur funktioniert die Rückwandlung leider nicht und ein ehemals echter Truthahn wird zum neuen Präsidenten, der kurzerhand die gierigen Mechanismen der Politik offenbart.
"Go-go Sanchez laser-fists!" (Rick)
Weil die US-Geschichte noch nicht genug behandelt worden ist, bekommen wir noch fix Ex-Präsident Franklin D. Roosevelt als zum Spinnenmonster mutierten Polio-Versuchkanninchen zu sehen. Mir hat da aber deutlich besser gefallen, dass dieser komplette Freiheits-Statuen-Roboter-Plot nur eingangs mit der Aktivierung wirklich gezeigt wurde, um fortan lediglich durch Nebenbei-Bemerkungen am Leben gehalten zu werden. Aber gut, gehört New York halt nun Frankreich, es gibt Wichtigeres!
Zum Beispiel der Kleiderschrank, in dem Rick mehrere identische Outfits für die Familie aber eben auch den (somit quasi zur Familie gehörenden?) Präsidenten auf Vorrat hat. Oder aber die im Haussicherheits-System integrierte Kohlkopf(?)-Waffe, die mir einen gehörigen "Plants vs. Zombies"-Vibe vermittelt hat.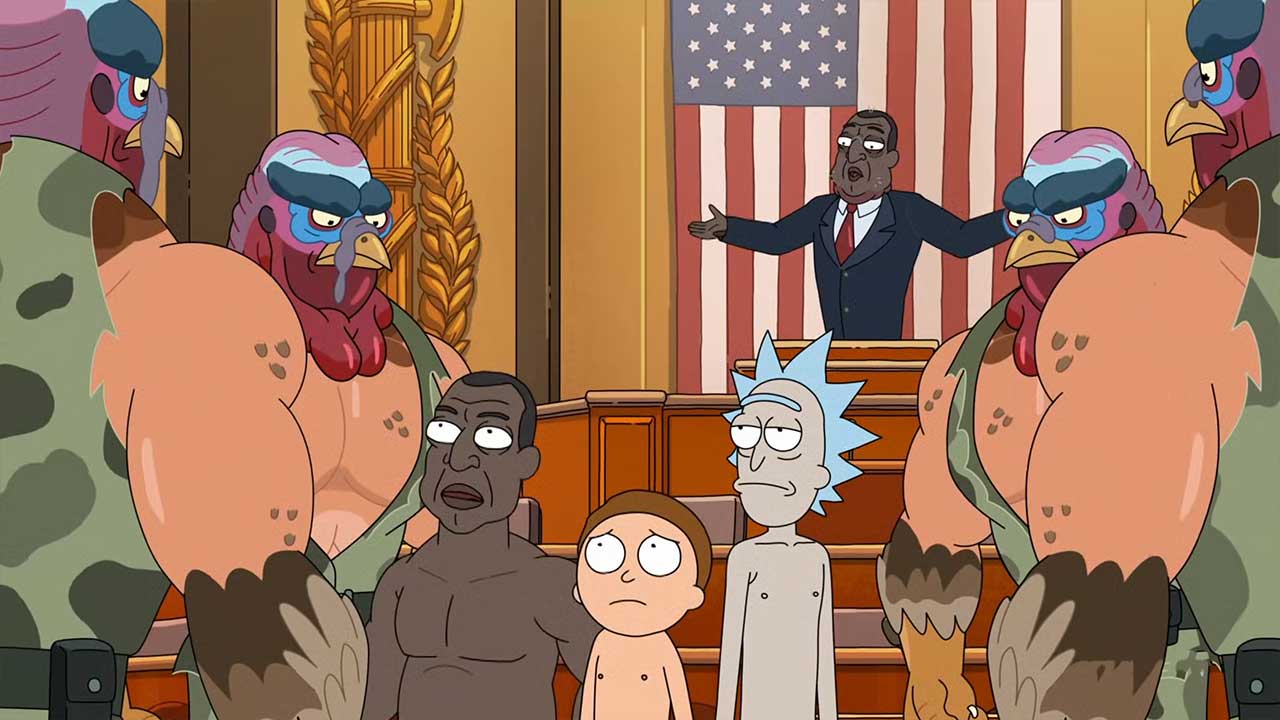 Im Finale der Folge wurden nochmal etliche Klischees von Action-Filmen bedient. Die Klischee-Rede wurde mit so viel Meta-Füll-Nonsense bedacht, dass sie gar keinen wirklichen Inhalt mehr hatte – yay, Politik!
"We've got something more powerful than every army in the world! Well, no, we don't. But: With the right speech, we could get a hand full of well-trained hillbillies." – "Well, it worked against the British – I'm in." (Präsident & Rick)
Unter dem Lincoln-Memorial wurde dann noch schnell offenbart, dass eigentlich zwei Alienrassen aus dem All ziemlich viel an Entwicklung mitgebracht haben, aber eben auch kurzerhand aufgeweckt werden können, sollte es zu einer Truthahn-Tragödie kommen. Puh, Glück gehabt! Also, außer mit dem Kauf einer Playstation 5, der selbst für US-Präsidenten ein Ding der Unmöglichkeit zu sein scheint…
"Feel thankful." (Präsident)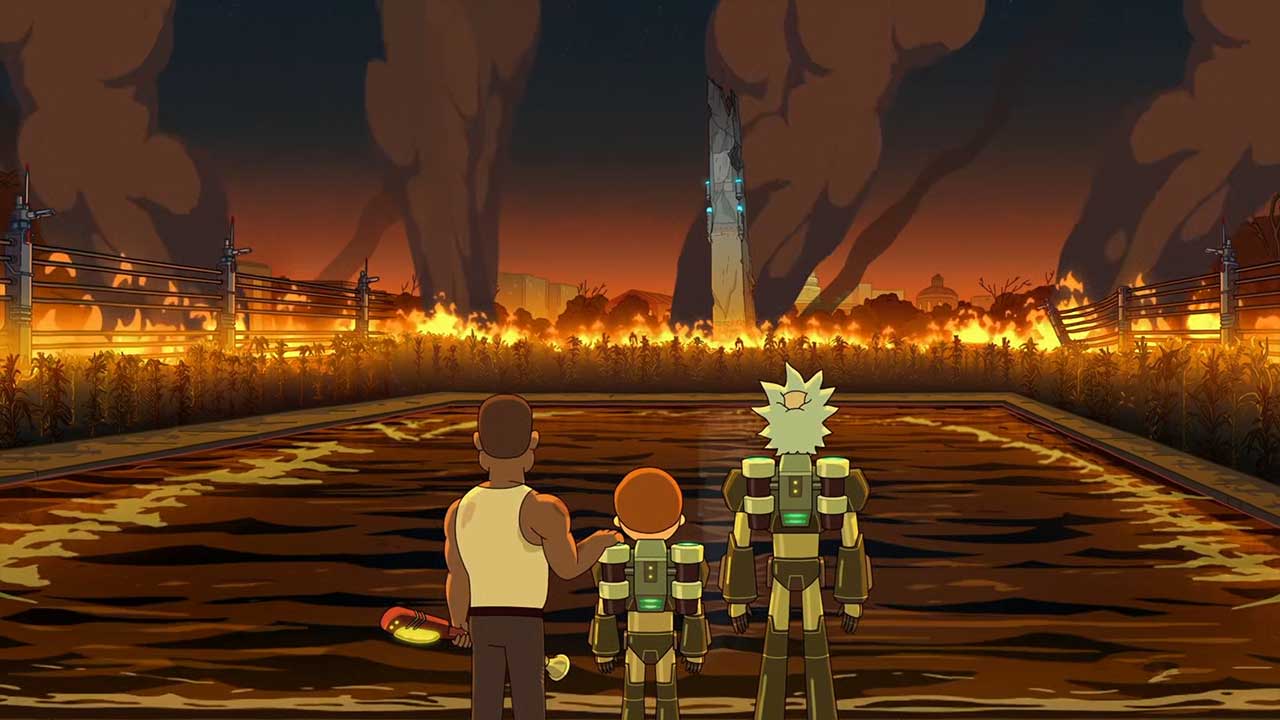 Ich bin dankbar. Für diese Folge. Das mögen vor allem in den USA einige Leute anders sehen, aber das ist dann halt verletzter Patriotismus-Stolz oder so. Das Tempo war einfach verdammt hoch, hat dabei aber nicht einfach nur der Verdeckung von Fehlern oder künstlicher Aufregungs-Generierung gedient. Die Story hatte Hand und Fuß – oder sollte ich sagen, Flügel und Krallen? Die kleinen Wendungen, ausgefallenen Ideen und wahrlich bescheuerten Elemente haben für mich persönlich jedenfalls einen äußerst unterhaltsamen Cocktail ergeben, der sich bislang in der oberen Hälfte der Episoden dieser noch andauernden Staffel ansiedelt.
Inside the Episode
Hier noch das offizielle Behind-the-Scenes-Video zur Folge "Rick & Morty's Thanksploitation Spectacular":
"Turkeys abound in this behind the scenes look at what may be the most absurd premise in Rick and Morty history."
Bilder: Adult Swim

-->