Midseason-Finale! Endlich. Das hat sich schon ganz schön gezogen – wer hätt's gedacht. Aber immerhin gab es mal etwas übergeordnete Handlung, die sich tatsächlich festsetzen konnte. Zeit für "celebratory drinks"!
"You just got out of prison – you're not in the mood for beer!" (Harvey)
Mike bekommt dazu noch feierlich ein Berater-Angebot von Harvey. Schon seltsam, dass das plötzlich alles so problemlos möglich ist, einen bestraften Betrüger anstellen zu können und niemandem ist es ein paar Jahre früher eingefallen. A pro pos "früher": Die naive Jung-Jessica wurde nicht so wirklich klasse gecasted (zumindest vom Aussehen her, die Art passt ab dem zweiten Rückblick ganz gut).
"[…] It's better to ask forgiveness then permission." (Mike)
Und dann ist da mal wieder dieses utopische Timing. Just, nachdem die ganze Mike-Geschichte durch ist, kommt das große Firmenproblem. Klar, der Grund ist Sutter und somit zeitlich valide, aber wirkt dennoch gewohnt seltsam im Pacing. Genauso bescheuert ist, dass der Kunde betont, dass Jessica hätte da sein müssen. Das wirkt enorm konstruiert. Wenigstens stellt Donna das dar, was ich die ganze Zeit schreibe: Die Firma geht unter, aber alle machen ihre Nebendinge.
"I'd shake your hand, but I wouldn't want your shady ethics rubbing off on me." (Donald)
Keineswegs Nebendinge: Louis ist ungewollt schwanger und Rachel darf vor Gericht vernehmen, ist aber erstaunlich leise dabei. Ach, es gibt unseren BROker noch! Dass sich zwischen Stu und Donna was anbahnen wird, ist mehr als offensichtlich. Wobei, jetzt wo die die Räume verlassen…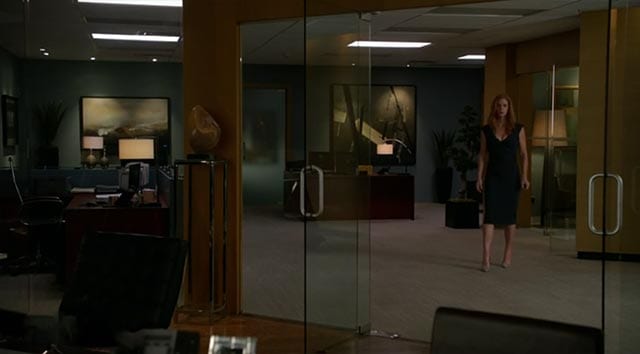 "Mike, I have no time for movie quotes right now…" (Rachel)
Der Freispruch kam dann aber gewaltig zügig. Und plötzlich wurde dieser einstige "1 Stunde pro Woche"-Beratungsposten zum wichtigsten Moment in Jessicas Karriere. Hätte sie danach nicht direkt zum Board Meeting gekonnt? Und wie schnell man Anteile von Großfirmen mal eben kaufen kann, ist auch unfassbar. Wie haben die das nur all die Jahre ohne Broker-Unterstützung geschafft?!
"Don't 'bro' me, dude." – "You got it, chief!" (Harvey & Stu)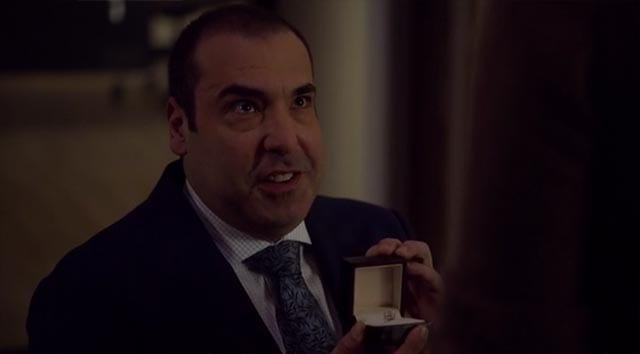 Aber okay, dann kommt das finale Gruppenkuscheln. Und die ganz großen Entscheidungen. Jessica off to Chicago? Das kam sehr plötzlich (auch mit der noch fix eingeworfenen Backstory), spiegelt aber vielleicht die inneren Gedanken vieler von uns wieder. Louis verlobt – er ist wirklich fix. Und so kommt die Serie meiner Prophezeiung mal wieder einen Schritt näher, dass wir irgendwann eine Kanzlei "Spector Ross" haben werden. Nur eben nicht, weil die beiden gehen, sondern, weil alle anderen gehen. Macht Mike eben seinen offiziellen Abschluss, Louis zieht mit seiner Dame und dem Kind in die Pampa – fertsch!
"To Pearson Spector Litt." (Alle mit Gläsern in der Hand)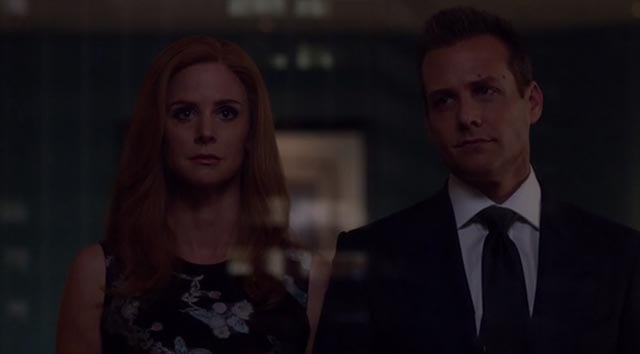 Emotional, kompakt, aber wieder mit einigen kleinen Unschönheiten im Storytelling. Insgesamt aber dann doch ein recht gelungenes Midseason-Finale, zumal es erfreulicherweise keine Rückbezüge mehr zur Knast-Story gab. Bin sehr gespannt, wann Gallo wieder ausgegraben wird. Aber erst einmal ist Ruhe und Jessica freut sich über eine Pause. Bis… Februar? Abwarten und Whiskey trinken.

Bilder: bravo

-->