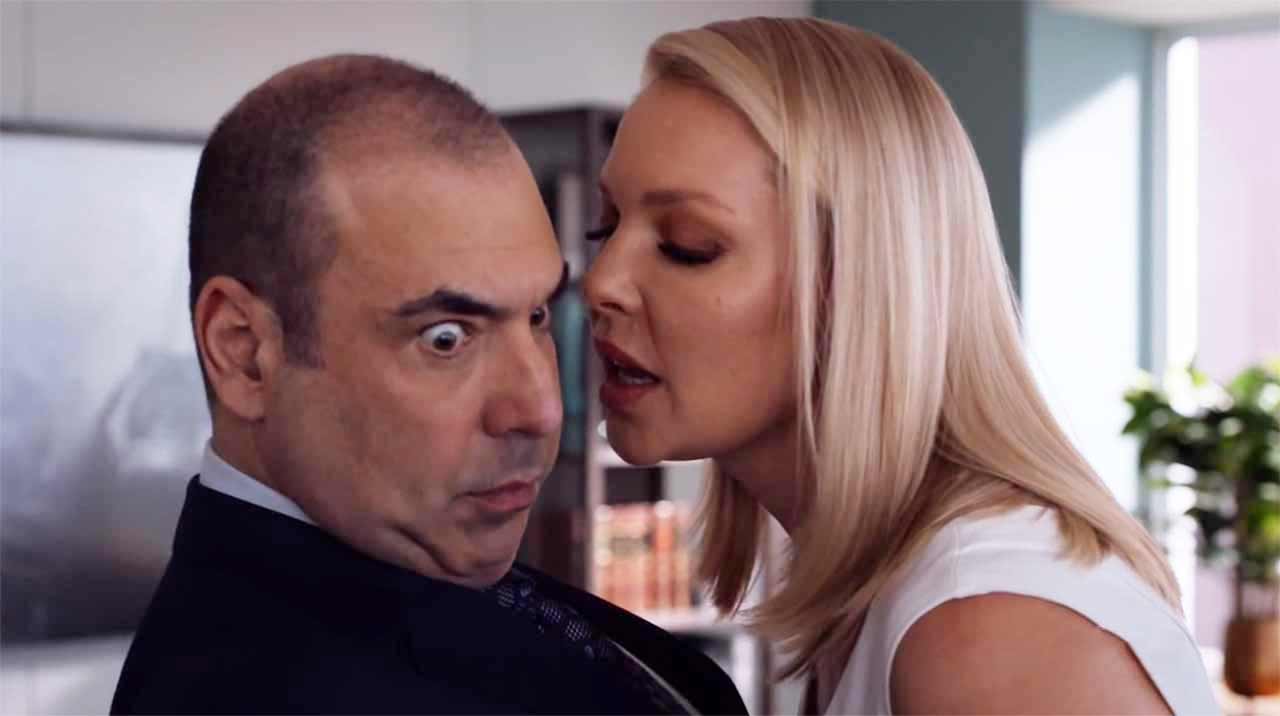 Wenn eine Figur, die gar nicht da ist, viel Platz einnimmt, kann das ein gutes oder auch ein schlechtes Zeichen sein. Zum einen, weil die Figur selbst einen großen Stellenwert besaß, zum anderen, weil die Macher nicht von ihr loslassen können. Wirken neuerliche Erwähnungen von Mike (und gaaaanz vereinzelt auch Rachel…) noch wie kleine Hommages, bewegt sich das schon gefährlich in Richtung "Nicht über die Trennung hinwegkommen". Aber an sich finde ich schön, dass man das auch die Fans offenkundig umtreibende Thema nicht einfach stillschweigt, sondern die Charaktere authentisch damit umgehen zu lassen versucht. Noch. Dass man aber scheinbar mit Robert UND Alex aktuell händeringend versucht, einen neuen Buddy zum coolen Sprüche-Klopf-Abtausch für Harvey zu finden, wirkt dann doch etwas penetrant…
"You really had some balls when you were younger!" – "Still do." (Harvey & Robert)
Ebenso verwirrend wirkt auf mich, dass der Harvey, der in den letzten Minuten der vergangenen Episode noch meinte, dass er sein Versprechen an Alex unerwähnt gelassen hatte, um da eine total kluge taktische Supersache draus zu machen, das dann binnen der ersten Minuten der neuen Folge macht. Doch kein kongenialer Plan? Schade. Das ist dann eher so plump, wie das Anti-Hangover-Wasser zu trinken, bevor sich die Aspirin darin auch nur annähernd aufgelöst haben. Da helfen auch keine zwei Tabletten, Robert…
Wo wir gerade bei "Kopfschmerzen" sind: Katrina hat Migräne. Was an sich wie eine schöne Gelegenheit der Nachempfindbarkeit des gemeinen Zuschauers ist ("Hey, die toughe Star-Anwältin im Fernsehen hat eine Volkskrankheit wie du und ich, cool!") sowie fundamentale Charakterentwicklung mit Sympathie-Aufbau ist (viel zu früh und offensichtlich – sagte ich ja…), ist mal wieder utopisch auf Zufall getrimmt. Sie ist GENAU zu dem Zeitpunkt nicht da (aber pünktlich zum Anschiss wieder zurück), schafft es trotz ihrer ansonsten an den Tag gelegten Professionalität nicht einmal eine Nachricht zu schreiben (ja, ich weiß, Migränen können Ärsche sein, aber dennoch) und dass das Meeting mit dem Klienten derart aus der Bahn gerät – uff! Dass Louis derart ausfällig wird passt zwar zur Dramaturgie, aber wenig ins eigentliche Kanzlei-Bild. Da hilft das ganze "Wir sind doch ein Team!"-Gefasel auch nicht mehr. Überdramatische Eskalation, nur damit man hinterher schön emotional de-eskalieren kann. Viel zu durchschaubare Mechanik.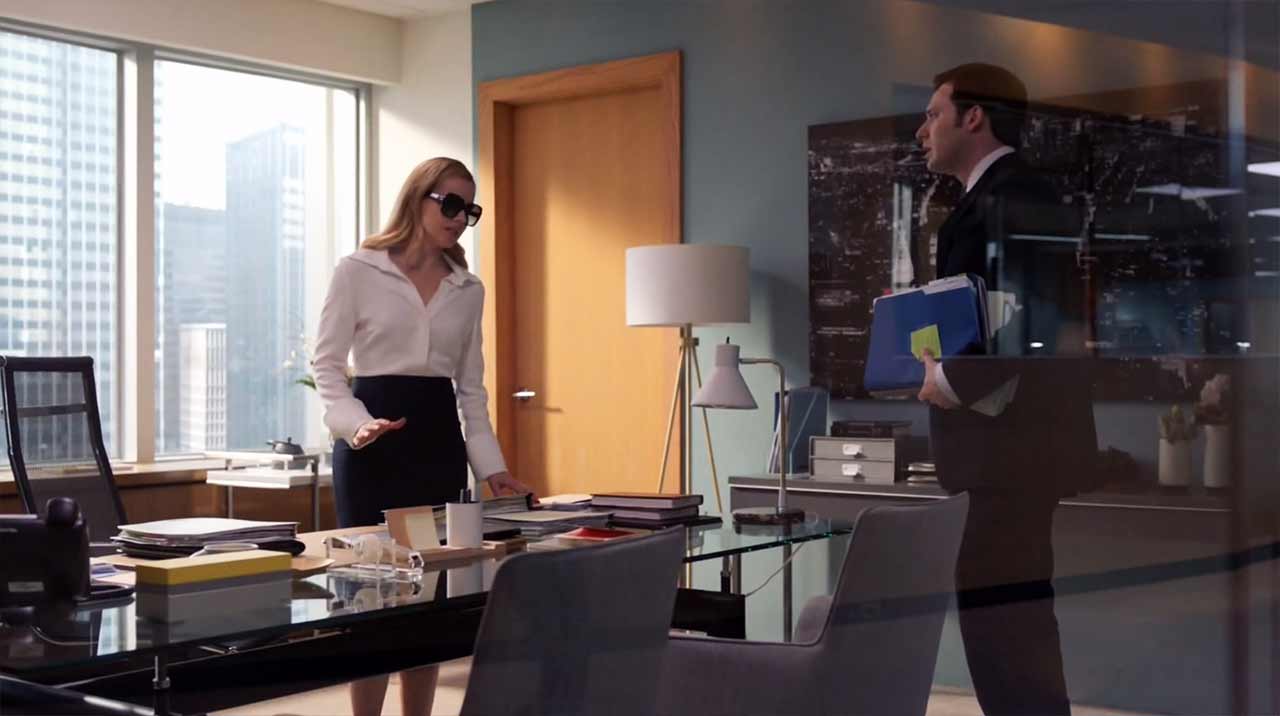 Vorhersehbar war auch, dass Harvey sich der Putzfrau-Probleme annimmt und seine Ansage, KEINEN Streit mit dem Vermieter anzufangen, natürlich nicht für voll genommen werden kann.
"Of… uh… 'Something Something Specter Litt'?!" (Vermieter)
Aber Leute, Leute! Es geschehen noch Zeichen und Wunder! Nein, damit meine ich nicht die Aufzugssabotage oder dass Louis Litt mal "kurz wo hin muss", sondern die Kanzlei war voller Anwaltsgehilfen! Also, für einen kurzen Moment. Als wäre es eine richtige Kanzlei. Wow! Da muss man das Statisten-Budget vermutlich jahrelang für aufgespart haben – toll!
"This case has 'Mike' written all over it." (Donna)
Achso, der Fall? Ja, da war ja was… Also, statt die Möglichkeit zu nutzen, Oliver (yay!) mal endlich wieder ans Tageslicht zu kramen, bekommen wir lauter weitere Statisten (what?!) in der anderen Kanzlei zu sehen und Harvey fragt sich die Frage, die sich alle Gläubigen Christen ständig stellen: What would Mike do? (WWMD). Tatsächlich musste ich bereits bei den ersten Anzeichen in die Richtung an genau den Satz denken und hatte ihn bereits notiert, bis er später tatsächlich von Harvey selbst gesagt wurde. Mist aber auch.
"We can either do it with a sledgehammer or with a velvet glove." – "I get it – you're saying I'm a sledgehammer." (Harvey & Donna)
Alex hat derweil auch total viel um die Ohren. Neben einem total persönlichen Kunstwerk mit sentimentalem Wert (=55 Mio. Dollar) macht er auch noch die Beziehung zu Neu-Kollegin-Schrägstrich-Rivalin fest, indem er die "Ich sage ihr noch nichts von meinem Versprechen!"-Taktik Harveys anwendet. Mal schauen, ob er es ihr dann in den ersten Minuten der nächsten Folge erzählen wird. Immerhin hat er mal ein Statement gesetzt und muss fortan vermutlich keine dubiosen Geldwäsche-Geschäfte mehr machen.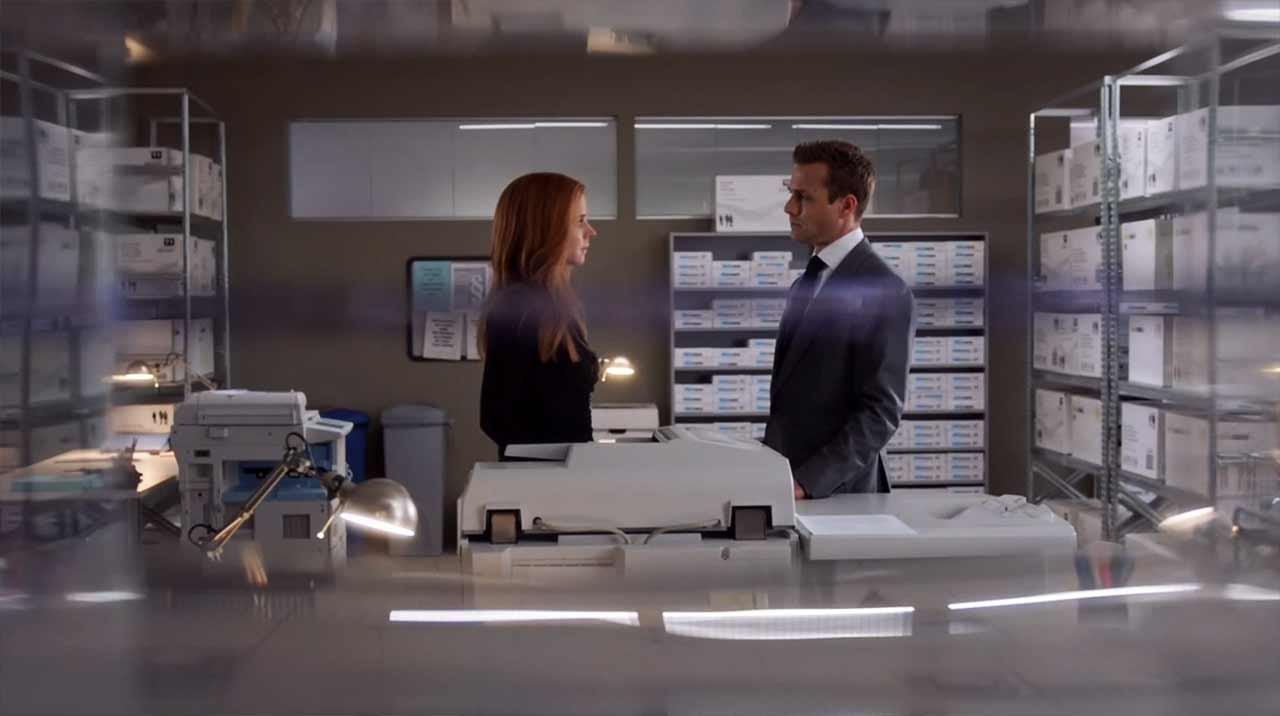 Tatsächlich führt sich der kleine aber feine Aufwärtstrend der bisherigen Staffel fort, dennoch möchte ich bereits ungern 3,5 Kronen dafür vergeben. Zwar wirkte die Folge an sich kompakter und in einem entspannteren Fahrwasser gebettet, aber so recht will mich noch keiner der kleinen Plots wirklich packen. Alles wirkt noch ein bisschen nach Basisarbeit. Als müssten zunächst noch alle teils neuen Figuren zurechtgerückt werden, ehe es dann endlich (als Team!) so richtig losgehen kann. Na dann – los! Bitte.

Bilder: bravo

-->