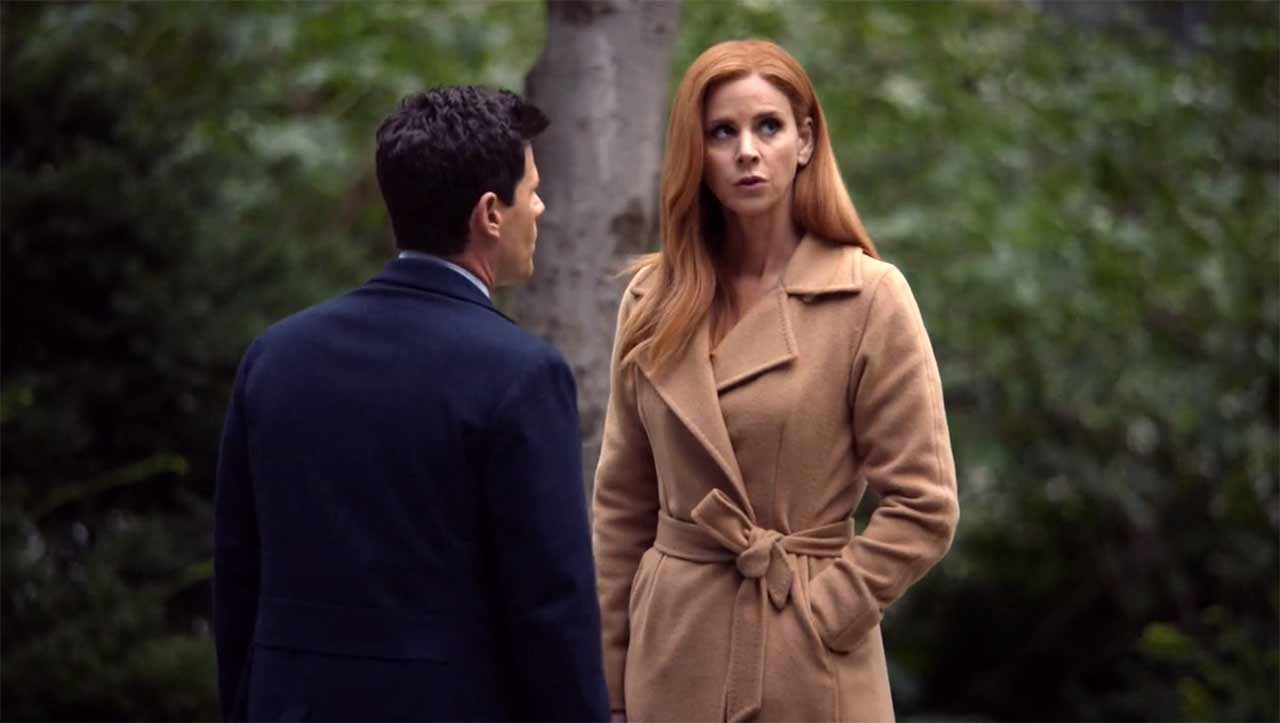 Beim weit zurückreichenden "Previously in 'Suits'…" wurde bereits klar, dass mal wieder alte Zöpfe dran glauben müssen. Und mit altbekannten Figuren kommen auch altbekannte Probleme wieder auf – und damit meine ich nicht dunkelgraue Aktiengeschäfte.
Alles beginnt mit dem öffnen verträumter Augen und dem Blick auf eine Kaffeetasse – wie bei uns normalen Menschen! Okay, wir haben keinen vermutlich millionenschweren Mann creepy neben dem Bett sitzend und vermutlich ist es bei unserem Arbeitgeber auch nicht egal, wenn man sich einfach noch mal hinlegt. Aber wenigstens wird diese Folge mal nachgefragt, wo Donna denn geblieben ist – eine ehrliche Antwort kann sie Harvey darauf jedoch noch nicht geben (obwohl sie gewillt scheint). Wohl noch zu früh. Die Logik verstehe ich ja noch, dass sie später jedoch den Ratschlag gibt, die beste Lösung sei es manchmal, sich in jemanden zu verlieben, der nichts mit der Firma zu tun hat – hm, sie datet doch einen Klienten?!?
Womit wir beim zweiten Thema und der nächsten Unlogik wären. Die Lösung für das "Nicht mehr zusammenarbeiten"-Problem bei Kathrina und Brian soll nun also lauten: Nur noch ein Jahr zusammenarbeiten. Okay… Aber wenigstens bei einer Sache sind wir uns vermutlich alle einig: Susan ist zwar ein williger, aber ein schlechter Brian-Ersatz. Solch anbiedernde Leute ohne was dahinter kennen wir vermutlich alle aus dem Arbeitsalltag.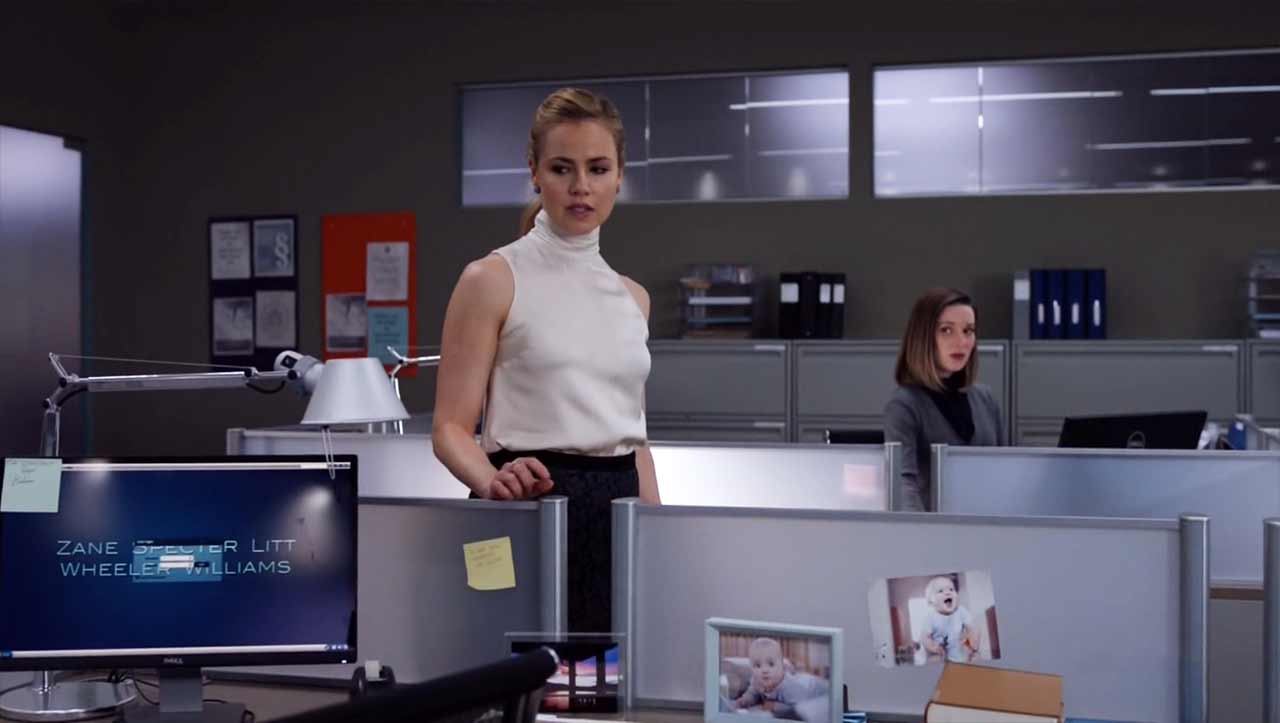 Aber kommen wir zur angesprochenen Vergangenheitsbewältigung. Judie ist da! Na, ihr wisst schon, die Pflegemutter mit den Rückenschmerzen von damals. Also damals, als wir noch nicht einmal von Samanthas Existenz wussten. Natürlich dient das alles dem Backstory-Aufbau der Figur und natürlich kommt die Dame nicht nur so auf einen Plausch vorbei, sondern hat einen Fall im Gepäck. Gute Sache hier, illegale Sache dort, ein bisschen Moral, viel "Ach, komm schon…!", fertig ist der Fall. Alles wird dann in Rekordzeit mit einer Masche abgefrühstückt, die auch komplett ohne die Offenlegung möglich gewesen wäre, für die die ganze Sidestory überhaupt inszeniert worden war.
"The best way to bluff someone is to know more about him than he knows about himself." (Harvey)
Relevanter für uns, da in "unsere" "tatsächliche" "Suits"-Vergangenheit greifend, ist da schon die Sache mit Stu, der aufgeflogen ist und erpresst wird. Sehen Broker eigentlich alle gleich aus? Wie dem auch sei, wir bekommen mal wieder die ultimative letzte Lösung namens der Sean Cahill zu sehen, der zum wiederholten aber nun wirklich letzten Mal sagt, dass das jetzt aber das allerallerallerletzte Mal war. Verstanden? Hm, ist ja noch eine Staffel, ich wette mal dagegen.
"You hungry? Why don't we grab a big fat steak?" – "Naaah, I rather go vegan." (Harvey & Cahill)
Kleine Randnotiz: Ich fand den abschließenden Anruf bei Mike ganz nett eingebunden. Man zollt der Figur Respekt und spricht das aus, was viele Zuschauer denken. Miss ya, buddy!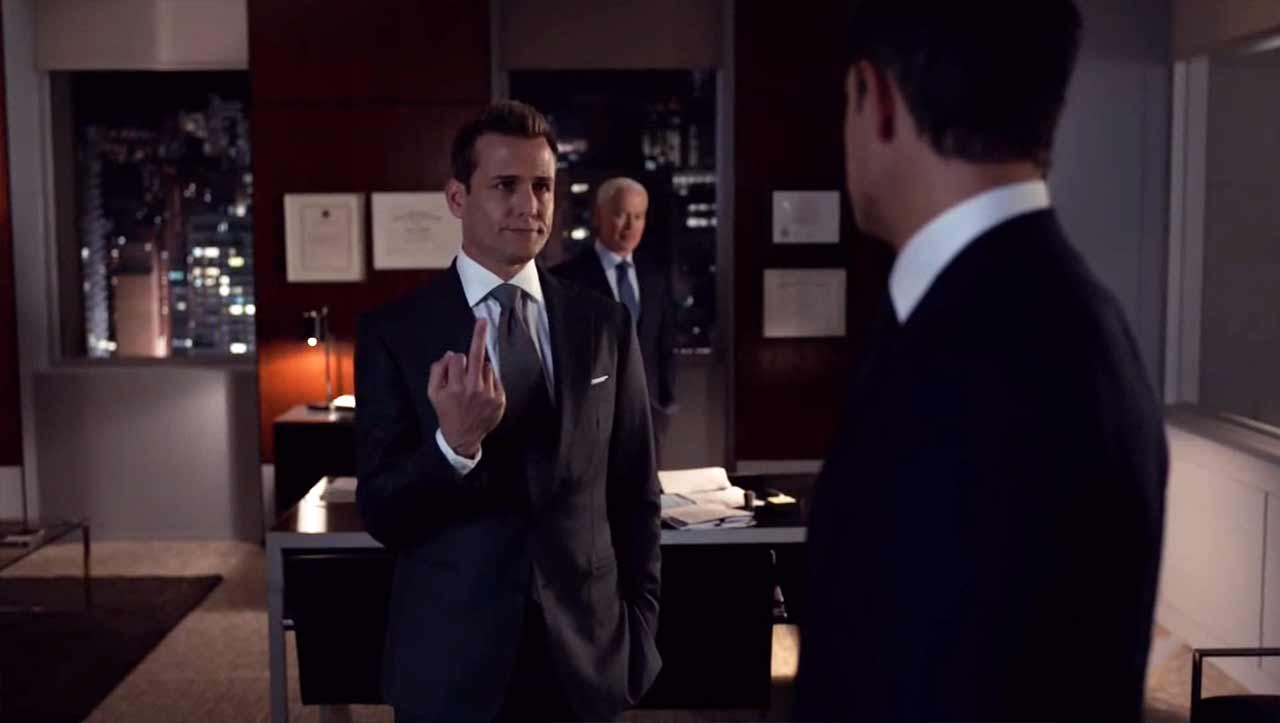 Insgesamt eine solide Folge ohne wirkliche Highlights. Das fügt sich leider entsprechend der rückgerichteten Handlung der Mittelprächtigkeit entsprechender Staffeln ein, auf die man sich bezogen hat. Auch wenn ich die Hoffnung mittlerweile verloren habe, dass wir aus diesem Stadium irgendwann mal wieder rauskommen mögen, möchte ich das einfach mal in die Ordnungs-Kiste schieben und als Grundlage für das, was da kommen mag ansehen. Toi, toi, toi!

Bilder: bravo

-->