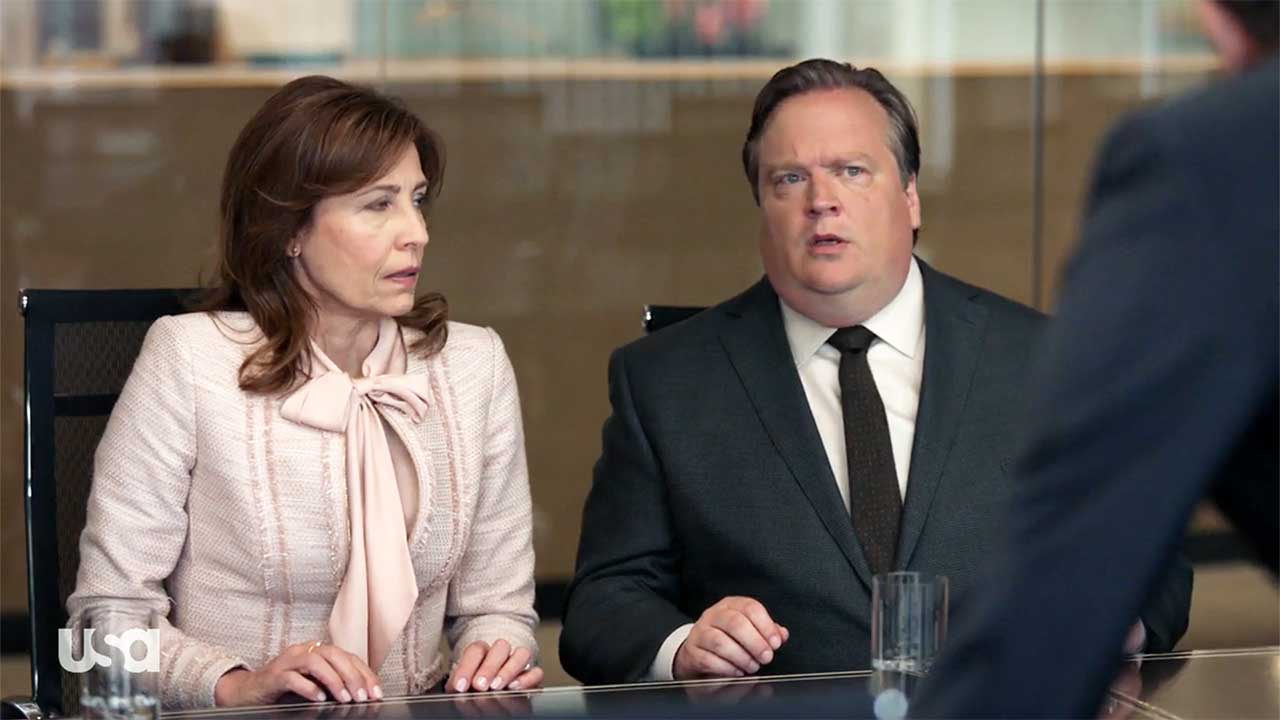 Diese Woche vermengen die Macher von "Suits" mal wieder einen aus dem Nichts gekommenen persönlichen Wochenfall mit der eigentlich fortlaufenden Story rund um "Special Master" Fay. Das funktioniert einigermaßen, die ganz große Unterhaltung bleibt jedoch aus. Dafür wird es aber immerhin familiär. Mal wieder.
Zunächst mit Donnas Dad, der in der Stadt, aber nicht wirklich erfreut über die Harvey-Beziehungs-Nachricht ist. Das führt zu ein bisschen "Selbstwahrnehmung vs. Außenwarhnehmung"-Reflexion bei Harvey und überraschend viel Unsicherheit und schnelle Konflikte bei Donna und ihren frischen Neu-Beziehung. Am Ende wird Harveys Hilfe aber angenommen und alles ist tutti. Yay.
"I'm gonna shove this lawsuit so far up your ass, you're gonna be the first lawyer in history to die with a lawsuit in her ass. I wanna burn you to the ground, I wanna do a rain dance on your ashes. Nobody messes with Louis Litt, least of all two slops from the firm 'Shitty & Shithead'!" (Louis)
Dass Louis da in einer der ersten Szenen die Falschen anschreit, war recht schnell klar, dennoch war das eine ganz nette Ansage von ihm an die Eltern von Susan. Wobei es ihn leider mal wieder etwas unbeholfen hat aussehen lassen, aber gut, die Wut macht eben blind.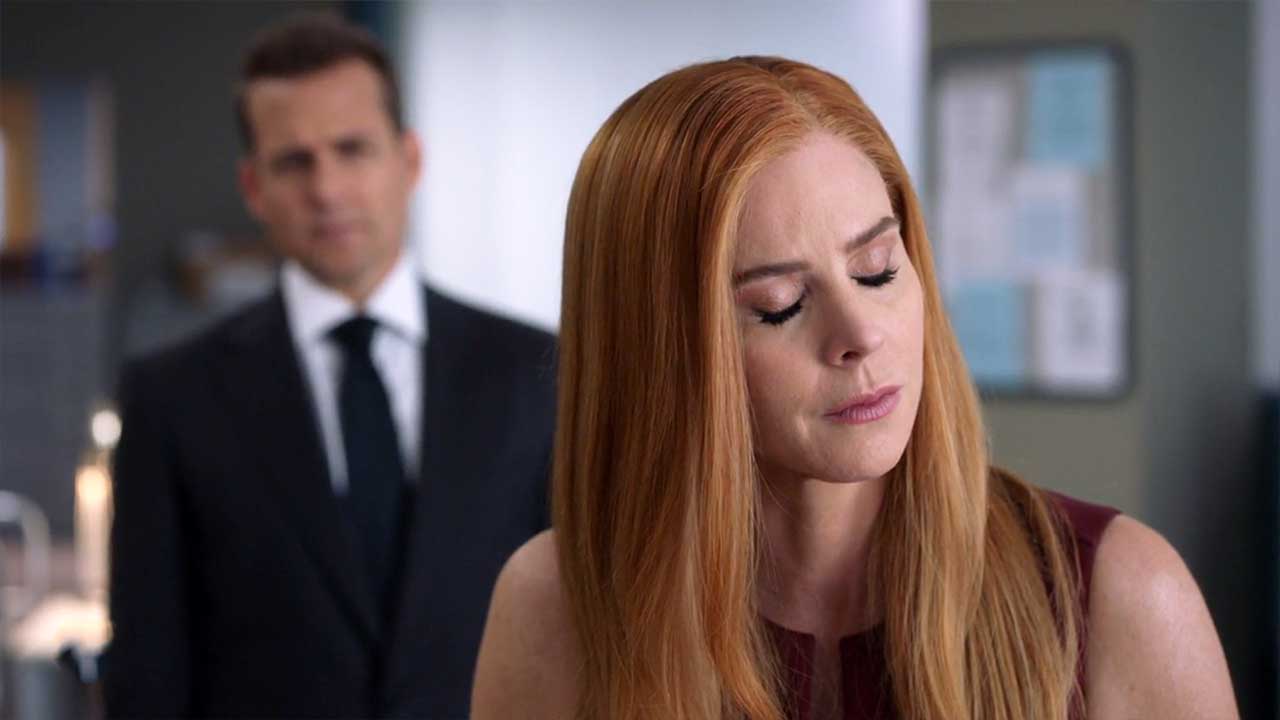 Zum persönlichen Fall: Vor acht Jahren hat Alex mal ein Angebot angenommen, das eigentlich seinen Kollegen hätte treffen müssen. Der Rückblick zu dieser uns ziemlich unbekannten Figur erfolgt sehr apprubt, um Bezug und Backstory zu schaffen. Craig kommt die Szene (und achte Jahre) darauf in Alex' Büro, weil er sich einen Gefallen erpressen will. Wenigstens die eigentliche Gefängnis-Fall-Thematik hatte wirklich "Suits"-Vergangenheit, vieles anderes wirkte aber recht drumherum konstruiert, um ein bisschen Futter zu schaffen. Gefallen hat mir aber der schöne visuelle Übergang mit der Kamerafahrt vom alten, küssenden Alex zum neuen, hereinspazierenden Alex. Am Ende war es aber wieder mal eine der "guten" alten "Druckmittel-Dreck vs. Druckmittel-Dreck"-Schlachten, die wenig Substanz hatte. Also, vom Fall her. Für Alex und uns Zuschauer wurde mal wieder das Thema Familie und deren Bedeutung unterstrichen.
"If you wanna blame someone for Fay being here, look in the god damn mirror!" (Louis)
Katrina soll derweil einen "Code of Conduct" für die Firma erstellen und scheint die einzige zu sein, die versteht, dass alle mal ordentlich arbeiten sollten, damit Fay schnellstmöglichst wieder abzieht. Die wiederum macht erneut eigentlich etwas zumindest Nachvollziehbares bis Vernünftiges, was schlecht dargestellt wird. Natürlich muss es keinen Stimm-Abzu bei Donna und Harvey geben, aber ein Paar in der Führungsetage ist schon so eine Sache, es gibt viele Betriebe, da sind keinerlei Romanzen jeglicher Hinsicht im Büro erlaubt.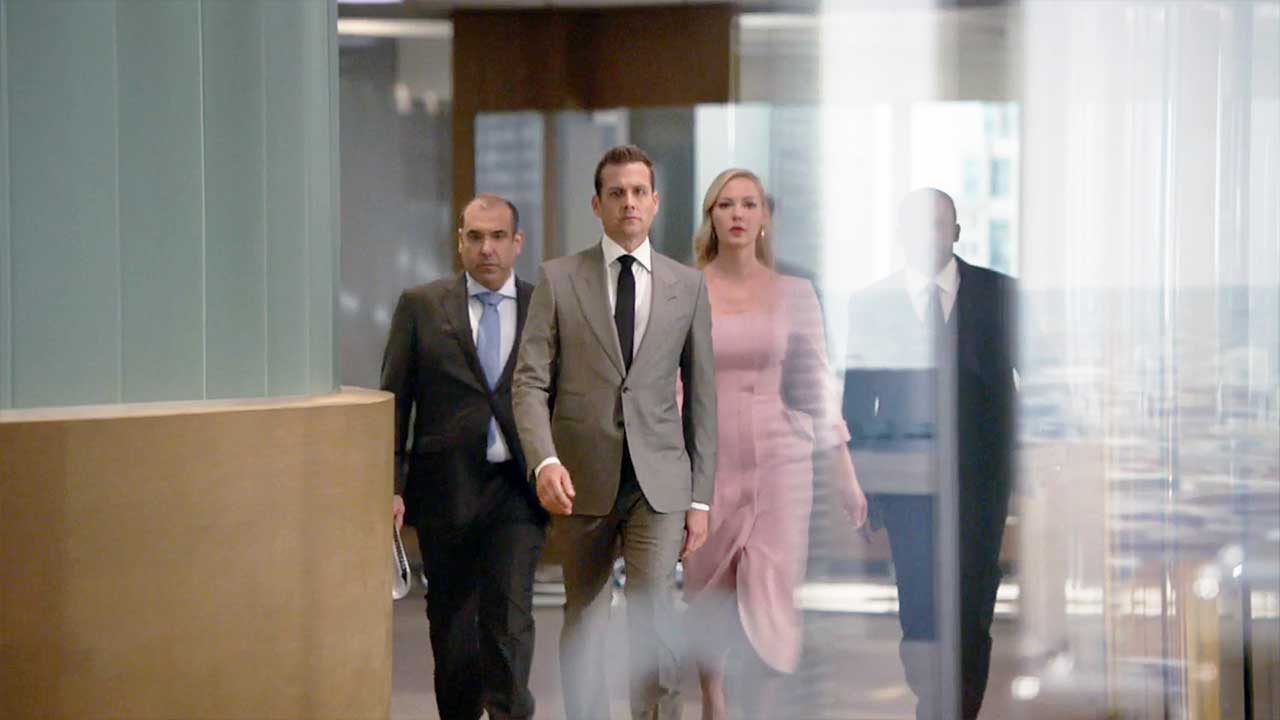 Entsprechend eskaliert mal wieder alles hoch. Viel Schreierei und Wut, am Ende dann die vereinte Front gegen Fay. Die ach so tolle Lösung – auch wenn jetzt durch einen "Code of Conduct" unterstützt, bei dem auf wundersame Weise ein "Darfst du aber nicht mehr drüber lesen, wenn ich fertig bin!"-Deal geschlossen wurde – hätte man auch früher haben können.
"Before, I was trying to sneak it by Fay, but if you're willing to, this time we're gonna ram it down her throat!" (Louis)
"So you can either kiss our asses or kiss our asses goodbye." (Samantha)
Dann kam jedoch der für die weiter Entwicklung der Staffel interessanteste Punkt der Folge. Gibt Fay wirklich klein bei? Wird sie am Ende gar zur Freundin aller und arbeitet im Team zusammen? Immerhin scheint sie willens, auch noch Gretchen zurück zu geben. Das würde in das Muster passen, dass sie meiner Meinung nach bisher eigentlich sehr viele korrekte, wenn auch harte, Entscheidungen getroffen hat. Nur die Kommunikation haut nicht hin. Oder spielt sie ein dubioses Spielchen und wird doch noch böser dargestellt? Hm…
"Gretchen?" – "Ms. Richardson." – "I told you to call me Fay." – "I know, you did." (Ms. Richardson & Gretchen)
Sehr schön fand ich, dass Donna am Ende noch Rachel auf die Mailbox spricht. Die beiden so vermissten Figuren erhalten noch immer kleinen Raum hier und da, damit sie nicht in Vergessenheit geraten. Ich bin mir sicher, das wird auch im Finale so sein (es ist ja auch zumindest von einer Mike-Cameo gerüchteweise die Rede). Weniger schön fand ich dagegen, Harvey in einem Pullover zu sehen – das sieht total komisch aus! Kein Wunder, dass Donna sprachlos ist…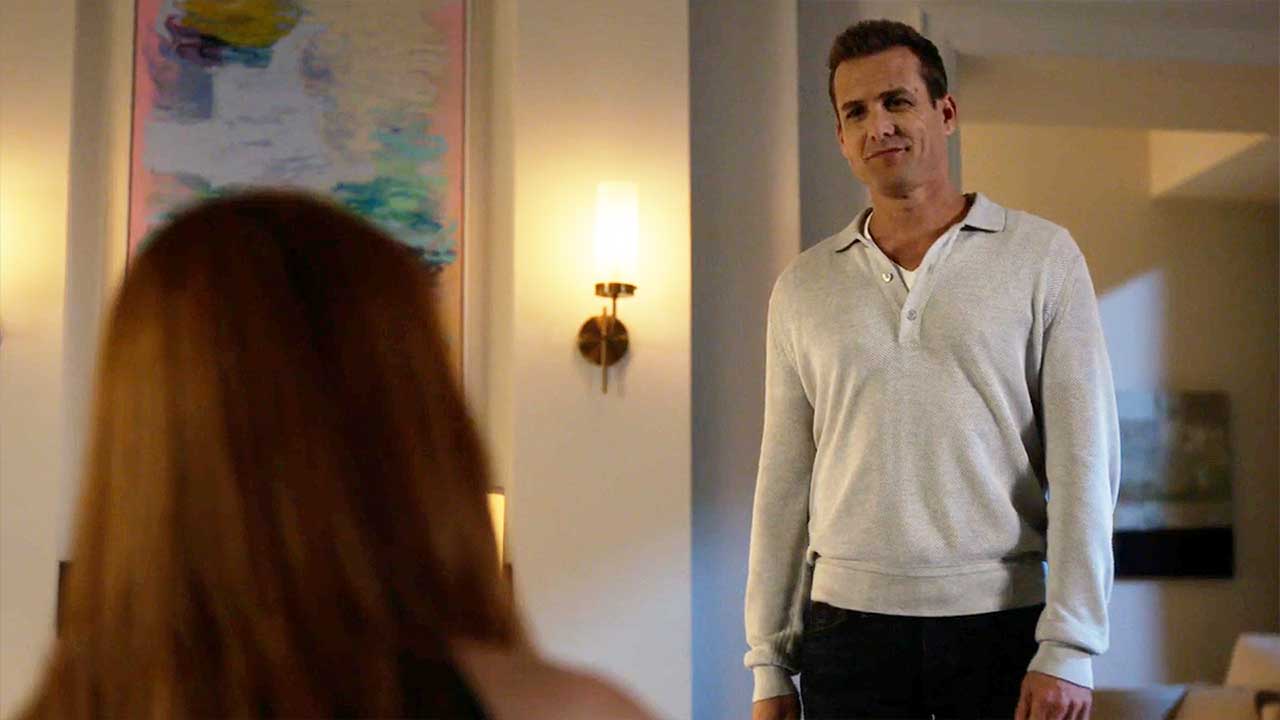 Ich will mal nicht so sein. Eigentlich wäre das erneut eine durchschnittliche 3er-Episode, aber zum einen waren da recht viele gute Dialoge und Sprüche bei, zum anderen war die Episode dann doch recht kurzweilig. Mir hat auch gefallen, dass – abseits der kleinen Fehlleitung zu Beginn – Louis mal wieder ein recht starkes Auftreten gelassen wurde. So, und jetzt eine Runde "Siedler" spielen?
Bilder: usa