Es ist offensichtlich in Mode gekommen, Serien vermehrt zu zerstückeln und in kleinen Häppchen zu servieren. Bloß nicht mehr linear erzählen. Das ist bei der aktuellen Staffel von The Walking Dead aufgefallen, bei der fast jede Folge an einem anderen Ort mit einem anderen Teilcast spielt. Und das zeigt sich aktuell auch bei The Leftovers: Nachdem die erste Folge der zweiten Staffel in Mircale spielte, mit einem vollkommen neuen Cast, stand in der zweiten Folge ein Teil der Familie Garvey wieder im Mittelpunkt. Erzählt wurde dann deren Geschichte, die zur gleichen Zeit spielt wie Folge 1. Jetzt also Folge 3: In "Off Ramp" bekommen wir es dieses Mal mit Laurie und Tom zu tun, also dem verbliebenen Garvey-Rest. Zeitlich wird wieder zurückgespult, zum Ende der ersten Staffel.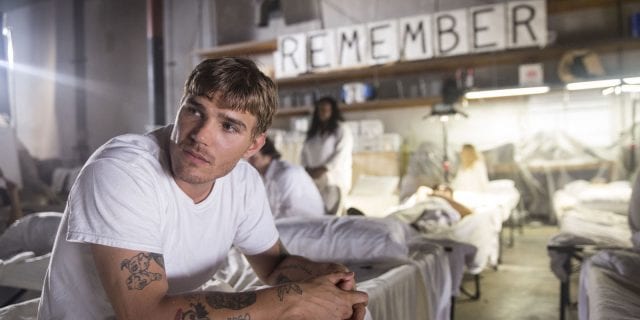 Wir erfahren, wie es den beiden ergangen ist seit dem Großbrand am Ende der ersten Staffel. Susan hat sich von der Gruppe gelöst und mit Tom verbündet. Der infiltriert jetzt die Gruppen, um Menschen zu retten, die dort schikaniert werden. Er bringt sie zu Laurie, die sie dann therapiert. Das läuft so lange, bis alles schief geht: Tom wird überführt, Lauries Büro wegen ausstehender Mietzahlungen geräumt, eine Gerettete begeht Selbstmord. Lauries Vermieter behält außerdem den Laptop ein, auf dem Lauries einzige Kopie ihres Enthüllungsbuches über die Bewegung enthalten ist.
Dann wird's in der Folge etwas konfus und dubios: Laurie klaut den Laptop vom Vermieter, überfährt zwei Mitglieder der alten Gruppe, Tom wird von Megan, die früher von Laurie rekrutiert wurde, vergewaltigt, und Laurie fällt über ihren potenziellen Verleger her, nachdem dieser Laurie ihre Schuld vorgetragen hat.
Die Idee des immer wieder gleichen Erzählzeitraumes, betrachtet aus mehreren Perspektiven, ist bei The Leftovers bis jetzt schön umgesetzt. Man kommt zwar in der Handlung praktisch gar nicht voran, erfährt aber ausführlich mehr über die Personen und Schicksale. Mir waren in der Folge die extremen Momente (Überfahren, Kidnapping, Unfall usw.) etwas zu viel und zu übertrieben. Ich komme auch weiterhin nicht mit dem wenig stringenten Soundtrack zurecht. Der Max Richter-Score ist immer noch weit im Hintergrund, "normale" Popsongs stehen im Vordergrund. Auch wenn die meistens in die Handlung eingebaut werden (läuft im Autoradio oder auf dem MP3-Player), passt das stimmungsmäßig weiterhin für mich nicht. Groß war hingegen das Finale der Folge, als sich Tom zum Nachfolger des Heiligen Wayne macht. Das war toll erzählt und stark gespielt.