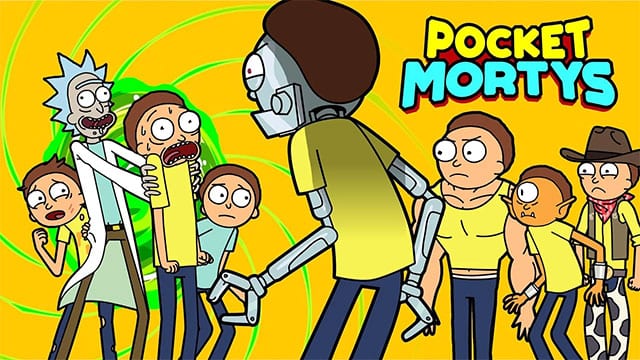 Das dürfte eine tolle Neuigkeit für Fans von "Rick & Morty" sein! Mit dem neuen Mobile Game "Pocket Mortys" vermengt Adult Swim die Cartoon-Serie mit dem guten alten "Pokemon"-Spielsystem. Nur sammelt ihr eben keine Monster sondern Mortys. Aus aller Herren Multiversen…
"Join Ricks throughout the multiverse as they get swept up in the latest craze: Morty training! There are over 70 bizarre Mortys to recruit and train out there, including Mustache Morty, Wizard Morty, Cronenberg Morty and more."
Hört sich lustig an, der Darstellungsstil ist entsprechend der Serie und macht Lust auf mehr und die Features lesen sich auch durchaus nett:
– Discover dozens and dozens of bizarre Mortys across the multiverse of Rick and Morty
– Train and combine your Mortys to level them up and watch them grow
– Battle rival Ricks from across the multiverse
– Encounter your favorite characters like Bird Person, Mr. Meeseeks and more
– Craft items and engage in tedious side quests
– Win prizes at the space arcade Blips and Chitz
Das Mobile Game kann man sich kostenlos für iOS und Android saugen, natürlich gibt es aber die obligatorischen In-App-Käufe. Habe es selbst noch nicht getestet, ob und wie sehr man darauf angewiesen ist, aber meist geht es ja auch so vorerst.
Wem so ein Trailer noch nicht reicht – die Jungs von Hat Films haben das Game eine Weile gespielt und geben rund eine halbe Stunde lang Einblick in das Gameplay.
"Brand new mobile game by Adult Swim, Pocket Mortys mixes Pokemon with Rick & Morty, and holy crap – we need to collect all those Mortys!"
via: theawesomer

-->