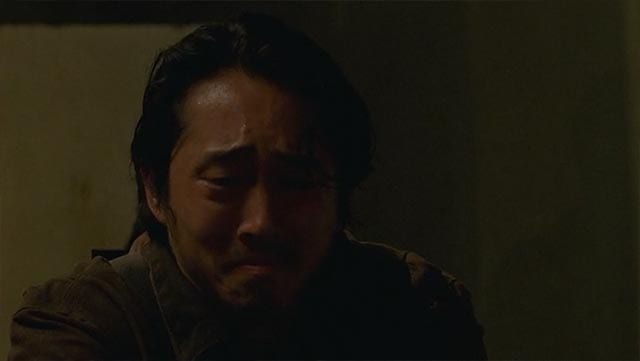 Lange Wartepassagen? Fehlanzeige. The Walking Dead macht direkt da weiter, wo sie letzte Woche aufgehört haben – im Eiltempo. Und das überraschend gekonnt im Kontrast zur beinahe geruhsamen Inszenierung von Carol. Yep, die gibt es auch noch und nachdem sie den vermutlich heißesten Walker der bisherigen Serie geuntötet hat, will man noch immer nicht so recht das Image der "Badass-Keksbäckerin" verstehen. "Die hat doch bestimmt etwas in die Kekse getan!" habe ich mir gedacht, als sie überfreundlich allen Aleksandria-Alteingesessenen eine Ration endreht.
"You can do things… that just terrify me." (Tobin)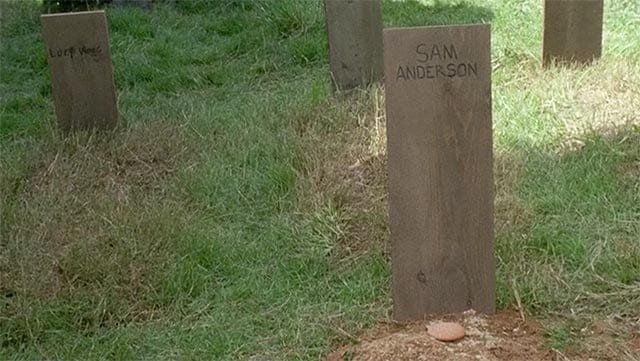 Aber (scheinbar) falsch gedacht. Noch mehr Romanze, selbst an ganz und gar unromantischen Stellen – bald haben wir GZSZ eingeholt… Das findet auch Rosita doof. Vielleicht ist das ihre neue Rolle – die dramatische Mutter der Nation. Mit 18 Personen auf dem Gewissen, das langsam wieder an ihr nagt. Und zeigt, dass es diese Woche um verdammt viel kopfiges geht. Moral, Gewissen, Schuld, Not – was muss man tun, wenn man es tun muss? Was nimmt man in Kauf und wofür kämpft man?
"We're gonna have to fight." (Rick)
Verwunderlich wirkt noch immer, wie (selbst)sicher sich alle sind, ohne überhaupt irgendwelche genauen Informationen über den Gegner zu haben. Okay, die folgen halbgar mit ganz viel "weiß ich nicht genau" bei der überaus schick inszenierten Kartografie-Szene. Aber es wirkt eher blind und selbstüberschätzend. Als würde der norwegische Fußballmeister denken, die haben alle in der Liga geschlagen, was soll schon dieser "FC Barcelona" ausrichten?! Noch nie von gehört – und welcher von denen war jetzt dieser Messi? Hm…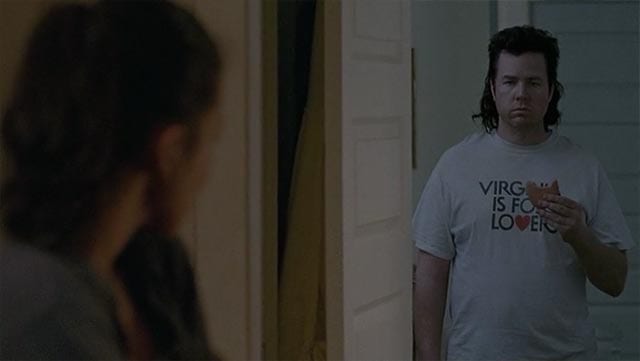 Die Idee mit dem Kopf war durchaus interessant, aber wenig sinnvoll. Die müssten doch eigentlich sofort sehen, dass es ein wochenalter (un)toter Kopf ist?! Auch wenn der Spannungsmoment da war, wirkte das etwas zu utopisch, wenigstens hat man es aber mit gebetsmühlenartiger Betonung, dass "zum Glück Nacht" ist, etwas gerettet.
"The Saviors, they're scary, but… those pricks got nothing on you." (Eddie)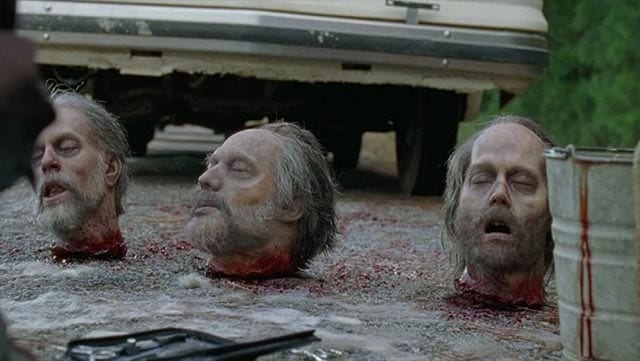 "Happy birthday to you…". Man muss es ihnen lassen – das ging erstaunlich schnell und der erste Part war ungemein gut koordiniert. Das hat Spaß gemacht, wirkte durchdachte (in Inszenierung und Durchführung) und war nicht die plumpe Action, die wir sonst teilweise an so einer Stelle erhalten haben. Gerade die Szenen um Glenn und Heath (endlich ist er mal wieder da!) waren ergreifend. Wer hatte bisher einfach nur Glück und wer muss das tun, was unausweichlich ist. Leute im Schlaf umbringen zu müssen, von denen man eigentlich gar nicht weiß, ob und wie böse sie sind – ein neues moralisches Tief. Aber hey – Kekse für alle!
"I was wondering which one of them was Negan…" (Michonne)
Okay, so schnell geht das natürlich nicht. Der zu erwartende Rückschlag kam gerade noch rechtzeitig – das wäre sonst auch etwas zu smooth gegangen. Das mit Maggie habe ich allerdings die komplette Folge über nicht recht verstanden. Ja, sie ist schwanger und wichtig und sowieso – aber wieso überredet man sie dann nicht dazu, gleich zuhause zu bleiben? Carol wäre drinnen wichtiger gewesen. So war von der Art und Weise der Darstellung irgendwie klar, dass das noch um die Ecke kommt…

Insgesamt eine gute, nach Standard der letzten Zeit sogar sehr gute, Episode. Die Dramaturgie hat gestimmt, die Abwechslung zwischen ruhigen, teils (nicht zu albern) humorigen und actionreichen Szenen hat gepasst. Dazu ganz viel Moral in der Geschicht und erneut eine schöne Demonstration, dass Jared "Jesus" Leto ein Guter ist. Ein bisschen nervt mich halt noch immer die Tatsache, wie die Gruppe aus Hörensagen einer bis vor wenigen Stunden wildfremden Gruppe einen Krieg für sich selbst ausmacht und einfach mal andere Leute abschlachtet, ohne deren Sichtweise zu kennen. Aber gut, mit Reden wäre da vermutlich wirklich nichts Gutes bei rum gekommen. Mal schauen, wer nächste Woche das Wort ergreift. Negan, bist du da…?

Bilder: amc

-->