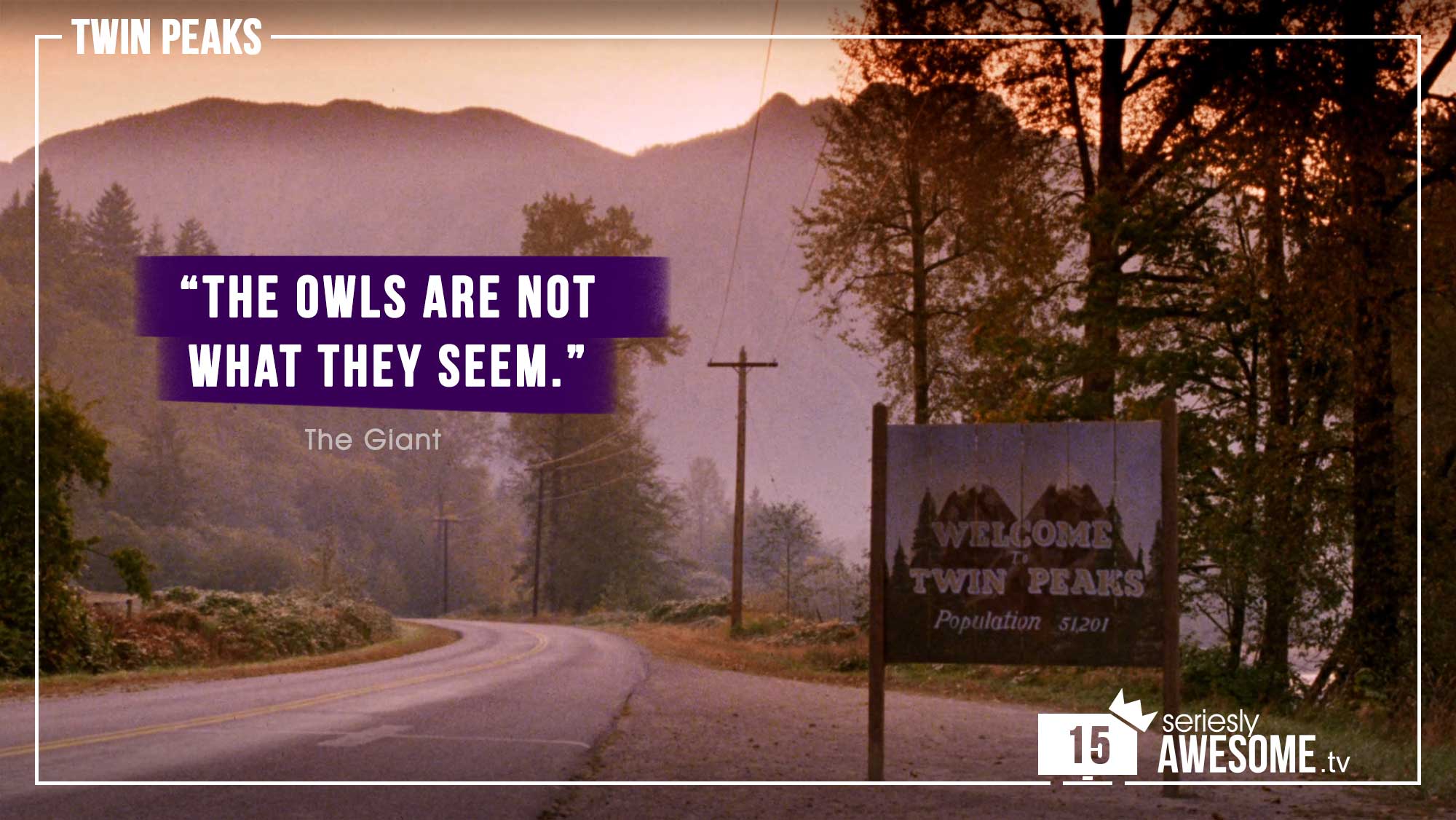 "Fire, walk with me." (Bob)
Wieder eine neue Runde vom sAWEntskalender. Und dieses Mal mit einer Serie, die selbst schon fast ein Zitat ist. Denn soviele tolle, große Serien zitieren diese Serie, basieren darauf oder würde es ohne sie nicht geben. Die Rede ist natürlich von David Lynchs Twin Peaks. Aber wer diese Serie gesehen hat, weiß, dass sie einen ganz eigenen Charme hat. Sie ist mit nichts zu vergleichen. Und das vor allem durch ihre liebevollen und manchmal auch recht eigenartigen Dialoge.
INFO:
In unserem
"sAWEntskalender" 2018
gibt es jeden Tag ein Türchen mit den tollsten Zitaten einer Serie – und
tolle Preise zu gewinnen
. In jedem Türchen KANN ein Buchstabe versteckt sein, den es zu finden gilt, um ein Lösungswort zu bilden. Viel Spaß beim Lesen und Buchstabensuchen!
Also welche Serie würde da für eine Zitate-Sammlung besser passen als "Twin Peaks"? Denn diese Serie wird ausgezeichnet durch einen fantastischen Dale Cooper (gespielt von einem sehr jungen & dann 25 Jahre älteren Kyle MacLachlan). Er ist der freundlichste FBI-Agent, den ich mir vorstellen kann und hat immer eine kleine Lebensweisheit und einen Spruch auf den Lippen. Und neben dem deutlichen 90er-Charme, der der Serie sehr viel (un)gewollten Witz verleiht, ist sie unheimlich mysteriös und vieles wurde bis heute nicht aufgeklärt. Sie lässt einen unzufrieden zufrieden zurück. Klingt komisch, ist aber so.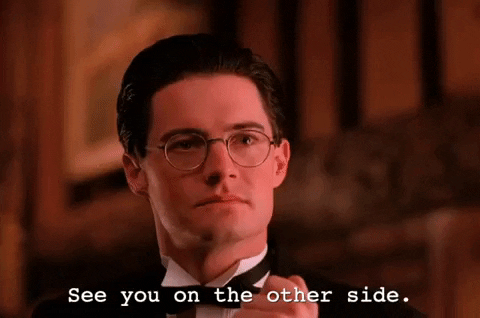 Aber genug der Worte und hin zu den Worten. Legen wir los mit einer guten Tasse Kaffee:
"Mr. Cooper, how do you take it?" – "Black as midnight on a moonless night." (Pete Martell & Dale Cooper)
Lebensweisheiten aus Twin Peaks
"Harry, I'm going to let you in on a little secret. Every day, once a day, give yourself a present. Don't plan it. Don't wait for it. Just let it happen. It could be a new shirt at the men's store, a catnap in your office chair, or two cups of good, hot black coffee." (Dale Cooper)
"Achievement is its own reward, pride obscures it." (Major Briggs)
"Harry, I have no idea where this will lead us, but I have a definite feeling it will be a place both wonderful and strange." (Dale Cooper)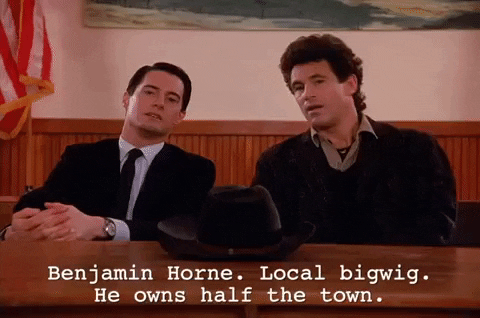 "Fellas, coincidence and fate figure largely in our lives." (Daale Cooper)
"The only thing Columbus discovered was, that he was lost!" (Windom Earle)
"One woman can make you fly like an eagle, another can give you the strength of a lion, but only one in the Cycle Of Life can fill your heart with wonder and the wisdom that you have known a singular joy." (Deputy Tommy 'Hawk' Hill)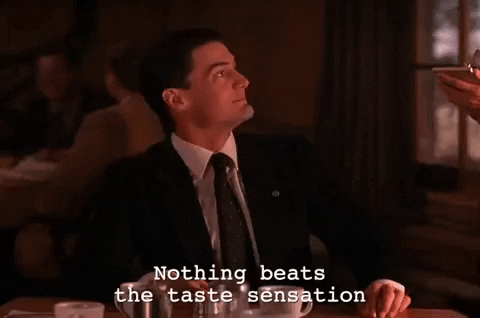 "In the grand design, women were drawn from a different set of blueprints." (Dale Cooper)
Herzlich willkommen in Twin Peaks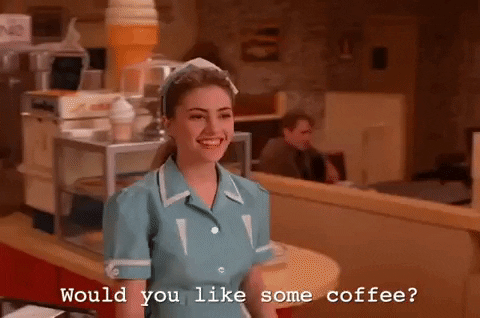 Sheriff Truman: "Jelly donuts?"
Dale Cooper: "Harry, that goes without saying."
"One day my log will have something to say about this." (The Log Lady)
James Hurley: "When did you start smoking?"
Donna Hayward: "I smoke every once and a while. Helps relieve tension."
James Hurley: "When did you get so tense?"
Donna Hayward: "When I started smoking."
Dale Cooper: "Ask me why I'm whittling."
Sheriff Truman: "I give up. Why are you whittling?"
Dale Cooper: "Because that's what you do in a town where a yellow light still means slow down, not go faster."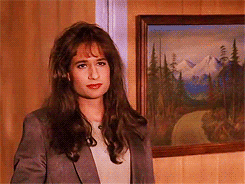 "I am 100% sure that we're not completely sure." (Jerry Horne)
Sheriff Truman: "You know, I think I'd better start studying medicine."
Dale Cooper: "And why is that?"
Sheriff Truman: "Because I'm beginning to feel a bit like Dr. Watson."
Hank Jennings: "You're his whore, Norma."
Norma Jennings: "I'd rather be his whore than your wife."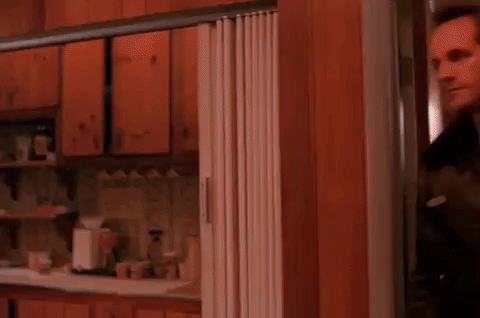 Major Briggs: "How was school, son?"
Bobby Briggs: "Fine. How was work?"
Major Briggs: "Work was fine."
Bobby Briggs: "What exactly is it you do?"
Major Briggs: "That's classified."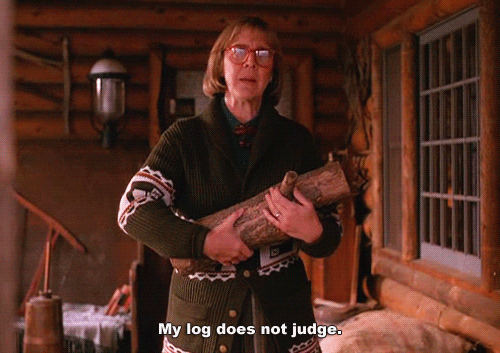 "Who's the lady with the log?" – "We call her the Log Lady." (Dale Cooper & Sheriff Truman)
Mysteries
"The owls are not what they seem." (Giant)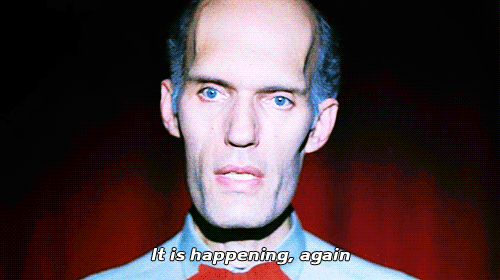 Dale Cooper: "I believe I was visited by a giant last night. Twice."
FBI Agent Albert Rosenfield: "Any relations with the dwarf?"
Sheriff Truman: "So, what did this giant sound like, huh? I mean, did he have a big, booming voice or what?"
Dale Cooper: "No, no! He spoke softly, distinctly."
Albert Rosenfield: "And you gave him the beans you were supposed to use to buy a cow."
Dale Cooper: "No, Albert! I gave him my ring."
Albert Rosenfield: "Okay. Uh, confining my conclusions to the planet Earth…"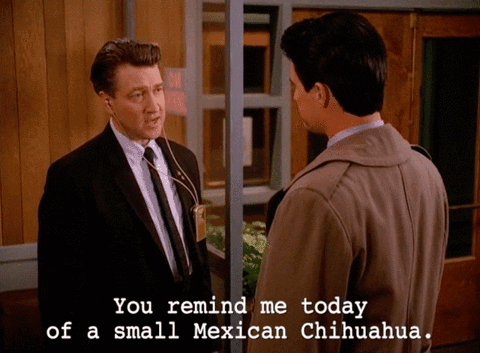 "Through the darkness of future past / The magician longs to see / One chants out between two worlds / Fire walk with me. I'll catch you with my death bag. You may think I've gone insane, but I promise I will kill again!" (Bob)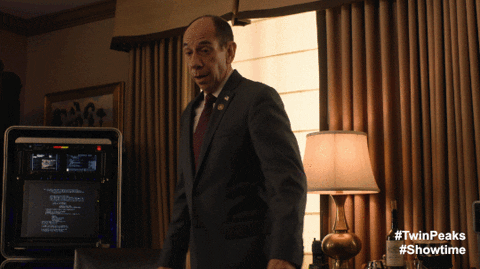 "I'll see you in 25 years." (Laura Palmer)
Buchstabe gefunden?
Wie im Gewinnspiel-Beitrag zum sAWEntskalender erläutert, KANN jeden Tag ein gesuchter Buchstabe im Türchen-Beitrag versteckt sein. Maximal einer pro Tag, vielleicht auch mal gar keiner. Hast du ihn gefunden oder bist dir sicher, dass es keinen gibt? Dann schreib uns die Tages-Lösung über das Kontaktformular hier und sichere dir bei richtiger Einsendung ein Gewinn-Los:
Wie ist welcher Buchstabe versteckt?
Solltest du mithilfe der bisher entdeckten Buchstaben den gesuchten Serientitel erraten haben, schick deinen Lösungsversuch über das Formular im großen Gewinnspiel-Beitrag. Dort gibt es auch alle Infos zu den Preisen und dem Ablauf des Gewinnspieles.

Bilder: ABC

-->