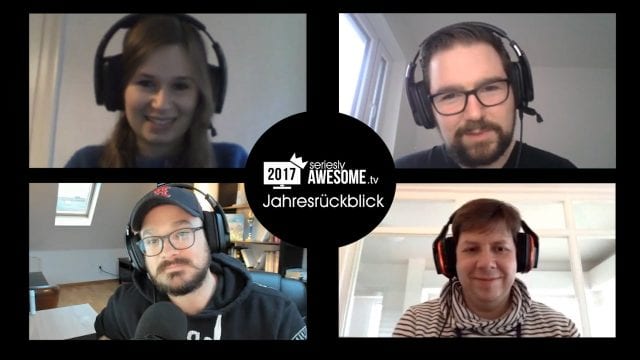 Wie im letzten Jahr auch haben wir uns zum Ende des Jahres noch einmal zusammen gesetzt um kurz und knapp über das abgelaufene Serienjahr 2017 mit all seinen Lows und Highs zu plaudern. Daraus ist wie immer eine launige Runde geworden in der wir das Serienjahr 2017 verabschieden und auch ein wenig auf das kommende Serienjahr 2018 schauen.
Jahresrückblick 2017 – Kira, Jonas, Michael & Tobias
Lowlights (10:15)
Series to talk 2017 (23:00)
Highlights (35:22)
Series to talk 2018 (53:33)
seriesly Jahresrückblick 2017 - AWESOME von Januar bis Dezember
Audio-Versionen (inkl. Download-Option)
Natürlich kann man auch den Jahresrückblick bei Soundcloud oder bei iTunes abrufen und downloaden. Und anhören.
Wie war Euer Serienjahr 2017?
Jetzt wisst ihr neben unseren schriftlichen Rückblicken auch in Bild und Ton wie unser Serienjahr war. Wie aber war Euer Serienjahr 2017? Schreibt es in die Kommentare. Wir würden uns freuen.

Abschließend wieder ein kopfhörerdickes Danke an Logitech für die Bereitstellung der Logitech G633 Artemis Spectrum Pro Gaming Headsets (Partnerlink)!

-->