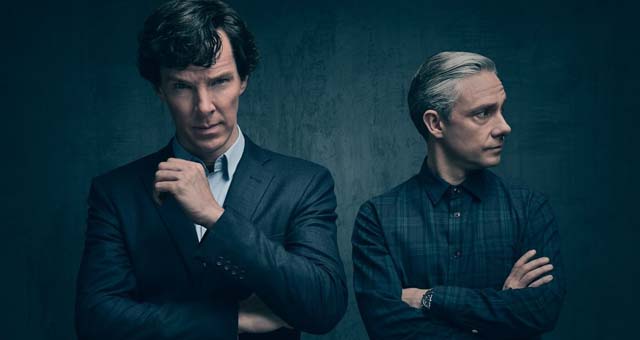 Unglaubliche zwei Jahre ist es nun schon her, dass wir eine komplette Staffel von "Sherlock" genießen durften – wenn man mal die Sonderfolge "The Abominable Bride" auch wirklich als Einzelfolge sieht. Gut so, dass die Dreharbeiten zur kommenden Staffel längst begonnen haben. Dennoch ist es etwas hin bis zur Ausstrahlung im Januar 2017.
Die Tage hat die BBC die Wartezeit für die Serienfans mit einem netten Tweet versüßt, sie hat nämlich die ersten beiden Episodentitel der 4. Staffel genannt.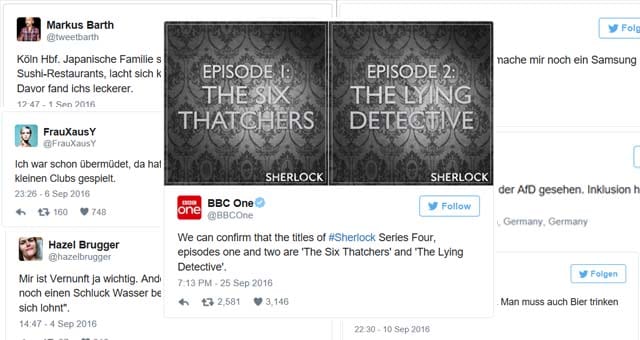 Und die Sherlockfans wären nicht die Sherlockfans, wenn sie nicht sofort mit der Deduktion dieser beiden Titel begonnen hätten. Wobei große Zauberei scheint dies in diesem Falle nicht zu sein, hören sich beide Titel doch sehr verwandt zu echten Sherlocktiteln der Buchreihe an – welches ich immer noch lese. Neben den großen Romanen, die bislang mehr oder minder Pate für "Sherlock" standen, widmen sich Moffat und Co offenbar in der 4. Staffel wieder den Kurzgeschichten von Arthur Conan Doyle und seinem Superdetektiv.
So dürfte "The Six Thatchers" wohl an "Die sechs Napoleons" (The Six Napoleons) aus dem Jahre 1904 angelehnt sein – Margaret Thatcher hätte den Vergleich mit Napoleon bestimmt geschmeichelt – und "The Lying Detective" an "Der Detektiv auf dem Sterbebett" (The Dying Detective) aus dem Jahre 1913.
Worum geht's im Groben bei beiden Kurzgeschichten?
The Six Napoleons
Ein offenbar verrückter Einbrecher entwendet billige Duplikate einer Büste von Napoleon Bonaparte und zertrümmert sie auf offener Straße. Sonst fehlt in den Häusern nichts. Die Theorie Lestrades, dass es sich hierbei um einen verwirrten aber harmlosen Einbrecher handelt, kann Sherlock nicht folgen. Dafür erkennt er früh einige Gemeinsamkeiten. Als dann sogar im Zusammenhang mit dieser bloßen Zerstörungswut auch noch ein Mord geschieht, erkennt Holmes das Motiv des Täters und kommt ihm zuvor, bevor er sein Ziel erreicht.
The Dying Detective
Der herbeigerufene Dr. Watson erfährt von Holmes' Vermieterin, dass der Detektiv bereits seit drei Tagen schwer erkrankt im Bett liegt. Sherlock ist sich sicher, dass er sich bei seinem letzten Fall eine seltene Tropenkrankheit zugezogen hat und er vermutet, dass diese tödlich sein könnte. Einen normalen Arzt hinzuzuziehen, verweigert Sherlock. Aber er bittet Watson einen bekannten Plantagenbesitzer, Culverton Smith, zur Rate zu ziehen, der sich mit derartigen Krankheiten auskennen müsste.
Damit dürften auch die Vermutungen der Serienfans zu Toby Jones, dem Culverton Smith in der zweiten Episode, der Wahrheit entsprechen, bisher kannte man nur seinen Rollennamen.
"Trailer"
Das ist ja schon einiges, was man zur 4. Staffel weiß, wie ich finde. Den ersten Trailer gab es ja auch schon, der nächste steht bestimmt auch schon in den Startlöchern. Bis dahin kann man sich die Zeit ja auch mit fanmade Trailer vertreiben, wie zum Beispiel diesem hier.

Sherlock Series 4 Promo 1 "My Brother is a Murderer"

Bilder: BBC

-->