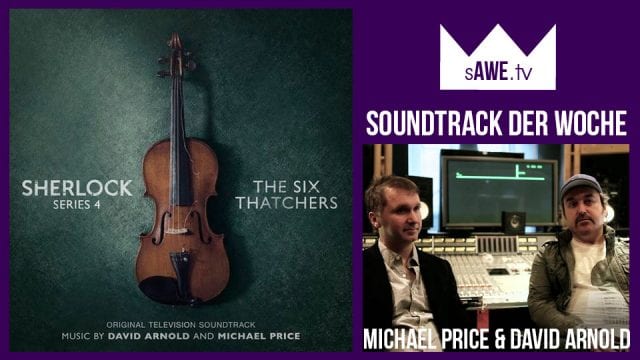 Die Serie – darum geht's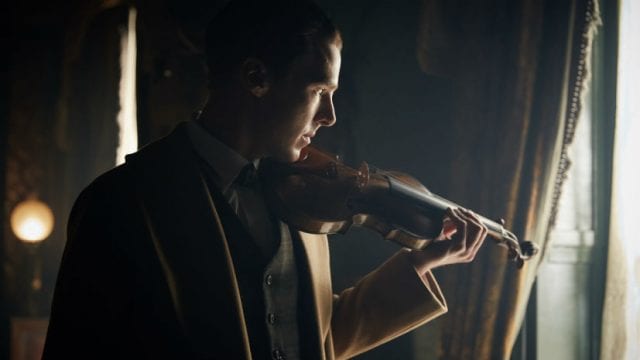 Wir haben Sherlock in dieser Soundtrack-Reihe schon zweimal vorgestellt, als wir zuerst den Soundtrack zur ersten Staffel besprochen haben, danach dann Staffel 2. Sherlock basiert auf der legendären Detektivfigur Sherlock Holmes, die Sir Arthur Conan Doyle in seinen Roman erschaffen hat. Holmes zur Seite steht sein Freund Dr. Watson, der zeitweise sein Mitbewohner ist und Chronistenaufgaben übernimmt. Die Geschichten spielen im London des ausgehenden 19. Jahrhunderts, in Regel ist der Wohnort an der Baker Street 221B (damals ein fiktiver Ort, da die Baker Street nur bis Hausnummer 85 durchnummeriert war) Ausgangspunkt der Fälle, wenn Klienten Holmes um Mithilfe bitten.
Von Doyles Romangeschichten gibt es zahlreiche Verfilmungen, sowohl britische als auch amerikanische und deutsche Produktionen. In der Regel wurde der historische Stoffe werknah umgesetzt. In eine etwas andere Richtung ging ab 2009 Guy Ritchies Umsetzung "Sherlock Holmes", die zwar ebenfalls zu Ende des 19. Jahrhunderts spielt, allerdings Holmes mehr als Actionheld darstellt. Verkörpert wird er von Robert Downey Junior, dazu Jude Law als Dr. Watson. Von dem Film gibt es bislang eine Fortsetzung. Mir haben beide Filme sehr gut gefallen – nicht nur die charmante Herangehensweise, sondern auch der Witz und der Ideenreichtum haben mich überzeugt.
Noch einmal einen anderen Ansatz wählten Steven Moffat und Mark Gatiss 2010, als sie für die BBC Sherlock Holmes als Fernsehserie umsetzten. Die Serie trägt schlicht den Namen Sherlock und versetzt die Figuren von Sir Arthur Conan Doyle in die Neuzeit. Jede Folge läuft über ca. 90 Minuten und umfasst jeweils einen abgeschlossenen Fall. Außerdem basiert fast jede Folge tatsächlich auf einem Roman, einer Kurzgeschichte oder einigen Ideen von Sir Arthur Conan Doyle. Jede Staffel umfasst drei Folgen. Zwischen der zweiten und dritten Staffel lief noch eine Mini-Episode, die auf die dritte Staffel vorbereiten sollte. Zuletzt lief ein Special außerhalb der Reihe, seit wenigen Tagen hat schließlich Staffel 4 begonnen. Inhaltlich setzt sie beim Ende von Staffel 3 an, überspringt also die Special Episode. Und zu jeder Folge in Staffel 4 wird es einen eigenen Soundtrack geben – die digitalen Vermarktungs- und Veröffentlichungskanäle machen's möglich. So erscheint an jedem Montag nach der aktuellen Folge der dazu passende Soundtrack.
Das ist in gewisser Weise auch schlüssig, denn der Score spielt eine wichtige Rolle – hier hat man auf das erfahrene Duo David Arnold und Michael Price gesetzt. Mark Gatiss und David Arnold sind alte Freunde – so kam die Verbindung zustande. Ursprünglich hatte Gatiss lediglich von Arnold wissen wollen, wie er denn den Piloten so fände. Er sagte ihm allerdings, dass es das Beste sei, was er je im TV gesehen hätte – was dazu führte, dass Arnold Teil des Projektes wurde. Mehr zur Auswahl von Arnold und Price haben wir in unserem Review zu Staffel 2 geschrieben.
Die Komponisten
David Arnold ist ein erfahrener Komponist von Filmmusik. Der Brite ist für eine ganze Reihe von James Bond-Scores der letzten Jahre verantwortlich gewesen, unter anderem für Tomorrow never dies, The World is not enough, Casino Royale und Quantum of Solace. Seinen Durchbruch hatte er Anfang der 1990er Jahre mit den Soundtracks zu Stargate und Independence Day. Weitere Filmsoundtracks, die von ihm stammen, sind Godzilla, Zoolander, 2 Fast 2 Furious und die Chroniken von Narnia. In Sachen Fernsehserien war er unter anderem bei UC: Undercover, Little Britain und Randall & Hopkirk unterwegs, ehe er zu Sherlock kam.
Michael Price ist als Sound Editor zur Filmmusik gekommen. 1996 erhielt er von Michael Kamen das Angebot, die Musik von Kamen zu "Event Horizon" zu orechstrieren. Die Zusammenarbeit klappte, und in den nächsten 5 Jahren gab es verschiedene Kollaborationen zwischen den beiden. Sptäer war r als Music Editor für viele große Produktionen tätig, unter anderem für die Lord of the Rings Trilogie, für Filme wie Love Actually, Bridget Jones und Nanny McPhee. Für The Fellowship of the Ring hat er 2001 einen Golden Reel Award als Music Edotor gewonnen. Mit David Arnold gibt es seit einigen Jahren mehrere Ergebnisse der Zusammenarbeit. Zuletzt erschien von Michael Price sein vielbeachtetes Soloalbum Entanglement bei Erased Tapes Records.
Zur Zusammenarbeit haben wir im Review zum Soundtrack der 1. Staffel noch ein bisschen mehr geschrieben.
Der Beitrag ist auf mehrere Seiten aufgeteilt: