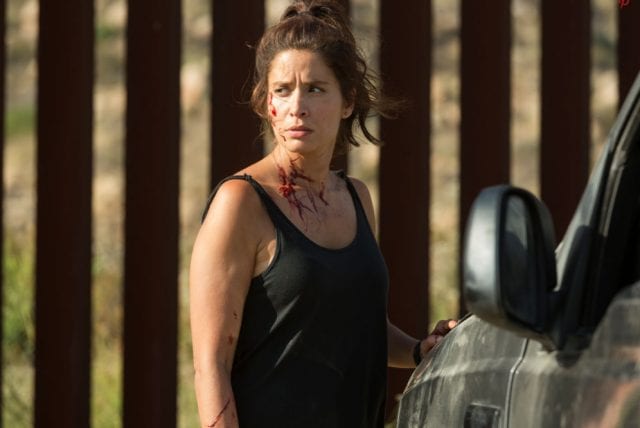 In der vorletzten Folge der 2. Staffel bekommen wir bei "Fear the Walking Dead" nochmal alle Protagonisten unserer Ursprungsgruppe präsentiert: Nick versucht die Kolonie zu retten, Ophelia sucht einen Übergang in der Grenze zu den USA, und Travis erholt sich von den Auswirkungen seiner Entscheidung, Chris ziehen zu lassen. Von langer Dauer ist die Erholung allerdings nicht…
… denn es dauert natürlich nicht lange, bis Travis mitbekommt, dass die beiden Jungs, die ihm Chris weggenommen haben, im Hotel gestrandet sind. Es kommt zum Showdown am Ende der Folge mit Travis und den beiden Jungs in Aktion – dramaturgisch sicher das Highlight der Folge. Und wie letzte Woche ist Cliff Curtis wieder sehr überzeugend in seinem Spiel: Stark gemacht, wie sich seine Mimik und Gestik vom sich panisch sorgenden Vater zum entfesselten Killer verändern. Wie Regisseur Andrew Bernstein, der schon das Mid-Season-Finale inszeniert hatte, das zeigt, hat schon Graphic Novel-artige Züge, auch wenn es zu Fear the Walking Dead ja gar keine Comic-Vorlage gibt. Aber die stillen Close-Ups von Travis, die ruhige Darstellung aus ungewohnten Perspektiven, schließlich das stille Verharren am Boden – das hat schon alles was.
Dagegen verblasst der Rest der Folge ein wenig, mal abgesehen von Nicks ziemlich energischem Ein-Greifen beim Walker auf der Krankenstation. Das war ausnahmsweise mal extrem blutig inszeniert, mit jeder Menge Walker-Action, wie übrigens auch bei Ophelias Einsatz an der Grenze. Scheint fast so, als wollte man in der vorletzten Folge der Staffel nochmal daran erinnern, dass es ja irgendwie auch um Walker geht.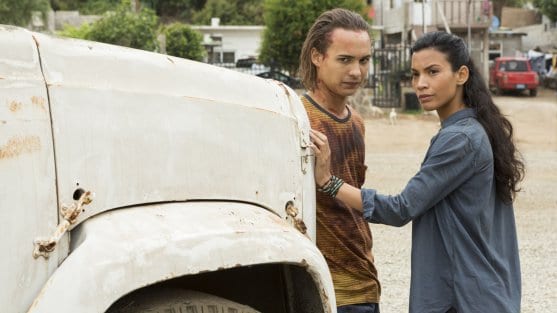 Die Folge wäre für mich auch ein würdiger Staffelabschluss gewesen: Es hätte offen gelassen, auf wen Ophelia getroffen ist, und ob Nick die Kolonie retten kann, und wie Madison auf Travis' Gewaltausbruch reagiert. Aber: Man will uns noch eine weitere Folge zeigen, die übrigens in Kürze ebenfalls schon auf Amazon zu sehen wird. In den USA liefen auch beide Folgen am Stück.

-->