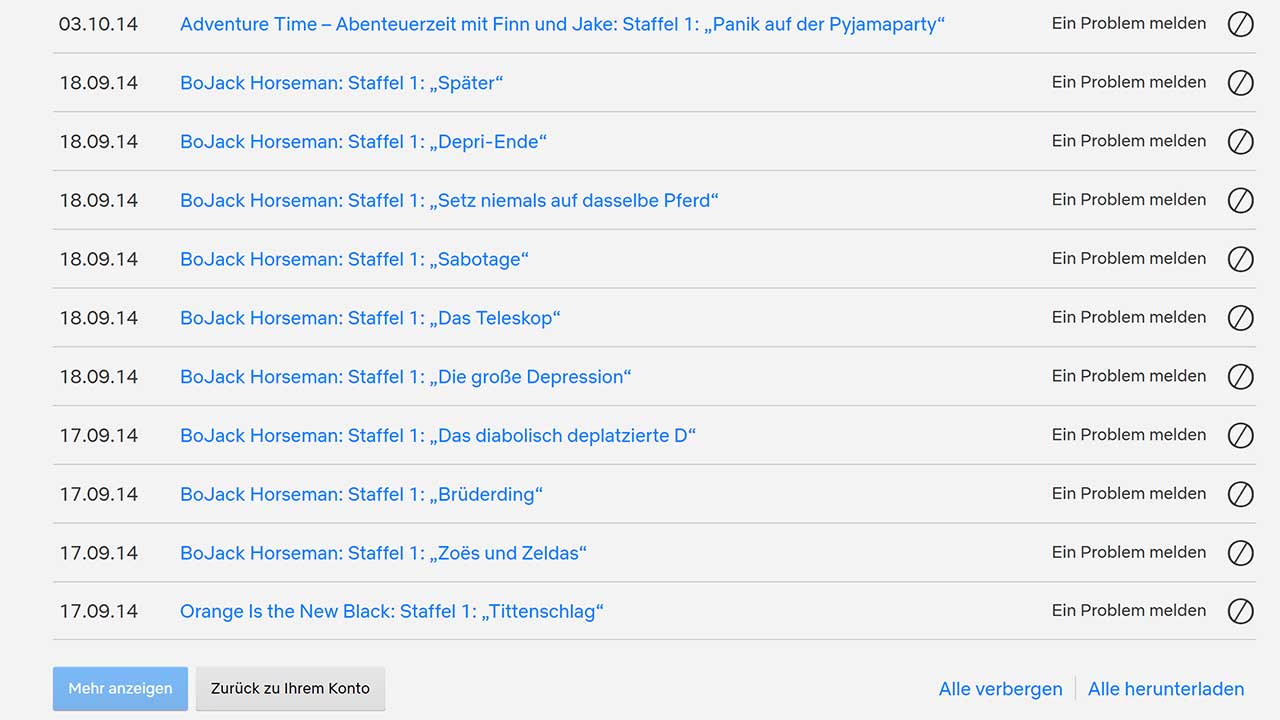 Neu war mir das jetzt nicht, gemacht hatte ich es aber dennoch noch nie. Als ich bei "Timster" zu Gast war, konnte ich erstmals einen Blick auf so eine detaillierte echte Watchlist werfen – also all das, was eine Person auf Netflix geschaut hat. Folge für Folge mit Timestamps angegeben. Schon interessant, so ein Blick in die Zukunft. Hier die Video-Anleitung, wie ihr das selbst bei euch nachschauen könnt.
Find out what the first thing you *ever* watched on Netflix was in 4 easy steps:
1) Log in on desktop
2) Click "account" in the dropdown list
3) Scroll down to "viewing activity"
4) Either scroll down your list forever or just hit "download all".
Eigentlich ist es ganz einfach: Ihr begebt euch am Computer in euer Netflixprofil (oben rechts bei "Konto"), dann unten auf euer Profil und den "Titelverlauf" anzeigen lassen. Fertig. Wer mehr Details haben möchte, nutzt die "Alle herunterladen"-Option ganz unten rechts.

Das, was ihr oben im Artikelbild sehen könnt, ist übrigens mein Ende der Liste. Tatsächlich habe auch ich, wie es im Video war, "Orange Is The New Black" als erstes geschaut. Allerdings eigentlich nur, weil das eine der Start-Serien von Netflix war und ich erst in die schauen wollte. Mehr als dieser erste Folge habe ich davon dann nie geschaut. Seltsam… Aber mit "BoJack Horseman" habe ich denke ich einen sehr löblichen zweiten (und dritten und vierten und fünften…) Stream hingelegt, möchte ich mal meinen! Schon interessant, so in seiner eigenen Streaming-Historie herumschauen zu können.

Was steht für euch ganz unten auf der persönlichen Streaming-Liste? Auch "Orange is the New Black" oder eine der anderen Netflix Ur-Originals? Oder etwas ganz anderes? Und vor allem, WANN war eure erste Streaming-Session? 17. September 2014 bei mir – ich hatte nicht in Erinnerung, dass es Netflix dann doch schon so lange bei uns gibt – Wahnsinn, wie die Zeit verstreicht!

-->