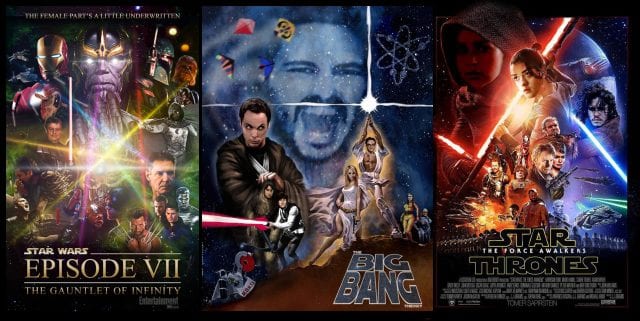 Mehrere Star Wars-Fans haben sich so ihre Gedanken gemacht und ihre Lieblingsserien mit Star Wars vermischt – zumindest in Sachen Filmplakat. Sehr gelungen finde ich diese Plakate zu The Big Bang Theory, Game of Thrones und zum Marvel-Universum.
Letztes stammt aus der Feder von Jef Castro von Entertainment Weekly. Er hat verschiedene Superhelden aus dem Marvel-Universum in einem Star Wars-Plakat vereint. Grundlage dafür war eine Improvisation von Patton Oswalt (spielt bekanntlich in Marvel Agents of S.H.I.E.L.D.) in der NBC-Sendung "Parks & Recreation". Hier hat er einen Plot für Star Wars ersonnen, der die Helden ins Marvel-Universum führt, wo sie sich mit den Helden von dort verbünden.
Von Tomar Sapirstein stammt diese Montage, in der er Game of Thrones und Star Wars zusammenführt:
Und TBBT-Darstellerin Mayim Bialik hat auf ihrer Seite ein Mashup von A New Hope und The Big Bang Theory veröffentlicht.