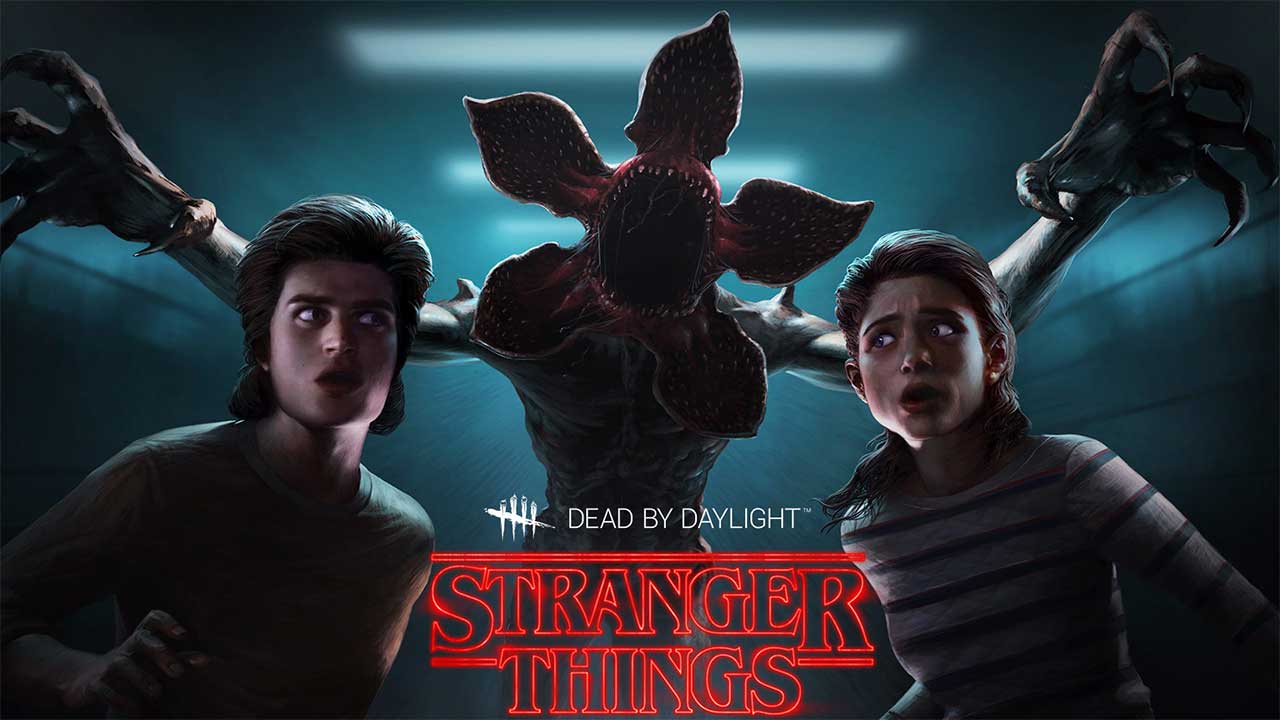 2016 erschien mit "Dead by Daylight" (Partnerlink) ein interessantes asymmetrisches Multiplayer-Horrospiel (ab 18 Jahren!), in dem einige Spieler die um ihr Leben kämpfenden Protagonisten und eine Person den bösen Killer spielen. Gerade die Möglichkeit, mal den Bösewicht zu spielen, bietet ein reizvolles Szenario. Das mittlerweile auf allen gängigen System erhältliche Videospiel von Entwickler Behaviour Interactive hat über die Zeit einige sehr interessante Download-Kapitel erhalten, die zusätzliche Figuren, Maps und Settings gebracht haben, die immer mal wieder auch größere Popkultur-Marken ins Spiel gebracht haben. Nach u.a. "Scream" (in Form von "Ghost Face", Juni 2019), "Ash vs Evil Dead" (April 2019) oder auch "Saw" (Januar 2018) wurde jetzt im Rahmen der anlaufenden Videospielmesse "Gamescom 2019" in Köln ein Trailer zu einem aktuellen Netflix-Hype-Thema veröffentlicht: "Stranger Things".
Im DLC könnt ihr ab September in die Rollen von Nancy oder Steve schlüpfen – oder gleich die des aus Staffel 1 der Retro-Horror-Serie bekannten Dämonen einnehmen, dem Demogorgon.
"The Demogorgon, Nancy and Steve join the Dead by Daylight roster! The Dead by Daylight team is proud to present the brand-new Chapter for Dead by Daylight: Stranger Things. The Entity descends on the Midwestern town of Hawkins as Stranger Things, the critically acclaimed Netflix Original Series enters the realm of Dead by Daylight. The Chapter introduces a new Killer and two new Survivors to the realm of The Entity: the monstrous, otherworldly Demogorgon is the new untamable Killer. Against it stands not one, but two, new Survivors: Nancy Wheeler, a tough aspiring journalist, and Steve Harrington, a former high school jock with a knack for finding trouble. The Stranger Things Chapter comes with a new map, the Underground Complex. Located below the Hawkins National Laboratory, this grim compound caused an inter-dimensional rift that released dozens of creatures before being sealed off. The Stranger Things Chapter launches in September on PC and consoles."
Ich bin gespannt, was da noch folgt. Da man gerade erst mit dem "Stranger Things"-Franchise beginnt, gibt es natürlich noch etliche weitere Figuren und Geschehnisse der späteren Staffeln, die man in das Spiel einfügen könnte. Aber auch andere Fernsehserien bieten sich da an, sei es z.B. "American Horror Story", "Z Nation" oder andere horror-behaftete Formate. Es scheint jedenfalls so, als würde "Dead by Daylight" ein wahres Crossover-Feuerwerk für Grusel-Videospieler werden. Schauen wir mal, welche Marke als nächstes lizenziert werden wird.
Mehr zum Videospiel gibt es auf der offiziellen Website zu sehen. "Dead by Daylight" kann man als Basis-Spiel aktuell ab 20 Euro bei Steam kaufen, die Download-Kapitel gibt es für je fünf Euro dort ("Ash vs Evil Dead", "Ghostface Killer").