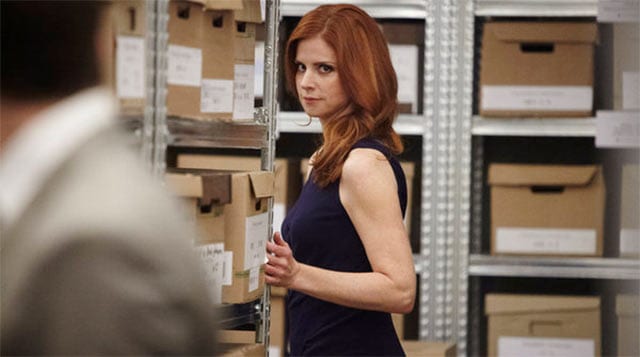 Also mal ganz ehrlich: eigentlich ist ganz egal, was ich hier schreibe. Bis zum Ende der Folge dachte ich, dass sie recht durchschnittlich war und ich nicht viel zu erzählen habe. Aber dann: Die Vorschau!! Wie toll ist das denn bitte?
Denn nächste Woche gibt es eine Rückschau auf einen Zeitpunkt, der zehn Jahre vor der eigentlichen Gegenwartshandlung spielt. Ein fast noch verpickelter Harvey, das wird sowas von unterhaltsam, wette ich!
"I thought we agreed not to talk about work at lunch!" – "Yeah, we did, but we also agreed to have lunch at lunch" (Donna & James Bond Stephen)
Aber zunächst zur gelaufenen Folge: Donna und James Bond Stephen werden tatsächlich intimer und für letzteren scheint es zunächst auch im Zusammenspiel mit Harvey beim Eva-Case gut zu laufen. Dazu könnten Louis und Nigel doch noch Freunde dank einer Katze werden und Mike und Rachel sind das neue Dreamteam und gehen die nächsten Beziehungsschritte.
Oder etwa nicht? Alles hat natürlich seine Makel und plötzlich scheint alles wieder hoffnungslos. Ehe Harvey seinen Namen auf einer Visitenkarte sieht und obwohl es genau das ist, was er eigentlich möchte, traut er dem Braten nicht und ist enttäuscht. Viel Potenzial für Platt-Sackgassen, man darf gespannt sein, wie sie sich da rauswinden. Und plötzlich hat auch Rachel hat ein Geheimnis…
"As long as he hasn't killed someone…"
Bisher vermutlich die schwächste Folge der Staffel. Zu viel Klein-Klein und Treten auf der Stelle, bis eben auf die letzten Minuten. Aber wie gesagt: Alles total egal, weil DIE VORSCHAU!!1elf

-->