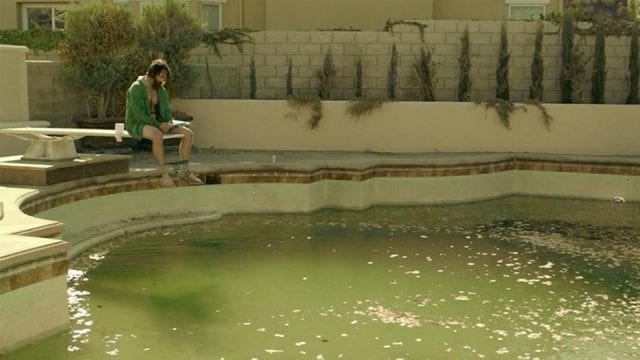 Bisher hatten wir ja nur vielversprechende Trailer hier, jetzt ging es endlich los. Am Sonntag startete die neue FOX-Serie The Last Man On Earth mit einer Doppelfolge. 5,75 Mio. US-Amerikaner haben den rund 40-minütigen Auftakt erlebt. Was es zu sehen gab und wie vielversprechend das Format ist, lest ihr jetzt. Hier. Im Review. Verrückt.
"Hello?!" (Phil)
2020 – 1 Jahr nach einem ominösen Virus fährt Phil Miller die USA ab. Und findet niemanden. In Tucson macht er es sich in einer fetten Villa bequem und führt das Leben eines Teenagers, der sturmfrei hat. Endlich kann man(n) Dinge machen, die man schon immer machen wollte. Supermarkt-Pyramiden rammen, Bowling auf ein neues Level heben oder ein Cocktail-Planschbecken inklusive Zuckerrand. Dabei wird auch schon einmal demonstriert, in welch dekadenter Welt wir doch leben. 10.000 Dollar-Wein zu Spaghettios – lecker.
"I will never ever talk to a volleyball!" (Phil)
Dabei hat die Einsamkeit natürlich seinen Preis. Keine anderen Stimmen, keine Interaktion, kein Teilen von Erlebnissen. So wendet sich Phil an Gott. Eigentlich mit nur einer Bitte: einer Frau.
"The whole women situation is just… craps." (Phil)
Fünf Monate später ist er dem Wahnsinn so nahe wie dem Tod. Okay, er hat sich dafür die ungefähr dämlichste (=schmerzvollste und unsicherste) Art überhaupt vorgenommen, sich umzubringen. Und dann geschieht natürlich das Wunder: Kristen Schaal! Also, eine Frau, von ihr gespielt. Carol, um genau zu sein. Die bringt Grammatik-Witze in der Post-Apokalypse – herrlich!
Schon doof, wenn man mit der einzigen anderen Person auf der Welt nicht wirklich klar kommt. Gegensätze. Der eine lässt sich gehen, die andere will das vorherige System bewahren.
"There's really no wrong way to use a margherita-pool, you know." (Phil)
Und plötzlich hockt man da zu zweit. Alleine.

Das war sehr kurzweilige Unterhaltung, muss man schon sagen. Schöner Humor, gut und schnell geschnitten und mit zwei tollen Schauspielern besetzt. Dabei kennen sich Schaal und Will Forte bereits von etlichen Synchronisations-Jobs. Beide haben bei Gravity Falls mitgemacht, ansonsten auch u.a. Charakteren aus American Dad, Bob's Burgers oder BoJack Horseman ihre Stimmen geliehen. Und Forte kennen wir auch in Person aus 30rock, Schaal z.B. aus Flight of the Conchordes.

Mich wundert jedoch, dass derart schnell eine zweite Person eingeführt wird. Das hätte man durchaus ausleben können, sich Ruhe für die Inszenierung von Einsamkeit und Tristesse nehmen sollen. So wirkt alles sehr schnell, als wäre es eigentlich nur ein Film. So stellt man sich schnell die Frage, was da überhaupt noch kommen soll? Die erste Folge hätte auch eine halbe Staffel sein können, so sieht es aktuell eher nach Konzept-Serie aus. Wobei, streng genommen kommen ja auch viele Sitcoms mit wenigen Charakteren aus. Aber da dreht sich die Welt weiter – und es sind eben auch mehr als zwei. Vielleicht werden es ja noch mehr hier.

Spannend wird sein, ob es auch Rückblicke geben wird, wie es zum Virus bzw. der Auslöschung kam und wie die ersten Tage "alleine" für Phil waren. Vielleicht kann so noch etwas mehr tatsächliche Story eingeflochten werden.

Ob es hier wirklich dazu regelmäßige Reviews geben wird, wage ich jetzt einfach mal zu bezweifeln. Die Folgen sind mit ~20 Minuten recht kurz und bieten vermutlich zu wenig Substanz. Aber nach der Staffel werden wir sicherlich noch einmal was dazu abgeben.

-->