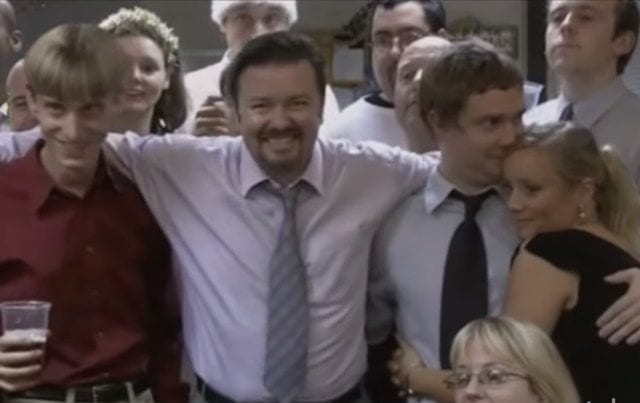 Fast 15 Jahre ist es nun her, dass die erste Folge The Office ausgestrahlt wurde. Von 2001 bis 2003 lief das britische Original auf BBC Two, bevor es 2006 das erste Mal auch in Deutschland zu sehen war. 2004 erhielt The Office als erste britische Fernsehserie einen Golden Globe in der Kategorie Best TV-Series Musical or Comedy – und Ricky Gervais räumte für selbige Kategorie den Preis als bester Hauptdarsteller ab.
Mittlerweile gibt es vier Adaptionen der Comedyserie: die deutsche Serie Stromberg (2004-2012, ProSieben), die US-Serie The Office (2005-2013, NBC), die französische Version Le Bureau (2006) und die ebenfalls französischsprachige Serie La Job (2006).
Und wie schon Stromberg bekommt nun auch The Office UK einen (Kino)Film. Das Spinoff David Brent: Life On The Road braucht aber scheinbar nicht unbedingt das Kino – mit einer Ausstrahlung auf Netflix sei man eh besser dran, so The Office Schöpfer, Autor und Hauptdarsteller Ricky Gervais in einem Interview:
"Netflix has bought out the rest of the world again. Which is great for me, because I'd rather 20 million people see it than half a million people see it in cinemas, do you know what I mean? Because I want to do tours off the back of it. So for me, it's great." (Ricky Gervais)
Ins Kino soll der Film dann aber trotzdem kommen, zumindest ist das für die UK, Australien und Neuseeland für den August diesen Jahres geplant. Für den Rest der Welt ist Netflix dann zuständig. Wir können also 2017 wieder mit dem charmanten (hust) David Brent rechnen.
Für alle, die sich nicht mehr an die Serie (und die Rolle von Martin Freeman!) erinnern oder eine Auffrischung benötigen, hier noch einmal die zehn besten Momente aus dem britischen Büro:
Top 10 The Office UK Moments
via: Deadline Bild: BBC Two